Ashghal completes Qatar 2022 infrastructure projects in record time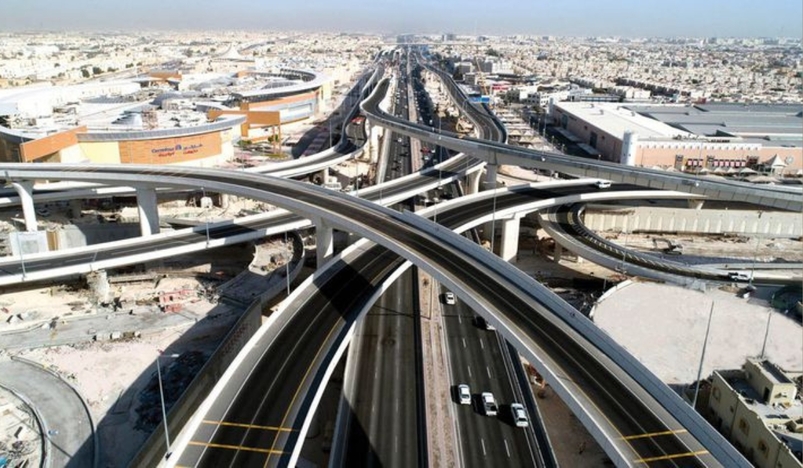 Ashghal completes Qatar 2022 infrastructure projects in record time
The Public Works Authority (Ashghal) and its employees have spared no effort to implement projects related to the FIFA World Cup Qatar 2022 according to the highest international standards and in record times while maintaining the safety of workers and adding aesthetic touches and Qatari culture to all their work. 
Ashghal was committed to implementing projects that serve World Cup stadiums and completing the surrounding roads to facilitate access to all stadiums through an advanced network of highways and main roads. 
The Authority has also completed work on many beaches, public parks, service buildings, pedestrian and bicycle paths, and rainwater and groundwater drainage networks to enhance social welfare and a healthy lifestyle within the country and provide recreational places for Qatar's guests during the World Cup. These new facilities will be a sustainable legacy after the tournament. 
In this context, President of the Public Works Authority Dr. Eng. Saad bin Ahmad Al Muhannadi confirmed the continuation of efforts after the inauguration of any projects to carry out the necessary operation and maintenance work throughout the year according to approved programmes and plans.
He said Ashghal formed an integrated team to survey, study and test all road assets around the stadiums hosting the event to ensure the quality of road components such as asphalt, road signs, safety barriers, sewage, street lighting, pedestrian crossing paths and traffic lights to ensure their readiness.  He said Ashghal is constructing the largest electric charging station in the region that operates on solar energy.
Ashghal completed more than 1,791 km of roads, in addition to 207 bridges and 143 tunnels. Most notable projects were Al Majd Road, Al Khor Road, Lusail Road, and G-Ring Road, in addition to the Sabah Al Ahmad Corridor. 
Al Majd Road, which is 195km long, is considered one of the most important arteries of the highway network in Qatar, not only because of its importance when it comes to traffic, but also in terms of its design and implementation. 
The Sabah Al Ahmad Corridor is also of great importance within the highway network completed over the past few years. It is 29km long and provides access to most of the FIFA World Cup stadiums, such as Stadium 974, Al Thumama Stadium, Al Janoub Stadium, Khalifa International Stadium and Education City Stadium. 
As for Al Khor Road, it is 33 km long and consists of 5 lanes in each direction. It connects to Al Bayt Stadium and Lusail Stadium and also has the Olympic Cycling Track. 
He added that in cooperation with the authorities concerned, represented by the General Traffic Department in the Ministry of Interior and the Supreme Committee for Delivery and Legacy, a study is being conducted on road closures, traffic diversions and alternative road plans to facilitate the movement of individuals and residents in areas surrounding the stadiums during the tournament. 
Regarding the Authority's efforts during the tournament, Al Muhannadi affirmed Ashghal's keenness to use electronic boards on the roads to inform fans of road conditions, how to reach the stadium and the parking lots for fans of all categories.
The situation is also monitored through the Roads Management Center (RMC) at Ashghal and the Tournament Transport Coordination Centre (TTCC) and the stadiums control room, through advanced surveillance cameras (CCTV), and control of traffic lights to ensure smooth traffic on the road during and after the event.

The Ashghal President stressed the Authority's commitment to taking care of the workforce engaged in its projects and protecting it from injuries at work sites in general, emphasising the Authority's keenness to always apply a set of regulations and procedures to ensure the health and safety of workers.
The Public Works Authority won two International Safety Awards 2020 from the British Safety Council, in recognition of its commitment to maintaining the safety and health of workers and workplaces during 2019.
Ashghal is working to promote sustainability and recycling initiatives as a primary objective, as it raised the percentage of recycled materials used in projects to 20 percent of the total materials used at the beginning of this year. 
Dr. Al Muhannadi said Ashghal is using a new construction technique in some highway projects, called the 'balanced cantilever method' for the first time in Qatar to build high-level intersections, which includes building concrete parts on site without any interruption to traffic flow. 
He added that they invested in various new technologies, including road survey technology, which is one of the best sustainable solutions for the operation and maintenance of roads to ensure their condition and compliance with standards. "Ashghal also implemented a three-dimensional radar system (3D GPR) for road inspection, asphalt survey, and under-layer inspection of roads, bridges and sewage network."
To promote a healthy lifestyle in the country, Ashghal constructed 2,131 km of pedestrian and bicycle paths in most of the local road and highway projects.
These paths are connected to all stadiums hosting World Cup matches. Additionally, 16 bridges and 5 pedestrian tunnels were also constructed. 
In cooperation with the Supreme Committee for Delivery and Legacy and other relevant authorities, Ashghal is constructing parking lots for cars, buses and taxis to facilitate fans' access to stadiums, prevent congestion and improve traffic in areas surrounding stadiums on match days. 
To encourage citizens and residents to follow a healthy lifestyle, the Supervisory Committee for Beautification of Roads and Public Places in Qatar seeks to create a healthy, social and cultural environment through developing and beautifying the Central Doha and Corniche Street and providing pedestrian-friendly transportation, in addition to increasing green areas and planting trees, as more than 11 million metres of greenery have been completed. 
Additionally, more than 900,000 trees have been planted as part of the "Qatar Beautification" and "Our Children Plant Trees" initiatives, launched in 2019.
Furthermore, 11 parks and green spaces have been developed to serve the public. 
Ashghal is also working on the construction of several public buildings such as Lusail Bus Station and Depot, Al Sudan Bus Station, in addition to the Panda House project and Umm Al Seneem Park in cooperation with the Ministry of Municipality, Dar Al Kutub project with the Ministry of Culture, and the development of Museum of Islamic Art with Qatar Museums, as well as housing units for FIFA World Cup fans in Ras Bufontas, Lusail and Al Rayyan.