Ashghal begins construction of Masjid Al Qubib Plaza at Souq Waqif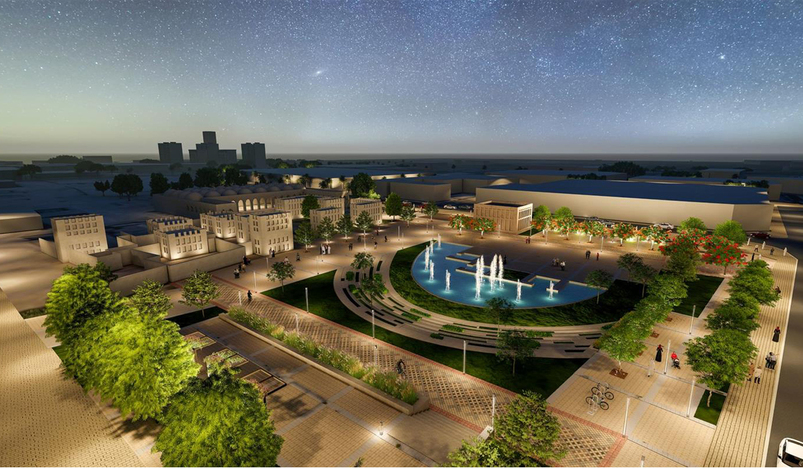 Masjid Al Qubib Plaza
The Supervisory Committee of Beautification of Roads and Public Places in Qatar has announced start of implementation of Al Qubib Masjid Plaza project, within the works of third package of development and beautification projects in Central Doha. The plaza is planned to be completed and opend for public in Q1 2022. 
Eng. Laila Jassim Salem, Project Design Manager at the Supervisory Committee, said that the design of the plaza is inspired by the elements of Qatari heritage, due to the plaza's location near Al Qubib Masjid at Souq Waqif and the old markets in the area such as Deira Souk, Al Jabr Souk and others. The design has featured open air Qatari Majlis, a place where people gather to discuss everyday issues. Eng Laila added that the shape of the floors and corridors in the plaza are designed in various shapes and colors, for example, the floors of the main corridors were designed for the visitors of the plaza, leading to it and to the Masjid, to be like ornate carpets inspired by the decorations and inscriptions of traditional carpets and outfits.
Eng. Laila added that the plaza has entrances from three sides through the surrounding pedestrian paths on Ali Bin Abdulla Street, Al Jabr Street and Al Ahmad Street. It is also easily accessible from the Masjid side.
On her part, Eng. Sarah bint Mohammed Al Thani, Project Design Engineer, clarified that Al Qubib Masjid is one of the oldest mosques in the region, and the plaza aims to revive the idea of the Masjid's classical courtyard, where people would meet after prayer and talk about their daily lives, which encourages communication between individuals in the area, spending a goodtime in the premises of healthy environment. To increase the aesthetic element of the plaza, water bodies are designed with a distinctive central fountain, surrounded by tiered layers that fit the nature of the sloping land. It will also provide simple cosmetic lighting that matches the spirit and design of the plaza and its location near the Masjid, in addition to planting a variety of local plants and trees, which contribute to providing shaded areas and giving a distinctive aesthetic appearance to the plaza. Eng. Sara Al Thani added that the courtyard of Al Qubib Masjid was designed to be eligible for use by people with special needs.
Eng. Sarah Al Jassem, a project engineer in the Doha Central development and beautification projects, said that construction works of Al Qubib Masjid Plaza is to be implemented on a total area of about 9,200 square meters, and it includes open green areas extending over an area of up to 1,518 square meters, including seating area. The project works also include the construction of walkways within the park, in addition to fancy lights.
Eng. Sarah added that the project works include implementation of infrastructure works including construction of drainage networks, irrigation system, electricity, and others. She explained that visitors to Al Qubib Masjid Square can reach there using different means of transportation including Doha Metro (at Souq Waqif Station), or use bicycles where bicycle parking is provided, or walk to the plaza through corridors and pedestrian crossings provided in the area, while car users can drive thru and park in the designated parking area.
On the other hand, Mrs. Sheikha bint Yousef Al Jufairi, member of the Central Municipal Council representing the area commented that the State of Qatar pays great attention to increasing green areas, which positively reflects on healthy environment and its climate, as it contributes to smooth weather and to reducing dust. The plaza at this remarkable location near Masjid Al Qubib adds beauty and attraction, as it gives people of the area and those who go to the Masjid opportunity to spend good times at a location that reflects local identity and a healthy environment. Mrs. Sheikha Al Jufairi also expressed her gratitude for the committee's efforts to implement the projects that serve the community at large.
Supervisory Committee of Beautification of Roads and Public Places in Qatar
The committee works in coordination with several ministries and other entities of the State such as Ministry of Municipality and Environment, Ministry of Transport and Communications, Ministry of Culture and Sports, Qatar Museums Authority, Qatar Railway Company, Private Engineering Bureau among others. This Committee is responsible for five major tasks including construction of central public parks, provision of dedicated lanes for pedestrians and bicycles, development of the Doha Corniche, development of Central Doha, and increasing trees and green areas.
The Committee's work will contribute to enhance sustainability through minimizing environmental pollution, reducing emission of CO2 through minimized consumption and conservation of energy resources. It will also focus on provision of more public transport options aiming at reduced use of private cars and improve lifestyle through clean and safe transportation. It will also work for provision of healthy environment within residential neighborhoods and places of public gatherings through increased afforestation and landscaping, which will greatly help in reducing temperature in cities.