Ashghal Announces Temporary Closure of Corniche Street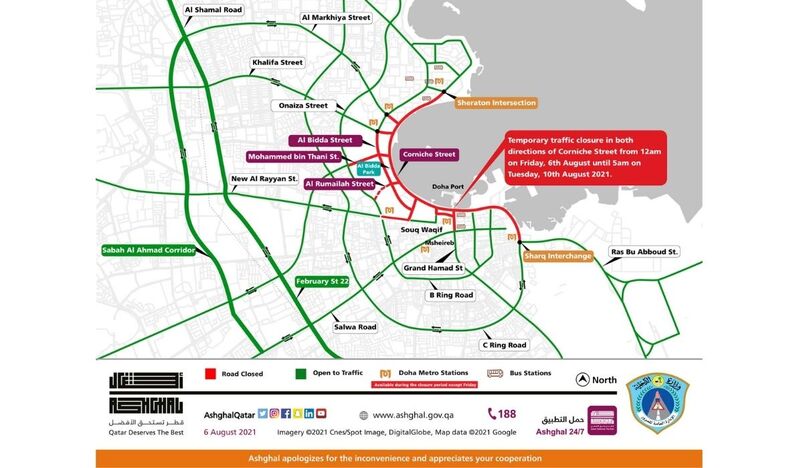 Corniche Area
The Public Works Authority 'Ashghal' announces a temporary traffic closure on both directions of Corniche Street beginning from 12 am on Friday, 6th August until 5 am on Tuesday, 10th August 2021. This traffic diversion plan implemented in coordination with the General Directorate of Traffic of the Ministry of Interior (MoI) aims to facilitate completion of some construction works of Corniche Street development project.
This diversion planned during the summer vacation and school holidays includes closure of Corniche Street and parts of some surrounding streets around Al Bidda Park, Al Diwan Street, Al Rumaila and Grand Hamad Street (Banks' Street). However, pedestrians shall be allowed to use the closed roads, in addition to use of public transportation means as an alternative to private vehicles.
The development works include completion of implementing four pedestrian tunnels, as these tunnels aim to enhance pedestrian traffic and connect the paths to the neighborhoods. The construction works also include three plazas on the Corniche including Al Dafna Plaza, Corniche Plaza, and Al Bidda Plaza, in addition to studying some infrastructure development works in public utility service.
There are seven stations of Doha Metro along Corniche Street including QNCC, West Bay, Corniche, Al Bidda, Souq Waqif, Msheireb, and Qatar National Museum. Additionally, there are six public transport bus stations at various locations including station beside Dafna Park, City Center, QNCC Metro Station, Hotel Park, Doha Fishing Port, and Souq Waqif Metro.
The public transport buses will operate at intervals of every 10-15 minutes, providing transportation for nine hours on Friday from 2.00 – 11.59 p.m. and on Saturday and Sunday from 6.00 am to 11.00 pm. The buses will operate in parallel with Metro operating hours except on Friday on which operation of Doha Metro will be suspended.
Ashghal urges all commuters using the Corniche Street to use alternative routes to reach their destinations, as shown in the map.
Ashghal apologizes for the inconveniences that the closure of Corniche Street may cause, and abides by responding to any inquiries through Ashghal Call Center on #188, operating 24/7 or through Ashghal's official social media channels.