Argentina on Top of the World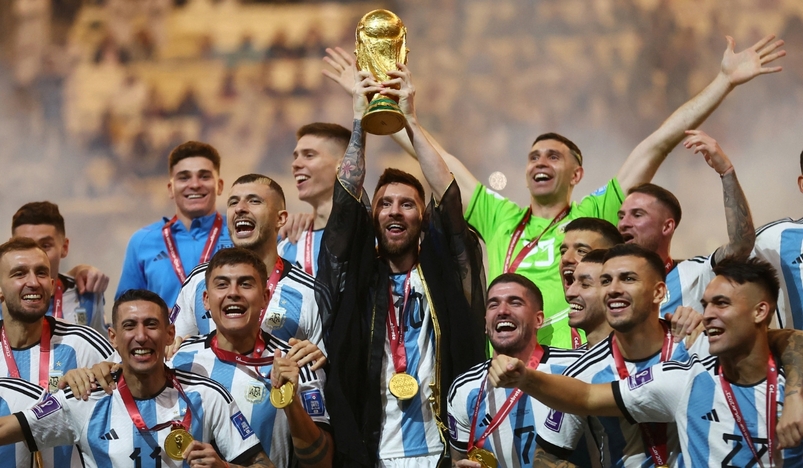 Argentina Winning FIFA World Cup Qatar 2022
After a 3-3 draw in the final match at the Lusail Stadium, Argentina defeated France 4-2 on penalties to win the FIFA World Cup Qatar 2022.
The dramatic title match delivered a stunning conclusion to Qatar 2022, the first World Cup to be staged in the Middle East and the Arab world.
88,966 fans attended the game at the legendary venue, while billions more watched on television.
Messi's penalty and Angel Di Maria's outstanding goal in the first half gave Argentina what appeared to be a one-sided victory, but Mbappe's conversion of a penalty in the 80th minute and volley goal a minute later forced extra time.
Messi gave Argentina the lead once more, but Mbappe equalized with another penalty, becoming the second player, after Geoff Hurst for England in 1966, to score a hat trick in a World Cup final.
As a result, the game went to a penalty shootout where Argentina's Emiliano Martinez saved Kingsley Coman's attempt and Aurelien Tchouameni missed, giving Gonzalo Montiel the opportunity to win, which he gladly did.
Argentina, which won their third world championship, was crowned by Amir H H Sheikh Tamim bin Hamad Al Thani. The Amir and FIFA President Gianni Infantino gave the victorious athletes their gold medals, and President of France H E Emmanuel Macron and Infantino gave the French team's athletes their silver medals.
His Highness Sheikh Jassim bin Hamad al-Thani, Personal Representative of His Highness the Amir, attended both the final and the prize-distribution event.
Several heads of state, delegation leaders from friendly and sisterly nations, sheikhs, ministers, presidents of Olympic committees and federations, diplomats, and prominent sports officials were also present.