Arabian Gulf Cup draw: Qatar to face Kuwait, Bahrain and UAE in group stage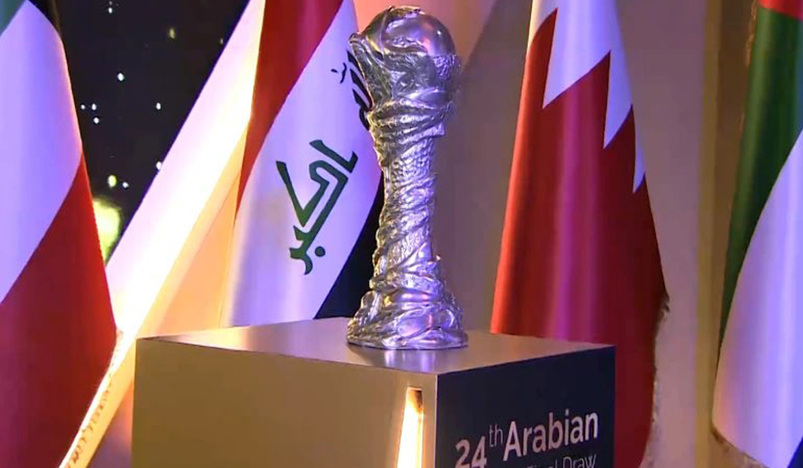 Arabian Gulf Cup
Asian champions Qatar are placed with 10-time champions Kuwait, defending champions Bahrain and the United Arab Emirates in Group B of the next year's 25th Arabian Gulf Cup, the draw revealed on Tuesday.      
The draw ceremony, which took place in Basra, saw hosts Iraq, Yemen, Saudi Arabia and Oman in Group A of the tournament, which is scheduled to take place from January 6 to 19, 2023 in Basra. 
The details of fixtures and venues will be announced later.       
Three-time champions Qatar, who are currently preparing to make their FIFA World Cup debut, are expected to get a tough fight in the group in presence of tournament's most successful side in Kuwait and Bahrain, who defeated Saudi Arabia in the final to win their maiden title in Qatar in 2019.
The draw ceremony on Tuesday was attended by many top officials including President of Arab Gulf Cup Football Federation (AGCFF) and Qatar Football Association (QFA) Sheikh Hamad bin Khalifa bin Ahmed Al Thani, Iraq's Minister of Youth and Sports Adnan Dirjal, Governor of Basra Asaad Abdulameer Al Eidani and AGCFF Secretary-General Jassim Al Rumaihi. 
QFA was represented by Hani Ballan, member of the QFA Executive Office, Mansoor Al Ansari, Secretary-General of QFA, and Fahd Thani, QFA's Director of the Development Department during the draw for the tournament. 
During the draw ceremony, which was conducted by Iraqi broadcaster Zainab Rabie, "Sinbad the Sailor" was revealed as mascot of the regional tournament.  
The first edition of the biennial Arabian Gulf Cup was held in 1970, with Kuwait being the most decorated side. Apart from Qatar, Saudi Arabia and Iraq have also won the event three times. Oman and the UAE triumphed in two editions each. 
Iraq is hosting the tournament for the second time in its history after the first in 1979, when it hosted the fifth edition, Baghdad, at Al Shaab International Stadium, and won the title.