Apps and Websites for FIFA World Cup 2022 Visitors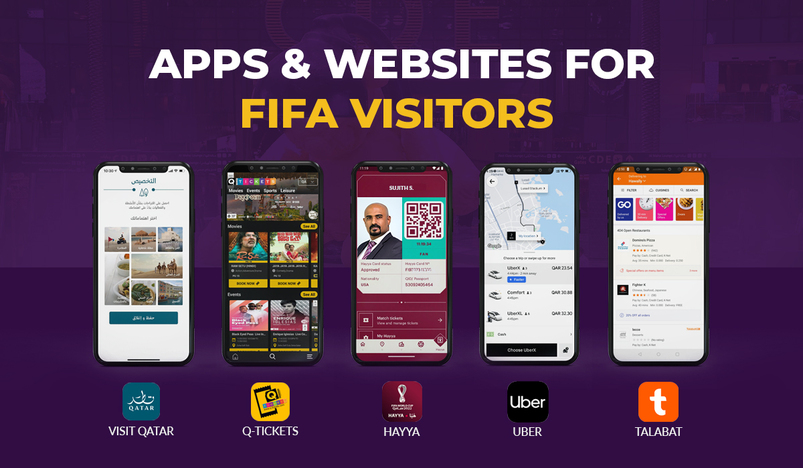 Apps and Websites for World Cup Visitors
If you're planning to visit Qatar for the FIFA World Cup, you've probably started researching about the various events and venues in the city. Here's a list of some of the best apps and websites that can help you with this:
Qatar 2022 
This website has to be the ultimate destination guide for FIFA World Cup visitors arriving in Qatar. Created by the Supreme Committee for Delivery and Legacy it provides a treasure trove of information about the stadiums, events during the FIFA World Cup, art, culture, ports of entry, public transport, getting to the stadiums on match dates, tips on driving, where to park, how to book accomodation and more.
Website: www.qatar2022.qa
Visit Qatar 
Owned and operated by Qatar Tourism, the Visit Qatar app is one of the best sources of information about events, leisure activities, hotels and more that the country has to offer. 
Download the app: Google Play | App Store
Website: www.visitqatar.com
Hayya Portal
This is the official portal on which all FIFA World Cup ticket holders need to register in order to get their Hayya Card, without which they will not be able to enter the stadiums and attend matches. International visitors who have FIFA World Cup match tickets and Hayya Cards, will be issued entry permits which will be mandatory for entering Qatar.
Hayya card holders can avail a range of benefits including entry permit to Qatar, Stadium Access, Free Metro access, Free Bus Access, Access to Fan Events, Access to Discounts, Free Sim Cards and more.
Website: hayya.qatar2022.qa
Download the app: Google Play | App Store
FIFA World Cup Ticketing 2022
The FIFA World Cup Ticketing 2022 allows match-goers to download their tickets on their smartphones for easy access at all times, and send tickets to friends and family members through a built-in option using only their email addresses.
You can also buy tickets to matches, FIFA World Cup entertainment events and you can also submit your purchased tickets for Resale in case you do not plan to attend a match.
Download the app: Google Play | App Store
Qatar Day
Qatar Day is one of the top portals in Qatar that keeps you updated with trending local news, information about events and more. Right from the best shopping malls, restaurants and cafes to beaches and festivals, it's got all the info you need. You can also check out their YouTube channel for informative videos about Qatar, restaurant reviews and more.
Website: www.qatarday.com
Facebook: facebook.com/QatarDay
Instagram: instagram.com/qatarday
Twitter: twitter.com/qatarday
Youtube: youtube.com/QatarDay
TikTok: tiktok.com/@qatarday.com

Q-Tickets
Q-Tickets is the go to place for all things entertainment in Qatar. It serves as the ultimate guide for the hottest movies, events, festivals, matches and more. You no longer need to stand in long queues anywhere, with tickets just a click away on the Q-Tickets app, making it one of the most popular entertainment gateways in the GCC.
Download the app: Google Play | App Store
Website: www.q-tickets.com
Qatar Rail 
This is the official website for the Doha Metro and Lusail Tram. Qatar Rail also has an app that allows users to register for travel cards, top up their metro cards, and check map & route details.
Download the app: Google Play | App Store
Website: www.qr.com.qa
Karwa
Karwa Taxi and Karwa Bus Apps are apps by Qatar's national public transportation company, allowing users to book taxis and buses to any destination in the city. Additionally the Taxi app features MetroExpress - the free ride-sharing shuttle transport service to select metro stations.
Download Karwa Taxi: Google Play | App Store
Download Karwa Bus: Google Play | App Store
Uber
Set up locally in 2014, the international ride-hailing app has become a daily means of transport for a good part of the population in Qatar. Uber allows customers to book rides in advance, thus helping you make the most of your time, during your stay in Qatar.
Download the app: Google Play | App Store
Qatari Phrasebook
If you're planning a trip to Qatar, it's a good idea to familiarize yourself with some key phrases in the local language. The Qatar Phrasebook is a great way to do just that, with useful phrases for everyday situations such as greetings, ordering food and drink, asking for directions, and more.
Download the app: Google Play | App Store
Waze
Waze is a popular crowdsourced navigation app, which means that users can share real-time traffic and road information with each other. So if you're looking for a navigation app to use in Qatar that can help you avoid traffic jams and save money, then you should definitely check out Waze.
Download the app: Google Play | App Store
Delivery Apps - Talabat and Snoonu
Food delivery apps Talabat and Snoonu are among the most popular ones in the city. You can take advantage of their delivery services for food, groceries, flowers or medicines (provided the location is acceptable for delivery). They usually have discounts and options with restaurants offering free delivery.
Download Talabat: Google Play | App Store
Download Snoonu: Google Play | App Store
Ehteraz
Ehteraz app is Qatar's National health monitoring service. It is an advanced app that displays your current COVID-19 health and vaccination status. A green status on the app was compulsory for entry to public places like malls and offices. However, starting from November 1, the app is no longer mandatory for residents and visitors unless visiting a health facility. You can receive important notifications from MOPH (Ministry of Public Health) and Statistics about the number of people who have been tested for COVID-19, the total number of Positive Cases, Number of Active cases under treatment and the Number of new cases in the past 24 Hours.
Download the app: Google Play | App Store
If you've got these apps on your phone and have checked them out prior to your arrival in Qatar, you'll find it a lot easier to navigate your way through the city and to get what you need, where you need and when you need it.