Apple shares slide after China government iPhone ban reports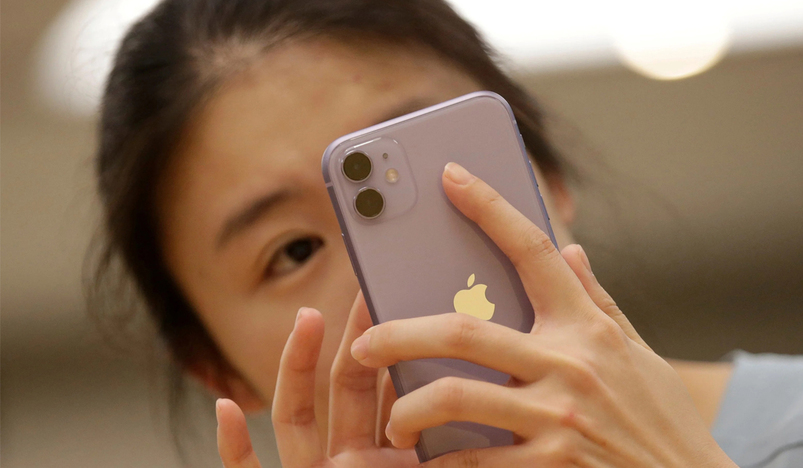 iPhone
Shares in Apple have fallen for a second day in a row after reports that Chinese government workers have been banned from using iPhones.
The firm's stock market valuation has fallen by more than 6%, or almost $200bn (£160bn), in the past two days.
China is the technology giant's third-largest market, accounting for 18% of its total revenue last year.
It is also where most of Apple's products are manufactured by its biggest supplier Foxconn.
The Wall Street Journal (WSJ) reported on Wednesday that Beijing had ordered central government agency officials to not bring iPhones into the office or use them for work.
The following day, Bloomberg News reported that the ban may also be imposed on workers at state-owned companies and government-backed agencies.
The instructions not to use iPhones were given to officials by their superiors in recent weeks, sources told the WSJ. Restrictions were also placed on other foreign-branded devices.
iPhones were already banned in some agencies, the paper says, but its sources suggested this had now been widened.
It has not been made clear how widely those instructions were disseminated through Chinese officialdom.
The reports came ahead of the launch of the iPhone 15, which is expected to take place on 12 September.
On Chinese social media some people who said they work for state-owned companies reported being told to stop using Apple devices by the end of September. One joked that they were poor and did not have the money to buy a new phone: "What should I use for work?" they wondered.
China is one of Apple's biggest markets, and iPhones are produced in the country, though recently Apple has increased production in India.
There has been no official statement from the Chinese government in response to the reports.
Apple did not immediately respond to a BBC request for comment.
Knock-on effect
Apple has the world's highest stock market valuation, standing at close to $2.8 trillion.
As well as Apple shares falling, shares in some of its suppliers were also hit.
Qualcomm, the world's biggest supplier of smartphone chips, dropped by more than 7% on Thursday, while shares in South Korea's SK Hynix were around 4% lower on Friday.
Tensions between the US and China over technology have been rising steadily, with both parties imposing restrictions.
This year, Washington, along with its allies Japan and the Netherlands, restricted China's access to some chip technology.
China retaliated by restricting exports of two materials key to the semiconductor industry.
Beijing is also reportedly preparing a new $40bn investment fund to boost its chip making industry.
Last week, during US Commerce Secretary Gina Raimondo's visit to Beijing, Chinese tech giant Huawei unexpectedly unveiled its Mate 60 Pro smartphone.
On Friday, the company launched presales of the Pro+ model of the phone.
Canada-based technology research firm, TechInsights, said the phone contained a new 5G Kirin 9000s processor, developed for Huawei by China's largest contract chipmaker SMIC.
TechInsights analyst Dan Hutcheson said it "demonstrates the technical progress China's semiconductor industry has been able to make".
This is a "big tech breakthrough for China," investment firm Jefferies said in a research note.
This week, US congressman Mike Gallagher, who is the chairman of the House of Representatives committee on China, called on the Commerce Department to further restrict exports to Huawei and SMIC.
Security update
Meanwhile, on Thursday Apple released an emergency software update for a vast number of old and current devices after a security vulnerability was discovered being used by unknown hackers.
The update was released after digital rights investigators at Citizen Lab discovered attackers hacking Apple devices of specific targets using a novel and unheard of technique.
Apple also found a similar so-called "exploit" itself so issued both updates as part of a rapid security response to customers.
It is the 15th time this year that Apple has been forced to issue sweeping security updates.
BBC