Apple Launches iPhone 13 With Camera, Chip and Screen Upgrades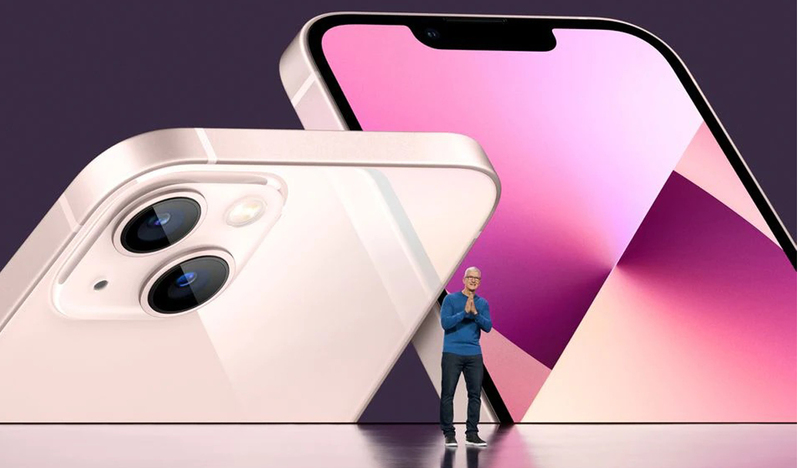 Apple CEO Tim Cook unveils the new iPhone 13 during a special event at Apple Park in Cupertino, California broadcast September 14, 2021. Brooks Kraft/Apple Inc/Handout via REUTERS
Apple Inc. unveiled a new iPhone 13 at a wide-ranging product event Tuesday, looking to entice consumers with improvements to the camera and processor in lieu of major design changes. 
The new models -- iPhone 13, iPhone 13 mini, iPhone 13 Pro and iPhone 13 Pro Max -- were introduced at a media event dubbed California Streaming. They look similar to the iPhone 12, but include a smaller display cutout at the top of the screen, faster chips and upgraded camera systems.
Apple is counting on the new phone and a slew of other upgraded devices -- including bigger watches and speedier iPads -- to fuel growth this holiday season. This year Apple also has the benefit of a 5G upgrade cycle helping spur consumers to get new phones. The iPhone, the company's flagship product, accounts for about half of the tech giant's revenue. 
The new models include the A15 Bionic processor, which Apple says is 50% faster than chips in competing smartphones, and new features to enhance artificial-intelligence tasks. The cameras on the iPhone 13 and iPhone 13 mini, meanwhile, capture improved photos in low light and at night and can better handle wide-angle shots, Apple said during the event.
The company showcased other new camera features, including Cinematic mode, which is essentially Portrait mode, but for video. The feature sharpens subjects in the foreground, but blurs backgrounds. It's a technique often used in the film industry, and Apple's presentation included "The Hurt Locker" director Kathryn Bigelow praising the new features. 
On the iPhone 13 Pro and Pro Max, Apple is adding a feature called Macro Photography that allows for sharper closeup photos. And there will be an option dubbed Photographic Styles that can enhance colors and tones in photos automatically, using artificial intelligence. The Pro models will be able to take ProRes video, a far higher-quality format. 
The iPhone's screen sizes remain 5.4 inches, 6.1 inches and 6.7 inches, depending on whether a user chooses the mini, standard or Pro Max models. But the displays on the iPhone 13 Pro and Pro Max are 20% brighter and include ProMotion, a dynamic refresh rate system. That allows for higher frame rates, smoother scrolling and improved gaming.  
The new models also include new custom antennas for 5G, a speedier wireless network that carriers are still building out. Apple said it expects over 200 carriers and 60 countries and regions to support 5G by the end of the year. Apple first added 5G to the iPhone last year with the iPhone 12.
The phones have beefier batteries as well, with 1.5 hours of extra charge coming to the iPhone 13 mini and 2.5 hours of more battery life coming to the standard iPhone 13. 
The iPhone 13 mini will cost $699, with the iPhone 13 priced at $799. Apple also is doubling the entry-level storage capacity to 128 gigabytes and adding a new 512-gigabyte configuration. The iPhone 13 Pro starts at $999, while the 13 Pro Max costs $1,099 and up. There's also a new 1-terabyte option for the Pro models.
Customers can start ordering the new iPhones on Sept. 17, and they're due to arrive in stores Sept. 24. 
The iPhone 13 Pro and iPhone 13 Pro Max come in a new Sierra Blue color, which is a lighter blue than last year's Pacific Blue. 
The new phones will run iOS 15, an update launching this month with improvements to home screen widgets, new features in the Maps and Messages apps, updated privacy controls, and enhancements to the web browser, FaceTime, Wallet app and health tracking. 
Apple doubles down on 5G with new iPhone 13, upgrades iPad Mini
Apple Inc (AAPL.O) unveiled the iPhone 13 and a new iPad mini on Tuesday, expanding 5G connectivity and showing off faster chips and sharper cameras without raising the phone's price.
The Cupertino, California-based company did not announce any blockbuster features or products, but analysts expect customers hanging onto older models like the iPhone X will be eager to upgrade. To encourage trade-ins, participating wireless carriers are offering incentives ahead of the year-end holiday season that could make a new phone free.
The iPhone 13 will have a new chip called the A15 Bionic to power features like automatically detecting when the phone's camera is pointed at text, and a Cinematic mode for automatically changing focus while taking videos. Apple said the iPhone 13 will have custom 5G antennas and radio components for faster speeds and will come in five colors.
The phone will start at $699, and participating wireless carriers will offer up to $700 off for qualifying trade-ins. The iPhone 13 Pro starts at $999 and the Pro Max starts at $1,099, with trade-in offers of up to $1,000. All three models will be available Sept. 24.
"The competition is still playing catchup to our chips - not just from last year, but even from two years ago," said Kaiann Drance, an Apple iPhone marketing executive.
The iPhone is Apple's most important product, but Apple has rolled out a web of service and other products that are seen as locking customers into a system they enjoy -- and would find expensive to leave.
The Series 7 smart watch will feature a larger display and faster charging. It will start at $399 and be available later this autumn.
The company also updated its iPad Mini with 5G connectivity and a reworked design that makes it look like the higher-end iPad Air and Pro models. Apple also updated its base-model iPad with a new camera for working and learning from home. The base model iPad starts at $329, and the Mini starts at $499. Both will be available next week.
Apple shares were down 1.6%, a sharper fall than a slight downturn in broader markets.
"It seems like there's nothing really revolutionary announced, but of course, as usual, they announced enough improvements to at least generate some enthusiasm among consumers," said Rick Meckler, partner at family investment office Cherry Lane Investments.
In particular, carriers such as AT&T Inc (T.N), Verizon Communications (VZ.N) and T-Mobile (TMUS.O) that have significantly built out their networks since the start of this year are likely to offer new incentives around the devices that can take advantage of the faster speeds those networks can offer, said Ben Bajarin, head of consumer technologies at Creative Strategies.
"There seems to be way more (5G network capacity) than was in place even six months ago," Bajarin said. "They want people upgrading. They're going to be really aggressive."
Apple's biggest product launch of the year comes as some of the shine has come off its stock as business practices such as charging software developers commissions on in-app payments have come under regulatory scrutiny.
Apple shares were up about 15.6% year to date, trailing the Nasdaq Composite Index, which was up nearly 19% over the same period.
Kim Forrest, founder and chief investment officer at Bokeh Capital, said she was not concerned by the lack of splashy, unexpected products, since Apple's upgrades would keep customers. "I think the consumer, once it gets the Apple chip in its head, it's very hard to dislodge," she said.
The Apple Watch has become a cornerstone of its $30.6 billion accessories segment, which was up 25% in Apple's most recent fiscal year even as its iPhone revenue declined slightly. Analysts widely believe that Apple users who buy more than one product - such as an Apple Watch and iPhone - are more likely to stick with the brand and spend on the company's apps and services.
Apple focused on fitness features such as improving how the watch tracks bicycling workouts and dust protection for hiking. The watch is paired tightly with Apple Fitness+, a paid service offering guided workouts with Apple instructors. The company added pilates and skiing-oriented workouts, and a group workouts function designed to let users work out together. The company also bundled three months of free service with its watch devices.
Shares of exercise bike and online training company Peloton (PTON.O) were down about 1.6%.
"It's the one service they offer where you literally have to have this product or you can't use this service," Bajarin said.
Apple's iPhone 13 Pro is the first iPhone with 1TB of storage
Apple announced its new iPhone 13 Pro handset today during the company's California Streaming event. It's the first iPhone to ship with 1TB of storage as an option, allowing owners to store double the maximum capacity of 512GB on the regular iPhone 13.
Apple has previously offered 1TB for iPad storage but has kept the 512GB maximum on the iPhone Pro side until today. Rumors had suggested we'd get a 1TB iPhone this year, and it comes two years after Samsung shipped its Galaxy S10 Plus with a 1TB storage option for $1,600.
Apple is also bumping iPhone storage on the standard models. The base iPhone 13 model will now ship with 128GB instead of the 64GB storage found on the iPhone 12.
Apple's iPhone Pro 13 will start at $999 and is shipping on September 24th. The 1TB storage option will be available on the iPhone 13 Pro for $1,499 and $1,599 on the larger iPhone 13 Pro Max.