Amitabh Bachchan, Anushka Sharma Face Mumbai Police Action for Riding Bikes Without Helmets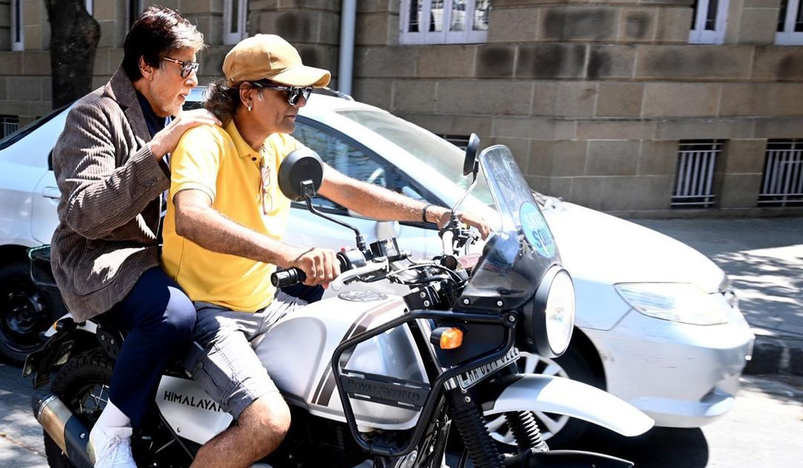 Amitabh Bachchan
On Monday Amitabh Bachchan took a bike ride form a stranger to reach his movie set location on time, and Anushka Sharma ditched her car and opted for a bike ride to dodge a roadblock. After their pictures went viral on social media, netizens observed how in both the cases, neither the actors nor the drivers were wearing helmets. Now, Mumbai Police has said it will take action against the two stars.
Replying to Twitter users who reached out to Mumbai Police to take action against the two stars, the Mumbai Police replied to some of them and said that they have in fact taken note of the actions and tweeted, "We have shares this with traffic branch."
On Monday morning Bachchan took to his social media platforms to thank the fan who gave him a lift on his bike and made sure that the megastar reaches his film set in time by ditching rush hour Mumbai traffic. Bachchan, shared a picture of him riding pillion on the bike and wrote, "Thank you for the ride buddy .. don't know you .. but you obliged and got me on time to location of work .. faster and in avoidance of the unsolvable traffic jams .. thank you capped , shorts and yellowed T - shirt owner."
A video of Anushka Sharma opting for a bike ride also made rounds on social media after several paps shared it on their Instagram handles. In the video, Anushka is seen hopping on to one of her staffer's scooter in Juhu because of a fallen tree.
A few weeks ago Sachin Tendulkar had shared a video where he was seen sitting in his car and telling passing bike rides to make sure their pillions wear helmets too.
All bikers are required to wear helmets while riding their bikes in Mumbai. Last year, the Mumbai Traffic Police had stated that they will take action against helmetless pillion riders as well. They added that they had observed that many bikers and pillion riders in the city were not wearing helmets.
Under sections 129 (which mandates wearing of protective headgear) and 194 D (punishment for contravening section 129) of the Motor Vehicles Act, 1988, the traffic police shall impose a fine on bikers riding without helmets.