Amiri Guard Honors Winners of Ramadan Tournaments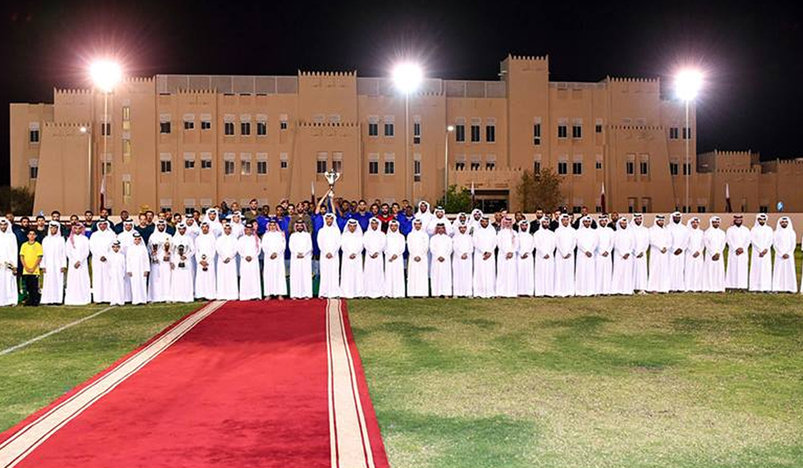 Amiri Guard Honors Winners of Ramadan Tournaments
Commander of the Amiri Guard Lieutenant-General Hazza bin Khalil Al-Shahwani honored the first place winners in various Ramadan tournaments during the closing ceremony of the 13th edition of the Amiri Guard's Ramadan football tournament, which was held on Tuesday evening at Barzan Camp.
The closing ceremony was attended by the Deputy Commander of the Amiri Guard, the Inspector General, assistants to the Commander of the Guard, a number of leaders of departments and groups, and officers of the Amiri Guard.
During the final match, "Al Marasem" team was granted the tournament cup after defeating "Haras Al Qusoor Al Oula" team with a score of 3-1.
In statements after the end of the tournament, leader of "Al Marasem" team Brigadier-General Hetmi Mohammed Al Hetmi expressed his delight upon his team's winning of the 13th edition of the tournament, which was organized after a two-year hiatus due to the COVID-19 pandemic, commending the high level and excellence of the various participating teams, in an atmosphere filled with enthusiasm and high sportsmanship.
The final match between the two teams reflected the outstanding level of the players who showed sports ethics and physical fitness.
He stressed that all the participating teams in the tournament made a great effort in preparation, equipment and continuous training in order to reach a level that qualifies them to compete and win the cup.
For his part, Chairperson of the Amiri Guard Committee for Ramadan tournaments Major Saad Al Kubaisi congratulated the winning team for winning the tournament.
He pointed out that the sports events in Ramadan come within the framework of promoting the practice of sports and exercise, and the goals they establish.
He also explained that this year, the Amiri Guard's Ramadan tournaments included football, futsal, padel (organized for the first time), and volleyball. 
Source: QNA