Amir, UK Prime Minister discuss strategic bilateral relations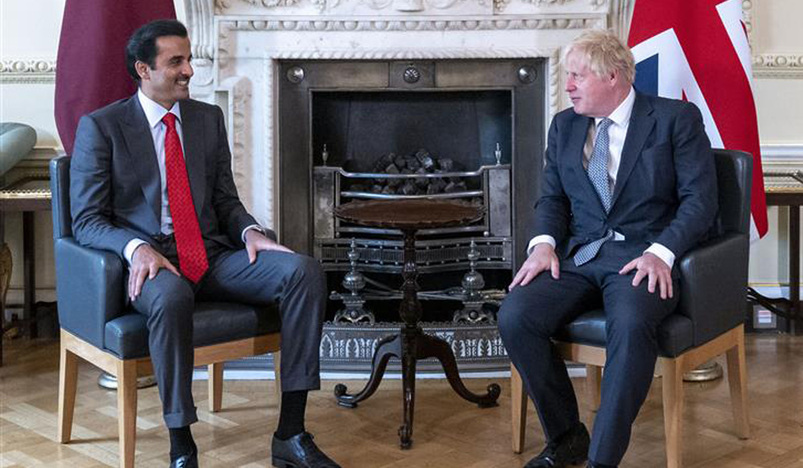 HH the Amir with UK Prime Minister Boris Johnson
The Amir H H Sheikh Tamim bin Hamad Al Thani met Prime Minister of the United Kingdom Boris Johnson today and discussed strategic relations between the two countries in various fields.
During the meeting, which was held at the Prime Minister's Office at 10 Downing Street in London, a number of regional and international issues were discussed. The two sides also discussed relations between the two countries.
At the beginning of the meeting, the British Prime Minister welcomed His Highness the Amir, stressing the depth of the historical friendship between Qatar and the United Kingdom, looking forward to developing them to achieve the interests of the two countries in various fields, especially in energy, politics, security and climate, expressing his thanks to His Highness the Amir for the role of Qatar in the evacuation of British nationals from Afghanistan.
For his part, His Highness the Amir expressed his happiness with the visit and meeting the Prime Minister, looking forward to pushing the strategic relations between the two countries to broader horizons and achieving their common interests. In this context, His Highness pointed to the joint opportunities offered by the strong bilateral cooperation, stressing that His Highness's visit comes in light of the important global sporting event as Qatar will host the FIFA World Cup Qatar 2022.
His Highness the Amir added that he will discuss during the meeting many issues of concern to the two countries, such as security, energy, regional and international issues, foremost of which are the developments in Afghanistan.
After the meeting, His Highness the Amir and the British Prime Minister witnessed the signing of a memorandum of understanding in the strategic investment partnership between the two governments, which would expand investment cooperation to enhance common interests between the two countries, and a memorandum of understanding between Qatar Energy and the British Ministry of Business and Strategic Industrial Energy on cooperation in energy field.
On this occasion, the British Prime Minister hosted a luncheon in honor of His Highness the Amir and the accompanying delegation.
The meeting was attended by Deputy Prime Minister and Minister of Foreign Affairs HE Sheikh Mohammed bin Abdulrahman Al-Thani, Chief of the Amiri Diwan HE Sheikh Saoud Bin Abdulrahman Al-Thani and Minister of State for Energy Affairs HE Saad bin Sherida Al Kaabi.
On the British side, it was attended by Minister for Investment HE Lord Gerry Grimstone and Secretary of State for Business, Energy and Industrial Strategy HE Kwasi Kwarteng, and a number of senior officials.