Amir inaugurates the Arab Cup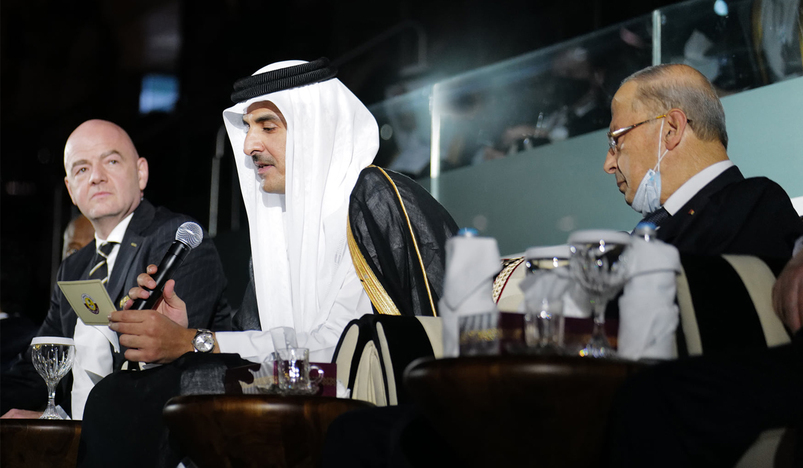 Qatar Amir
The Amir HH Sheikh Tamim bin Hamad Al-Thani inaugurated today FIFA Arab Cup Qatar 2021, at Al Bayt Stadium.
HH the Amir announced the inauguration of the tournament, saying "In the name of God and with God's Blessings, I declare the opening of the FIFA Arab Cup Qatar 2021, wishing all national teams well. All Arabs are welcome to the Doha of all Arabs."
The opening ceremony was attended by the Father Amir HH Sheikh Hamad bin Khalifa Al-Thani, Sheikha HH Moza bint Nasser, Personal Representative of the Amir HH Sheikh Jassim bin Hamad Al-Thani, HH Sheikh Abdullah bin Khalifa Al-Thani, HH Sheikh Mohammed bin Khalifa Al-Thani, HE Sheikh Jassim bin Khalifa Al-Thani, and HE the Prime Minister and Minister of Interior Sheikh Khalid bin Khalifa bin Abdulaziz Al-Thani, and HE Speaker of the Shura Council Hassan bin Abdullah Al Ghanim, along with a number of Their Excellencies Sheikhs and ministers.
The inauguration was also attended by President of the Lebanese Republic General HE Michel Aoun, President of the State of Palestine HE Mahmoud Abbas, President of the Federal Republic of Somalia HE Mohamed Abdullah Farmajo, President of the Republic of Djibouti HE Ismail Omar Guelleh, President of the Presidential Council of the State of Libya HE Dr. Mohamed El Manfi, and HRH Crown Prince Al Hussein bin Abdullah II of the Hashemite Kingdom of Jordan, HE Vice President of the Republic of Yemen Lieutenant-General Ali Mohsen Al Ahmar, HRH Governor of Eastern Province of the Kingdom of Saudi Arabia Prince Saud bin Nayef bin Abdulaziz Al Saud, and Aide to the President of the Russian Federation HE Igor Levitin, Deputy Prime Minister and Minister of Defense of the State of Kuwait HE Sheikh Hamad Jaber Al-Ali Al-Sabah, Minister of Culture, Sports and Youth of the Sultanate of Oman HH Theyazin bin Haitham Al Said, Minister of Tolerance and Coexistence of the United Arab Emirates HE Sheikh Nahyan bin Mubarak Al Nahyan, and Minister of Youth and Sports of the Arab Republic of Egypt HE Dr. Ashraf Sobhi, and Minister of Youth and Sports of the Republic of Turkey Republic HE Mehmet Muharrem Kasapoglu.
The opening was also attended by FIFA President HE Gianni Infantino, Secretary-General of the Cooperation Council for the Arab States of the Gulf (GCC) HE Dr. Nayef Falah Mubarak Al Hajraf , heads of Olympic committees and federations in Arab countries, Their Excellencies heads of diplomatic missions accredited by the state, senior officials in the field of sports, and the public. 
The proceedings of the opening ceremony began with a visual presentation of artistic paintings, musical pieces from Arab national anthems, and a tribute to a group of immigrant Arab minds who contributed to the renaissance of the world.
After that, His Highness watched the opening match between the Qatari national football team and the Kingdom of Bahrain, which ended in the Qatari team's victory 1-0