Amir Exchanges Ramadan Greetings with Iranian President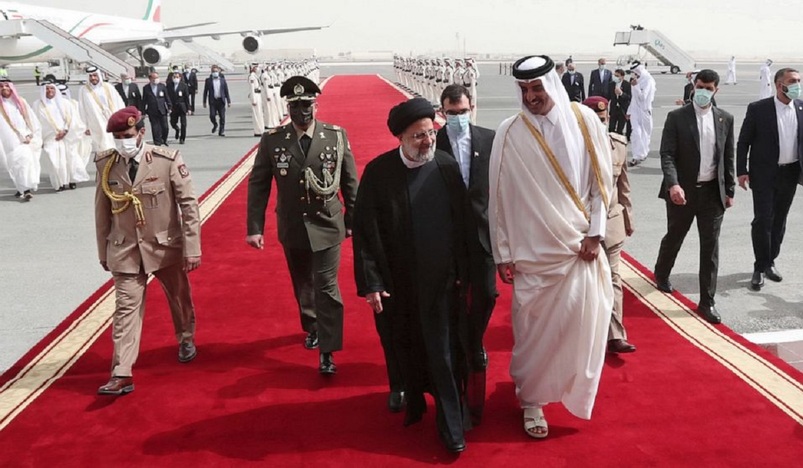 In this photo released by the official website of the office of the Iranian Presidency, President Ebrahim Raisi, center, is welcomed by HH The Amir Tamim bin Hamad Al Thani, center right, as he arrives in Doha, Qatar, Monday, Feb. 21, 2022. Iran's president has arrived in Qatar for a summit of gas exporting countries, the state-run news outlet reported Monday.(Iranian Presidency Office via AP)
HH the Amir Sheikh Tamim bin Hamad Al-Thani exchanged Ramadan greetings with his counterpart President Ebrahim Raisi of the Islamic Republic of Iran during a phone call HH the Amir made on Sunday evening.
Just recently, Qatar Amir also exchanged greetings with HRH Crown Prince, Deputy Prime Minister and Minister of Defense of the sisterly Kingdom of Saudi Arabia Prince Mohammed bin Salman bin Abdulaziz Al-Saud on the advent of the holy month of Ramadan, in a phone call held by His Highness on Friday evening.
Ramadan preparations in Qatar were announced at a press conference held by the Ministry of Endowments and Islamic Affairs.
The Ministry of Awqaf and Islamic Affairs has announced that mosques are ready to accommodate Taraweeh and Qiyam prayers for all including women. This happens for the first time since the pandemic hit. 
"All mosques and prayer areas will be opened during Ramadan. Preparation at mosques and prayer areas began two months ago to conduct necessary maintenance, cleanliness and disinfection for the comfort of worshipers during the month," said Mohamad Hamad Al Kuwari, Director of Mosques Management Department at the Ministry.