Amid shortage, Canada taps into emergency maple syrup reserves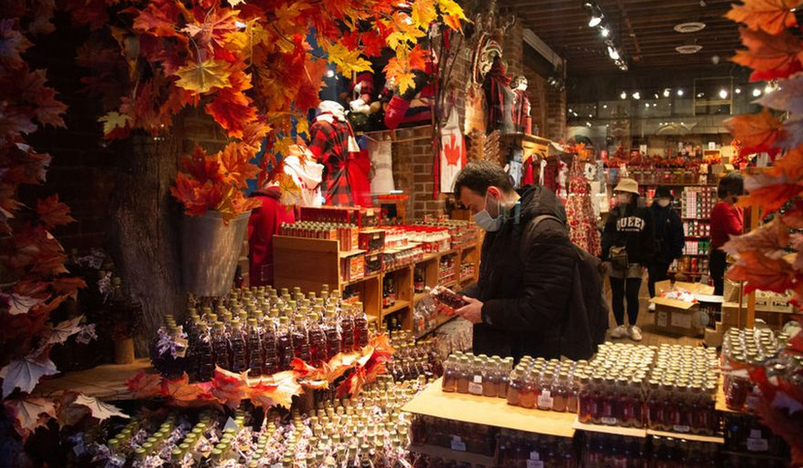 GETTY IMAGES
Global supply shortages have hit toy shops in the US and coffee producers in Brazil. In Canada, the country's liquid gold - maple syrup - is running low.
The Quebec Maple Syrup Producers (QMSP) - the so-called Opec of maple syrup - has released about 22m kg from its emergency larder, nearly half the total in reserve.
Booming demand and a shortened harvest had caused the shortfall, QMSP said.
It is the first time in three years the reserve has been used.
"That's why the reserve is made, to never miss maple syrup. And we won't miss maple syrup!" Helene Normandin of QMSP told US public radio.
Quebec, Canada's Francophone province, produces almost three-quarters of the world's maple syrup.
In 2021, 183m kg of maple syrup was produced worldwide and 60m kg came from Quebec's forests, according to QMSP. And the QMSP is already planning ahead to next year's harvest, where it will tap an extra 7 million trees.
Maple sap is tapped directly from sugar maple trees and boiled to concentrate it into maple syrup.
It's painstaking work and is highly dependent on the weather. Maple trees can only be tapped when temperatures are above freezing during the day, but below freezing at night. A shorter and warmer season this year caused supply to drop by nearly a quarter.
At the same time, global sales of maple syrup jumped by more than 36% over the year before, according to QMSP.
Worldwide thirst for Quebec's maple syrup has previously appeared to inspire sugar-stealing.
In 2012, thieves made off with nearly 3,000 tonnes of maple syrup, valued at an estimated $18m (£13.6m). Two-thirds of the stolen syrup was later recovered.
Source: BBC