Alleged former Russian spy whale spotted off Sweden's coast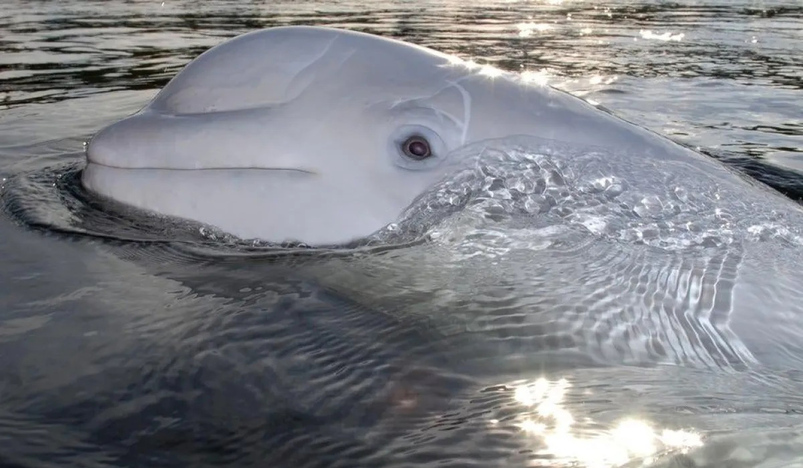 Russian spy whale
An alleged former Russian spy whale has been spotted off the coast of Sweden, says an organisation dedicated to tracking the beluga whale.
Named locally as Hvaldimir, the whale was first spotted off Norway's coast in 2019 wearing a Russian harness.
Having spent years travelling slowly southwards from Norway's far north, the whale has sped up his movements out of Norwegian waters in recent months.
OneWhale said the reason behind his sudden hastiness was unclear.
The tame beluga whale first approached Norwegian boats near the island of Ingoya four years ago. The island is 415km (258 miles) from Murmansk, where Russia's Northern Fleet is based.
He was discovered wearing a harness fitted with a GoPro camera mount and clips bearing the inscription "Equipment of St Petersburg".
The discovery led to an investigation by Norway's domestic intelligence agency, which later told the BBC that the whale was likely to have been trained by the Russian army.
The whale has since come to be known locally as Hvaldimir, after the Norwegian word for whale, hval, and Russian President Vladimir Putin.
Russia, for its part, has never officially addressed the claim that Hvaldimir was trained by the Russian army. It has previously denied the existence of any programmes seeking to train sea mammals as spies.
But speaking in 2019, a Russian reserve colonel, Col Viktor Baranets, said: "If we were using this animal for spying, do you really think we'd attach a mobile phone number with the message 'Please call this number'?"
A marine biologist with OneWhale, Sebastian Strand, said there could be a number of reasons for the whale's recent change in movements.
"We don't know why he has sped up so fast right now," especially since he is moving "very quickly away from his natural environment", he told AFP news agency.
Mr Strand said there were two possible explanations for his change in behaviour, one being high hormone levels, which could be "driving him to find a mate".
Another could be related to "loneliness", he added. "Belugas are a very social species - it could be that he's searching for other beluga whales."
Beluga whales tend to live in icy Arctic waters around Greenland, Russia, Alaska and northern Norway, and some migrate during the summer.
BBC