All You Need to Know About Qatar National Day 2021: Events and Activities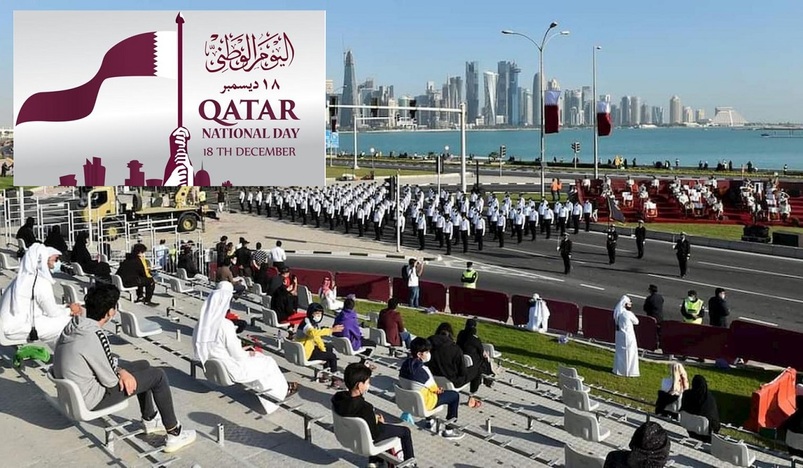 Qatar National Day 2021 Events and Activities
The Organising Committee of Qatar National Day (QND) celebrations has announced a series of activities to be held at various locations across the country in a new form and style, in celebration of this year's National Day on December 18.
These events coincide with Qatar's hosting of the FIFA Arab Cup 2021 and the global spotlight that is being shed on the country, as the countdown to the FIFA World Cup Qatar 2022 continues.
In this article, we've curated the events and activities happening on this year's Qatar National Day. Make sure to bookmark this page as we'll be updating it with the latest updates on QND 2021.
Where will QND be held this year?
This year's National Day activities will be open to the public and will be held at several locations, including:
• Al Wakrah Old Souq
• Aspire Park
• Al Rami Sports Club
• Qatar Foundation
A group of cars bearing the flags of the State of Qatar will be at the venues of the events to add the beauty of the place, enhance national belonging, and affirm adherence to national identity.
Major happening places
Doha Corniche, Katara Cultural Village, Aspire Zone and many other places of public importance are the major happening places of QND 2021.
What is the slogan of QND 2021?
The activities of the National Day 2021 will be held under the slogan 'Ancestral Meadows: A Matter of Trust' which is based on the poetry of the Founder of Qatar, Sheikh Jassim bin Mohammed bin Thani. It will reflect the importance and value of this major national occasion, and will be up to the expectations of the country's inhabitants, the committee said in a statement.
Read also: Launch of Official Website of Qatar National Day 2021 in New Shape
Will there be live screening of the event?
Live screening of the activities will be available on giant screens at same locations where they will be held. The events will be broadcast live on big screens at the same locations, allowing more people to follow them closely. Further, video clips and documentaries produced for Qatar National Day will be broadcast as well, in addition to the distribution of Qatari flags among spectators and participants.
What are the major events?
Officials from the Armed forces, ISF, Ministry of Interior, and Amiri Guard and members of the general public parade through the Doha Corniche.
Fireworks, classic car show also feature in the list. Please also check the below top things to do this QND 2021.
What are the activities happening during QND 2021?
National Day parade - The Qatar National Day Parade usually takes place at 09:30 am at Doha Corniche. But, final schedule is yet to be announced.
Fireworks show - Fireworks would be a major highlight for the visitors during the Qatar National Day events 2021 at the Doha Corniche along with music and lighting. People would be able to watch the fireworks along the Corniche. Fireworks show starts at 8 PM.
Air Show - There will be an air show for the public to enjoy on the day in the morning. People would be able to watch the spectacle from certain areas of Doha, usually in Corniche, as part of the Qatar National Day Parade.
CULTURAL SECTOR
Al Wakrah Old Souq events - including the folk games, which will be held on shores of Al-Wakra Souq from December 14 till 18, 2021. The folk games such as 'Sad o Rad', 'Bar o Bahr' and 'Keram' will bring the spirit of participation and competition among children. They will be held at the beach of the Souq. The same period will also see 'Modern Sailing Boats', an interactive sport activity. The activities at Al Wakra Old Souq include various games and competitions, with a focus on heritage games. These will be held from December 14 to 18 on the beach of the souq, giving children the opportunity to participate in various traditional group games. There will be another event focusing on taking photographs inspired by the Qatari heritage along with an exhibition of old photography equipment. The activities will cover all age groups. A riding competition will also be held at Al Wakrah Souq where daily prizes will be distributed to participants, in addition to a final competition that will be held on December 18 for the winners of the daily competitions.
Majlis Al Nokhatha - in which visitors are received and hospitality is provided, in addition to a question competition, during which cultural information is presented, and it will be held from December 14 to 18.
EDUCATION SECTOR
Al Fereej Museum - contains a collection of models that express ancient folk games, ancient ships, and handicrafts at Al Wakrah Souq
Fine Art event - will be held from December 14 to 18. It is a direct drawing of the wildlife from the Qatari environment, such as drawing plants and animals, land and sea, with drawing of models, from making drawings on traditional boats by Qatari artists. Children will make drawing and colouring plant pots to encourage them to cultivate, in addition to free drawing under QND slogan, provided that an exhibition of artists will be held, during which their artworks will be displayed in areas inspired by the environment.
Qatar Foundation (QF) event - Another event on choral singing will be held with the participation of school students from December 14 to 18 at Aspire Park and Al Wakra, and on December 13 and 17 at QF.
'Ancestral Meadows: A Matter of Trust' environmental event - reflects the interest and passion of Qataris to love the earth through their initiatives in the fields of environment. Three boys schools and three girls schools have qualified for this event. The schools will compete in the final of the event by presenting the activities of their environmental initiatives. The closing ceremony will be held on December 16.
'Adulqaseed'(Counting the Poem) event - a competitive event that began in 2009, and aims to enhance the value of participation in this national occasion by reciting poems, reviving the folklore, discovering, supporting and promoting poetic talents. The best five participants from boys and girls schools will be short-listed to compete in the event final on December 17, at Qatar Foundation, as part of the National Day activities accompanying the D'reesha Festival.
Parade activity - will be held for school students from December 14 to 18 in Aspire Park and Al Wakrah Old Souq and on December 12 and 13 at Qatar Foundation within the associated activities of QND celebration.
Aspire Park events - including 'Al Muqattar' event, which will be held from December 14 to 18, during which visitors are received to exchange conversations. They will be introduced to Qatari customs and traditions like how to prepare and serve Arabic coffee, in addition to offering a range of other activities, such as storytelling for visitors, playing the rabab, the popular puzzle competition (Al Rama'a), and the etiquette of the Majlis. Aspire Park will give visitors an opportunity to take part in various interactive events that focus on the Qatari heritage, traditions and ways of life, and enjoy Arabic coffee as well as local solo music. Other activities include camel riding, live painting activities focusing on various components of the local environment.
Civil Defence's 'The Arena of Challenge' - where children will participate in an active competition and the winners will get prizes. Participation in such competition will be open to children aged 6-12 years. Besides, there will be other activities focusing on raising safety awareness.
SPORTS
The National Day activities - will be staged at the D'reesha performing arts festival that will be held at Qatar Foundation from today until December 17, between 5pm and 8pm, with various related theatrical shows and performances. The activities include a play 'Hallaq Al Ashjar' and the play 'The Cake Seller'.
Al Ramii Sports Club events - will feature a number of archery activities at Aspire as well, while Qatari traditional dance shows will be featured with the participation of various entities. A shooting championship for professionals, in addition to the establishment of another championship will also take place.
National Falcon Day Championship - will be organised by Qatar Al Gannas Society with the support of the Organizing Committee for the National Day Celebrations 2021 with the participation of a large number of falconers.
Founder Sheikh Jassim bin Mohammed Al Thani's Horse Cup - which is organized by the Racing and Equestrian Club.
National Padel Day Championship - will be held from December 13-17, 2021
Apart from aforementioned activities, many more activities will be also held to celebrate QND 2021.
ABOUT QATAR NATIONAL DAY
What is the significance of the Qatar National Day?
Qatar National Day marks the date of succession (December 18, 1878) of Sheikh Jassim Bin Mohammed Bin Thani, the founder of the State of Qatar, who ruled Qatar during 1878 – 1913.
He ran the affairs of the country along with his ageing father, Sheikh Mohammed Bin Thani, in 1876. Following the passing away of his father on 18 December 1878, he took over.
What was his legacy?
Sheikh Jassim Bin Mohammed Bin Thani was a military leader, judge and scholar, knight and poet possessing both gallantry and magnanimity. To defend Qatar he fought many wars. Sheikh Jassim Bin Mohammed Bin Thani was born around 1827 and was brought up in Fuweirat North East of Qatar where he learnt the Quran, its sciences, jurisprudence, Islamic law, the arts of equestrian, along with falconry and hunting skills.
He also improved the harbors and shipbuilding to support the pearl trade, till Qatar became the biggest source of pearl in the region and expand commercial relations with India and the countries of East Africa, creating extra employment opportunities and improving living standards for many Qataris. During his reign urbanization expanded and the population increased.
How does Qatar observe the day?
It is a national holiday and most of the public are given the day off from school and work.
Prior to a decree in June 2007, Qatar National Day was annually celebrated on September 3, marking the day of Qatar's independence in 1971.
This is also a time when people decorate their vehicles with the national flag and other patriotic symbols.
However, be watchful if you violate the rules set by traffic department.
Where to go on Qatar National Day?
There are so many amazing places to visit on Qatar National Day but the best ones are Doha Corniche and Katara Cultural Village.
Is there a holiday in Qatar on Qatar National Day?
Yes, as per official records, Qatar National Day is recognized as a national holiday in the country.