All About 'Paragliding' in Qatar: Read this Before You Try it!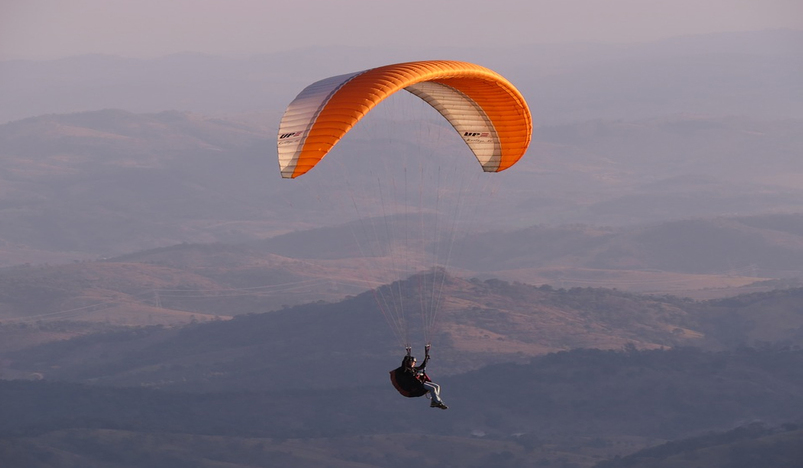 All About 'Paragliding' in Qatar: Read this Before You Try it!
"Oh, it's a bird. No, it's a plane. Wait, it's a paraglider!"
When was the last time you experienced something for the first time? Is 'Paragliding' in your big bucket list of new things to try? 
If not, then it's high time for you to hit the outdoors and experience the ultimate adventure of a lifetime – through Paragliding in Qatar!
"This is what Paragliding in Qatar looks like! The desert in the south of Qatar is an amazing spot for Paragliding." - The Ultimate Freggle, a.k.a 'Reinier,' an experienced paraglider in Qatar
What is Paragliding and is it Worth a Try? 
Paragliding is the closest way humans can get to the feeling of 'flying like a bird.' 
"Are you dreaming to fly? Yes you can, with Paragliding!"
Snap on your wings, feel the wind caressing your face,  and soar hundreds of feet above the ground without the need of turbines or an engine. 
This is Paragliding – the act of free flight. It's flying, soaring, and gliding at its most exhilarating essence of freedom! 
Indeed, Paragliding is an extreme sport that can open a whole new world of amazing experiences.
Paragliding 101
Paragliding will probably be the easiest and quickest way to learn how to fly. But, the big question is – how do you get started? Learn from the expert!
The Ultimate Freggle, also known as 'Reinier,' is an experienced paraglider in Qatar. He has been navigating the country and other best Paragliding sites in the world since 2012.
Here are some Frequently Asked Questions (FAQs) about this extreme aerial sport answered by this eagle-soaring virtuoso way above Qatar skies:
Q. How can you get started? What's the cost? Do you need any permits to do it in Qatar?
A: There is a course you can do in Qatar nowadays, after that, you're good to go. Only thing is to get into flying you really need to do a training course first.  It costs a bit because you will learn to be a pilot! But, 100% worth it. 
Paragliding Training Centres in Qatar
The Skymasters is known as a training center for paragliding and paramotor in Qatar. It is located right next to the new Woqod Fuel station just before the Sealine resort. It is open every day except Sundays. It is however closed now due to coronavirus (COVID-19) right now but it might open again soon.
Paragliding, kite surfing are all widely available – catering for beginners and experts - and Qatar Flying Club has facilities for various light aircraft, gliders, ultralights, gyroplanes and microlights. 
How to best experience Paragliding in Qatar?
Q. What is the best time to go on Paragliding in Qatar?
A. It's a little hot right now, but soon it will have a better temperature again! I prefer not to do this now in the middle of summer, but the start of winter would be really good around October. 
Q. Where are the great spots in Qatar to experience Paragliding?
A. One of the best spots in Qatar to do Paragliding is in the south of sealine. If you book a car safari, it crosses this dune also. 
An afternoon of Paragliding in Qatar at 'the Paragliding Dune' near Sealine is also awesome. Winds were near the max, apparent by drifting sand seen from halfway up the dune over the top. Still a lot of fun to be had going up easily and using a bit of speedbar to go back upwind a bit faster.
Q. How long can you stay up in the air while Paragliding?
A. You can stay up as long as the wind is good. I used to start paragliding from 3:00 PM until after sunset! 
Q. How to get the most out of Paragliding?
A. You can explore more using Kitesurfing, Paragliding and Paramotoring with your drone videography. Here is the result:
Epic high tide day of Paragliding in the desert dunes of Qatar is also worthy of your time. 
Dune Racers are chasing Paragliders at the Paragliding Dune in Sealine, Qatar. It was a gorgeous day for paragliding with blue skies and some wispy high clouds. The winds were really nice ESE direction to fly the whole length of the dune to the southern tip. By the end of the afternoon, lots of dune buggies turn up and race up the dune to meet paragliders at the top, throwing up lots of sand in the process! But it is a spectacular sight!
Paragliding is also for the kids and the kids at hear! Expatriates father and daughter in Qatar took off and flew along the dunes for about 20 minutes and loved every second of it! 
Enjoy the best of both worlds of Paragliding and dune soaring in Qatar!
Is 'landing' the most difficult thing of Paragliding?
Mostly take-off is a bit harder. But, it depends a lot on the flying site and the conditions. 
How do you feel when you are Paragliding?
The feeling is so nice, completely free like a bird! I'll never get bored of this. And I think everyone should try it.
Paragliding Tours
In 2017, paragliding tours were usually offered for as low as QAR 250 per person during the Eid holidays.
This year, 360 Adventures is offering a package to enjoy the full view of Qatar sand dunes in tandem paragliding experience at the Sealine. Absolutely safe for flyers over the age of 10 years. There is no upper limit for age, however one must be able to walk a little into the dunes and follow the pilot's instruction. 
Paragliding Must-haves
Paragliding is an extreme sport that involves flying lightweight glider aircraft that look similar to parachutes. 
Paragliders are reclining in a comfortable harness, soaring with the eagles, and absorbing the breathtaking views. Here are the 
What paragliding equipment do you need?
Paraglider wing - the most important element of paragliding equipment. It consists of two main layers, top and bottom surfaces. It has an aerodynamic design that allows it to have a glide ratio. It is made of a fabric, polyester, or nylon, without porosity, so air can't pass through it. 
Paragliding harness - Paragliders are comfortably seated in the paragliding harness. They are made of very resistant materials and have protections for the back in case of take-offs or landings failed.
Paragliding helmet - It protects the head and face from possible incidents during a takeoff or a landing that does not go very well, especially when you are still learning to paraglide.
Reserve parachute - It is the most important security element of Paragliding. It will help you in case of committing an error, colliding with another pilot in a distraction, change of weather conditions, failure in your main equipment, among others.
Variometer - To help the pilot to locate the core of the thermals that will allow him to have a greater height gain and, consequently, to stay longer in flight and to travel greater distances. 
Paragliding radio - Used to communicate with other pilots who are flying or to inform the group's attendants where the pilot wants to land.
Paragliding GPS - (Global Position System) is an indispensable accessory in any paragliding competition since it shows the route drawn during the flight.
A Must-try Aerial Sport
Paragliding is an exciting sport, which has won the hearts of all enthusiasts. It could give one with the much-needed adrenaline rush. 
"Learning to fly like an eagle may not be possible, but soaring like an eagle is."
If you dream of flying, tick Paragliding in your bucket list. Now is the time to make it happen in Qatar!