Aladdin and the Magic Lamp Live in Qatar - July 21 to July 23 2022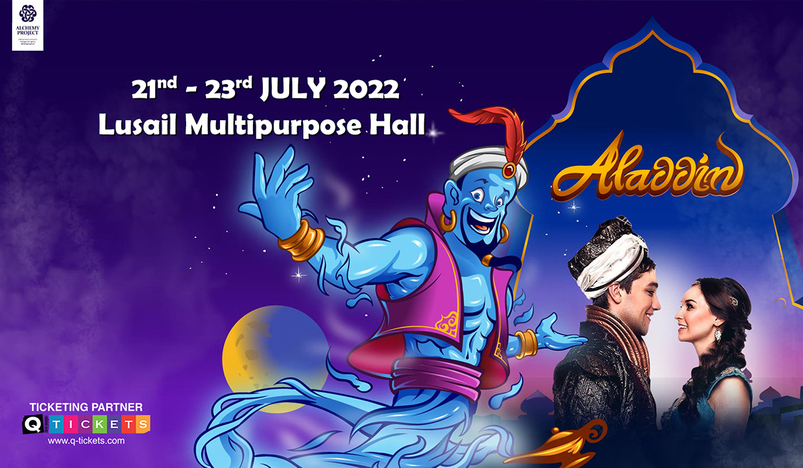 Alchemy Project Presents Aladdin and the Magic Lamp Live in Qatar
You won't need to rub a magic lamp and make a wish to watch a spellbinding show like the Aladdin and The Magic Lamp live in Qatar. The entire cast of this musical fantasy play is coming to Doha and promises to take you to a whole new world of magic and adventure this weekend!
Alchemy Project presents a grandiose circus and musical performance, The "Aladdin and the Magic Lamp – Cirque Show," from July 21 to 23, at the Lusail Multipurpose Hall.
Join Aladdin on his journey, as a sorcerer and a magic lamp, changes his life forever. This exhilarating retelling will whisk you away on a magic carpet with music, dance performances and unforgettable illustrations.
This famous story from the collection 'A Thousand and One Nights' will appear for the audience in Qatar, as part of Qatar Tourism's "Summer in Qatar", which will be performed by a crew of around 40 people consisting of approximately 30-35 performers and artists.
The story of the brave and kind Aladdin is loved and known in most parts of the world especially in the middle east. The first theatrical performance based on the fairy tale was created in Paris over 100 years ago with the eminent artist and stage designer Lev Bakst.
Event Details
Dates and Timings:
• July 21, 2022 - 5 pm
• July 22, 2022 - 3 pm and 7 pm
• July 23, 2022 - 1 pm and 5 pm
Timing:  There are multiple shows on different days ranging from 1 PM, 3 PM & 7 PM
Location: Lusail Multipurpose Hall
Ticket Rates: Silver 1&4 (145QR), Silver 2&3 (195QR), Gold 1&4 (245QR), Gold 2&3 (295QR), Platinum 1 (345QR), and Royal 1 (545QR)
Note: Children below the age of 2 do not require tickets.
Ticket Booking: Book now on www.q-tickets.com
Don't miss this musical entertainment performance for the whole family. Filled with magic, adventure and fantasy, it is going to make your weekend more fun and exciting. Tickets are selling fast. So, hurry and book your tickets TODAY!