AL-Messila - The First Luxury Collection Resort in Qatar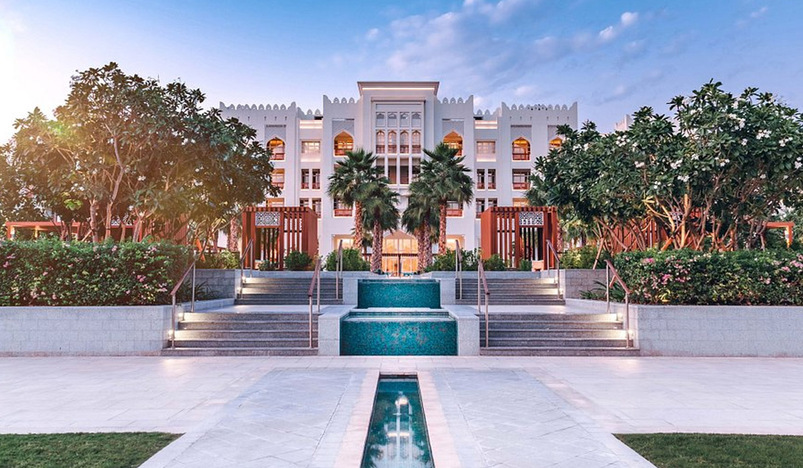 AL-Messila - The First Luxury Collection Resort in Qatar
AL Messila, The first luxury collection resort in Qatar, is a pioneer in combining a world class wellness retreat, acclaimed dining, innovative little explorers club upscale accommodation.
FIRST OF ITS KIND
The resort set amidst an indigenous botanical oasis of Doha, offering matchless lifestyle, wellness and epicurean excellence in a gated, "private palace" style setting, where an authentic welcome is complemented with the distinctive warmth of Qatari culture.
Located just 25 minutes away from Hamad International Airport, this modern resort has been designed to preserve the area's natural heritage. Al Messila means "where water flows", this name pays tribute to history of the property, which was an Oasis. The hotel serves as home native flora such as;
Lawz-Hindi, Acacia, Sidra and Mimosa trees, alongside an abundance exotic fauna.
HOSPITALITY IS MY PASSION AND IT IS IN MY DNA
Al Messila appointed Patrizia Hofer, as the General Manager, an Italian native with almost 20 years' international experience. "I'm proud to be working for the world's best luxury brand and I intend to build a work environment that creates authentic moments for our guests, guiding them on a transformative journeys that touch their spirits and enrich their lives," said Ms Hofer.
TRADITIONAL ARABIC HOSPITALITY MEETS MODERN AMBITION
Introducing unparallelled services and amenities to one of the world's most beautiful destinations, Al Messila presents a selection 122 alluring rooms
and suites. For those seeking privacy, the resort offers 30 exclusive private villas with upscale amenities and unique features.
LITTLE EXPLORERS' CLUB
The Little Explore's Club is housed in its own bright and airy pavilion on the resort grounds, within easy reach of a wide variety of fun activities and facilities. The Club incorporates a kids gym, cinema, indoor rock climbing,
interactive playroom while a separate area offers a shaded pool activities and interactive children. The venue also offers a carefully curated kids menu.
UNMATCHED EVENTS
Al Messila boasts 6,325m2 of function space including outdoor event spaces, with a state-of-the-art Ballroom, enhanced by exquisite bright colored
side-walls, dazzling chandeliers, ultramodern technology and a bridal suite, setting the stage for grand weddings and occasions in true Luxury
Collection style.
Indulge in the indigenous beauty of Qatar's natural habitat along with some delectable cuisine curated especially for you. Celebrate in one of our lush Botanical Gardens; Sidra Garden, Acacia Garden, Mimosa Garden or Eve Garden with over 5,413m2 of total outdoor space.
BELIEVE IN YOURSELF AND CAPABILITIES OF YOUR TEAM, SUCCESS WILL FOLLOW  
Al Messila's Sales & Marketing Director, Wessam Hadraj, has almost 17 years of experience, helming some of the world's most coveted hotels across
GCC and Middle East. He is also recipient of 4 Marriott International's Golden Circle Award.  "I want to strategically position our resort as the best of-its-kind while communicating and delivering distinct experiences that will touch each target segment to provide an unparalleled guest experience" said Hadraj.
A WORLD¬CLASS LADIES¬ ONLY WELLNESS RETREAT
With an unprecedented footprint,Al Messila Resort & Spa presents the first ladies-only wellness retreat in the region. Truly exceptional and pioneering, it combines a multi-layered holistic concept with a comprehensive menu of in-depth, integrated therapies and natural treatments. Individually designed with long-term wellbeing and balance in mind, each program is supported by a team of talented wellness advisers, who are experts in alternative health therapies, tailored fitness, nutrition and more.
Offering the most uniquely outstanding and comprehensive hydro-thermal facilities in Qatar consisting of three therapy pools and four hydro wellness areas called the Worlds (Oriental, Mystic, Mineral, Floral). Each world houses equipment like flotation tanks, cocoon beds, Oxygen rooms, Kneipp walks, Hammams and salt
rooms amongst others that have been combined with an exclusive range of treatment products and protocols that are 100% exclusive to Al Messila.
FEATURING:
26 treatment rooms
Two fully equipped gyms
Private training studio, spinning and movement studios
Three therapy pools and one daylight enhanced private swimming area
Full service beauty salon by Toni & Guy
Food lab - MasterChef styled cooking classroom
DINING NETWORK AT AL MESSILA IS WHERE PEOPLE GET TOGETHER TO EXPLORE A JOURNEY FULL OF FLAVORS AND EXPERIENCES ALL ANCHORED IN AL MESSILA RESORT
AL'AMMA
An ideal place to enjoy the best infused tea and indigenous coffee, featuring a one-of-a-kind afternoon tea experience.
DELI KITCHEN
A unique culinary concept where you can eat, shop and learn, curated by Michelin starred chef, Pino Lavarra.
SNOULL
Michelin starred chef Theis Brydegaard presents the freshest Nordic creations with ingredients in its purest and richest form.
VERITAS
Discover the elegant craftsmanship of Michelin starred Chef Stefano Ciotti who brings a unique twist to Northern Italian classics.
WAHA
Indulge in a unique poolside dining experience where refined gourmet cuisine meets casual dining.
COMING SOON TO DNA
CARAVANSERAI: North African
SIGA-SIGA: Greek
ELIXIR: Signature Bar
MICHELIN STARRED
Executive Chef Pino Lavarra 
Al Messila, has appointed Chef Pino Lavarra, one of Italy's most acclaimed Michelin-starred chefs and a noted cookery book author, to oversee operations of its eight innovative culinary experiences. From the small village of Putignano in Italy to his illustrious culinary journey through Europe and Asia, Michelin starred chef, Pino Lavarra brings his craftsmanship and artistry for the first time to the Middle East with his philosophy of 'Excellence in Taste'.
Deli Kitchen is the reflection of his gastronomic wisdom and imagination, where agricultural healthy ingredients converge with the interactive dining, shopping and learning experience under the same roof.
About The Luxury Collection
"The Luxury Collection Hotels & Resorts offers the promise of unique, authentic experiences that evoke lasting, treasured memories. Surpassing 100 hotels in nearly 35 countries, The Luxury Collection has become the world's largest luxury hotel brand by celebrating and promoting the authentic and indigenous hotels and resorts within its portfolio. "