Al Meera promotes healthy lifestyle, sponsors national institutions' events on National Sports Day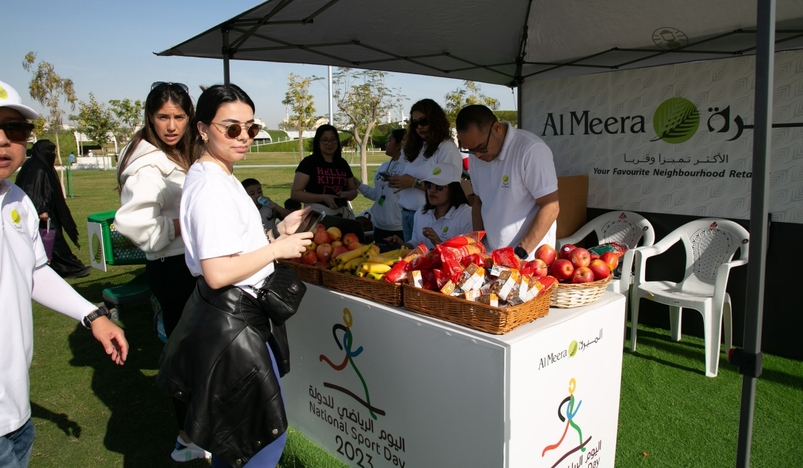 Al Meera celebrating Qatar National Sport Day
Al Meera promotes healthy lifestyle, sponsors national institutions' events on National Sports Day
•  Al Meera distributes free healthy products to participants in sports activities in various venues
In line with its commitment to promoting active lifestyle and healthy living among the community members, Al Meera Consumer Goods Company is proud to sponsor and take part in a wide array of sporting events in collaboration with Hamad Bin Khalifa University (HBKU), the Ministry of Culture and the Ministry of Municipality.
As Qatar goes sporting on National Sports Day, Al Meera continues its contribution to the community and support to national institutions' activities by providing participants in sports events healthy snacks and refreshments at different locations across the country.
To spread the culture of sports among higher institutions' students in Qatar and the entire region, Al Meera collaborated with Hamad Bin Khalifa University to sponsor the ongoing 9th edition of GCC tournament at Aspire Zone, where Al Meera is supplying healthy products such as fruits, healthy bars, drinks and other items. The tournament brings together a total of 471 students representing 15 universities and higher education institutions in the GCC countries. Al Meera's continuous to provide support, throughout the year, for sports and educational facilities in efforts to make positive impacts on the lifestyle and habits of the future generations.
Keeping the community refreshed on National Sports Day, Al Meera sponsored and took part in the Um Seneem Park sporting event organized by the Ministry of Municipality for laborers. Al Meera offered visitors a range of healthy snacks and refreshments in addition to several sporting challenges to take part in and win Al Meera gift vouchers. Furthermore, Al Meera sponsored National Sports Day activation by the Ministry of Culture with Al Meera vouchers for winners.
As part of its efforts to encourage its customers to eat healthy food, Al Meera launched special promotions on health and sports related products in addition to online competitions on its social media platforms with over 450,000 followers to provide its valuable customers the chance to win health and sports related products.
Commenting on the activities, Al Meera stated:
"As a responsible corporate entity, Al Meera is committed to supporting all local and national activities that will contribute to wellbeing and healthy living of the entire population, in collaboration with government and non-government institutions in the country. We are very proud to be sponsoring these organisation's sports activities as part of efforts to support of Qatar National Vision 2030. National Sports Day provides a unique opportunity for us to encourage Qatar residents to engage in sports and stay active at all times."
Al Meera is keen to enhance its customers' experience by supporting people-centric activities throughout the year and offering healthy products in all its branches across the country, as well as online platforms. This is in line with the company's expansion and import strategy which focuses on product diversification to ensure that all specialty foods such as organic, gluten-free and dairy-free products are available across it's branches.
With over 60 branches across the country and still counting, Al Meera is committed to serving all segments of the society with dedication and excellence in accordance with international shopping standards and evolving customers' needs.