Al Meera launches special campaign in collaboration with Dukhan Bank to reduce plastic bags use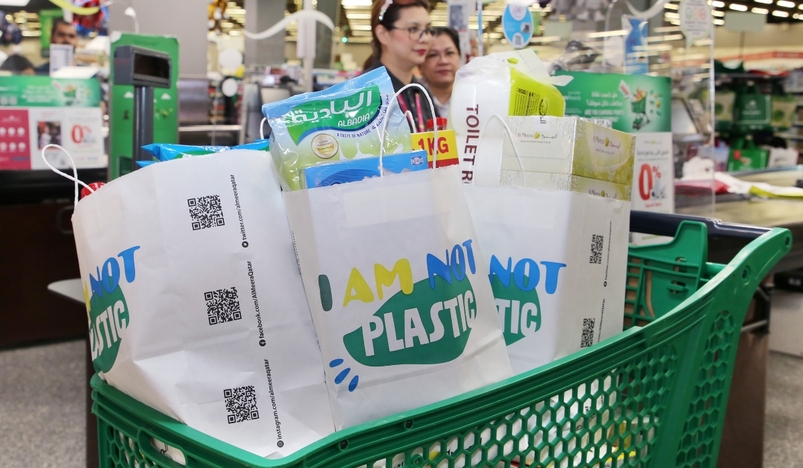 Al Meera launches special campaign in collaboration with Dukhan Bank to reduce plastic bags use
Al Meera Consumer Goods Company (Q.P.S.C.) took its commitment to reducing plastic bags waste and preserving the environment for future generations a step further with the launch of a special campaign "I am not a Plastic Bag" to commemorate this year's International Plastic Bag Free Day.
The campaign is held in collaboration with Dukhan Bank and in line with Al Meera's ongoing efforts and common objectives of both parties to promoting sustainability and Corporate Social Responsibility (CSR) towards a hygienic and clean environment.
International Plastic Bag Free Day, celebrated on July 3, is a global initiative that aims to eliminate the use of plastic bags. International Plastic Bag Free Day is dedicated to raising awareness about pressing issues brought about by plastic bags, the most popular of disposable carrying devices. The day is part of the Break Free from Plastic Movement, which began in September 2016, and has been joined by nearly 1,500 different organisations. 
To commemorate the day, Al Meera launched a special edition of eco-friendly shopping bags for customers to use instead of plastic bags that are harmful to the environment. The bags were made available for customers to use across Al Meera branch network one week prior to the date.
Al Meera has continued to unveil several campaigns to raise the community awareness of the importance of environmental preservation and sustainability and the best practices in accordance with its Corporate Social Responsibility (CSR) programme and in line with the environment pillar of Qatar National Vision 2030 to protect, preserve and conserve the environment for future generations.
To reduce plastic bags waste during the FIFA World Cup Qatar 2022, Al Meera introduced branded special edition tote re-useable shopping bags under the World Cup and Qatar National Day theme to over one million football fans who visited the country for the tournament.
Besides, through its Reverse Vending Machines (RVMs) located at various branches across the country, Al Meera has made it possible for customers to recycle over 45.5 million bottles and aluminum cans till date, and has given away rewards points worth QR1 million to members for supporting recycling initiatives.
Commenting on the initiative, Mr. Yousef Ali Al Obaidan, Al Meera Chief Executive Officer, said:
"As a responsible corporate entity, we have made the protection of our environment a major priority in our activities and engagements. We will continue to play our part by raising the public awareness to ensure that we all live in a clean and safe community and preserve ecosystem for the generations to come. International Plastic Bag Free Day provides a unique opportunity for us to collectively achieve this goal."
He added, "Through this initiative, we want the members of the community to adopt using re-useable bags instead of the single use disposable ones in order to limit the volume of waste sent to the landfill. We believe in the power of people in achieving greatness when they cooperate and collaborate. We will continue work with concerned government institutions and other socially responsible organisations in more community-led campaigns and initiatives to bring a positive change to Qatar."
Mr. Ahmed Hashem, Dukhan Bank Acting Group Chief Executive Officer, said: "We are glad to collaborate with Al Meera for this initiative to ensure that our environment is safe from the negative impact of plastic bags. This partnership is in line with Dukhan Bank's ESG strategy as well as our shared objectives to promote environment sustainability. We acknowledge that preserving and conserving the environment for future generation is a collective responsibility of every individual and corporate entities so we are committed playing our part in this respect."
The International Plastic Bag Free Day event is part of Al Meera's numerous activities aimed at supporting the economic, human, social and environmental development pillars of the Qatar National Vision 2030.