Al Meera celebrates Ramadan with promos and rewards for customers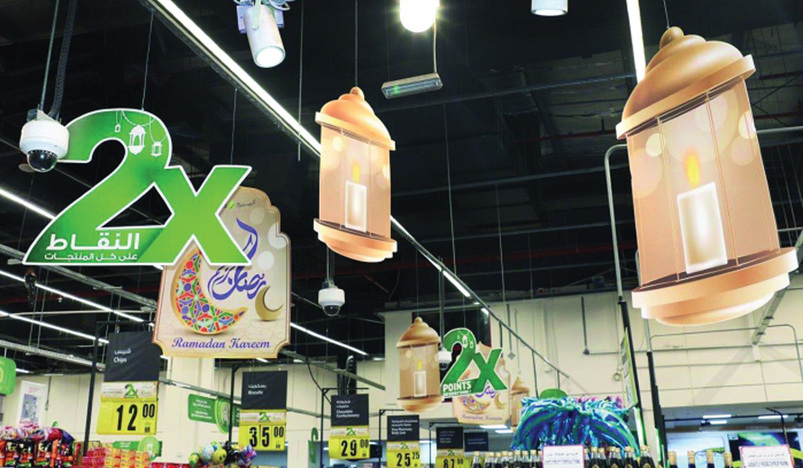 Al Meera
Al Meera Consumer Goods Company (Q.P.S.C.), Qatar's favourite neighbourhood retailer, is celebrating Ramadan with large in-store promotions and giving away double reward points to all Meera Rewards members to enhance their shopping experience.
Not only do the customers enjoy everyday low prices and continuous promotional offers, but receive double the points on every purchase during the Holy Month of Ramadan. This goes alongside the various initiatives they have with Qatar Charity, Hifz Alnaema and Qatar Red Crescent Society.
The Double Meera Reward Points campaign, which started on the first day of Ramadan, is unlike any other Ramadan promotion and means Al Meera will give approximately QR800,000 worth of points to its loyal customers.
Simply shop at your favourite Al Meera branches during Ramadan to benefit from great prices and receive your share of Meera Reward Points to redeem when shopping at Al Meera.
Ramadan rewards benefits continue with the launch of Fawazeer Ramadan, an online contest running throughout Ramadan with the chance to win a daily prize of QR 1,000 worth of Meera Reward Points. Follow Al Meera on Facebook (@AlMeeraQATAR) and Instagram (@AlMeeraQATAR) every day during Ramadan, answer the daily questions and look out for the daily winner announcement!
To ensure Al Meera customers benefit from top quality and low prices, Qatar's largest retailer is offering special promotions on hundreds of products throughout the Holy Month. This is in line with the company's promotion and price strategy in addition to the daily, weekly and monthly surveys that allow Al Meera to offer the best competitive prices and extra promotions all year round.
Sharing the joy of Ramadan with every Qatari home during the Holy Month, Al Meera and Chef Noor Al Mazroei have teamed up for a new cooking show 'Fih Al Afia' on Al Rayyan TV, airing daily during Ramadan at 2pm with highlights broadcast on Al Meera's Instagram and Facebook pages, where mouth-watering dishes are created that all families can cook and enjoy at home. All recipes can be made with ingredients on sale at your local Al Meera store.
To spread the joy of Ramadan to people in need, Al Meera has partnered with Qatar Charity in its Ramadan of Hope - Shop and Donate campaign with select brands that will donate a share of their revenue to Qatar Charity.
During Ramadan, Al Meera customers buying Abu Bint, Ahmad Tea, Al Nutrica, Ali Café, Ariel, Bayara, Brooke Bond, Cadbury, Castania, Colgate, Downy, Fairy, Fisher Farms, Glad, Gourmet, Happy Cow, Head & Shoulders, Heinz, Heritage cheese, Kelloggs, London Dairy, McVities, Namet, Nestle, Nutella, Olay, Oral B, Pampers, Pantene, Punjab Garden, Qatarat, Rainbow, Rifai, RS Olive Oil, Sara Lee, Scotch Brite, Seara chicken, Tide, Tilda, Zwan, Al Shamal, and Watties will help donate towards Qatar Charity to assist communities in need.
People in need will also benefit from generous Al Meera customers who can donate directly to Qatar Charity at the checkout in all Al Meera branches.
Al Meera's Corporate Social Responsibility programme will also be active during Ramadan. Al Meera leads the way with special Ramadan Boxes to enjoy at home, share with friends or donate to people in need. For customers who choose to share the spirit of Ramadan with those less fortunate, Al Meera, in partnership with Hifz Al Naema, Qatar's first food bank, will deliver donated Ramadan Boxes to families in need.
Al Meera customers also have the chance to pick up Gift Vouchers during the Holy Month, the perfect Ramadan gift for family, friends and people in need.
Al Meera Vouchers are now available in 22 branches across Qatar – Al Khor, Azghawa Old, Gharafa, Hazim al Markhiya, Hyatt Plaza, Jeryan Junaihat, Jeryan Njeima, Jumailiya, Leabaib 1, Mansoura, Nuaija, Rawdat Al Hamama, Rawdat Ekdeem, Sailya North, Shahaniya, Shamal, Thumama, Umm Qarn, Umm Silal Ali, Wajba, Wakra Old and Wakra South.
Speaking about the importance of Al Meera's biggest Ramadan promotions campaign, Al Meera management said, "Our customers have become used to the traditional festivities that Al Meera brings every Ramadan. This Ramadan will see one of the best promotions for Al Meera customers as we make the Holy Month full of savings and rewards for every customer. "Complete customer satisfaction is a key priority for us and ensuring our customers feel appreciated and rewarded for their loyalty is of vital importance. Ramadan is an opportunity for us to give back to our communities, which is why Al Meera is giving double reward points, introducing special Ramadan promotions, running daily prize contests and contributing with charities to families in need. We wish all our customers a blessed Ramadan."