AL Jaber Opticians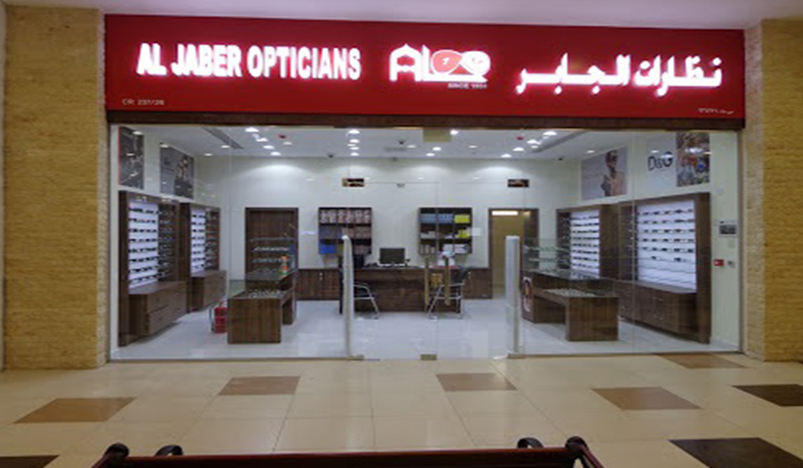 AL Jaber Opticians
AT AL Jaber opticians we believe our customers to be demanding for the best possible option available for them. That's why it has an array of eye care products available such as sunglasses, frames, contact lens, and prescription lens.
Location : Bin Omran
Contact No : +974 44513962
Email : aljaberoptic@gmail.com
Contact Person: Branch Manager
Working Days: 7 Days
Working Hours: 9.00 AM - 10.00 PM
Address:
Building No: 142
P.O Box 247, Jassim Bin Hamad St,
Bin Omran, Doha - Qatar.
TP No: +974 44424222,+974 44147187
Fax No: +974 44417955
Products:
Sunglasses
Frames
Ophthalmic lenses
Contact lenses
Facilities:
Free Parking
Branches:
Suhaim St. Branch
Suhaim Bin Hamad Street,
Doha - Qatar.
TP No: +974 44424037, +97444441949
Fax No: +974 44365019
Email: customercare@aljaberoptics.com
Alkhor Branch
TP No: +974 4476023
Email: alkhor@aljaberoptics.com
Umsalal branch
TP No: +974 44172030
Email: kartiyat@aljaberoptics.com
Pearl Qatar branch
TP No: +974 47796422
Email: pearlqatar@aljaberoptics.com
Address: 
Ground Floor,Unit 276 Porto Arabia - 12
Lagoona branch
TP No: +974 44151252
Email: lagoona@aljaberoptics.com
Rayyan Branch
TP No: +974 44114218
Email: rayyan@aljaberoptics.com
Wakra Branch
TP No: +974 44643338
Email: wakra@aljaberoptics.com
The Mall Branch
TP No: +974 44677242
Email: themall@aljaberoptics.com
Dar ALsalam
TP No: +974 44475062
Email: daralsalam@aljaberoptics.com
Muntaza Branch
TP No: +974 44315395
Email: muntaza@aljaberoptics.com
Gold Souq Branch
TP No: +974 44411499
Email: souqsaoud@aljaberoptics.com
Al Nasser Branch
TP No: +974 4341944
Email: alnasser@aljaberoptics.com
Royal Plaza Branch
TP No: +974 44131300
Email: royalplaza@aljaberoptics.com
The Centre Branch
TP No: +974 44371899
Email: thecentre@aljaberoptics.com
Souq Wakif branch
TP No: +974 44328268
Email: souqwaqif@aljaberoptics.com
AL JABER OPTICIANS was found in 1960 by Mr. Jassim Hassan Al Jaber, As a pioneer in the field of optical business in Qatar he introduced international brands to the local market, Today with a vast range of products AL Jaber opticians has become one of the premier optical chain in Qatar.
AL Jaber opticians has increased its scale to 19 branches throughout the region of Qatar and holds a key position in the development of Qatar and it's people through social contribution and other activities.
AL Jaber opticians is the sole distributor for DE RIGO VISION Group across Qatar. Some of the best Italian brands such as Police,Blumarine,CH,Carolina Herrera, Zegna, Fila, Givenchy, Lozza and Sting are available in the stores of AL Jaber opticians.
In 2013 Al Jaber will proudly include their city center Mall branch as it's 21st branch in the country to focus much on the needs of the customer and their convince.