After Enthusiastic Vibe, Street Child World Cup Doha 2022 Concludes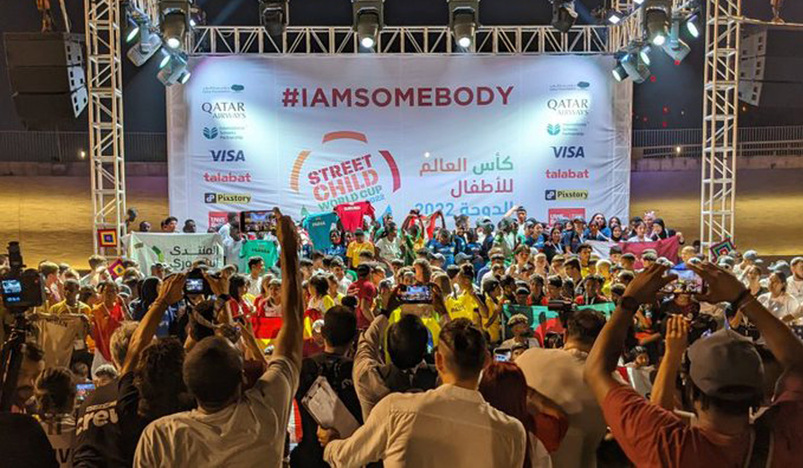 Street Child World Cup Doha 2022
The fourth edition of the Street Child World Cup Doha 2022, held in partnership with the Qatar Foundation for Education, Science and Community Development, concluded today in Education City's Oxygen Park, with the participation of 28 teams from 25 countries around the world.
The closing ceremonies witnessed a large multinational crowd cheering enthusiastically for the winning teams.
Participating in the Street Child World Cup Doha 2022, were 15 boy teams and 13 girl teams, including ten teams of refugee or displaced children, where the teams were divided into five groups, including two groups for girls and three groups for boys.
On organizing the Street Child World Cup Doha 2022, Street Child United Co-Founder and CEO John Wroe expressed his happiness with the tournament's positive and enthusiastic atmosphere. He also congratulated the teams of Egypt and Brazil on winning the boys' and girls' titles respectively.
Speaking to Qatar News Agency (QNA), Wroe said that in organizing the Street Child World Cup Doha 2022, Street Child United was keen on focusing on a variety of aspects, as well as expressing support for these community groups. For their part, Qatar Foundation was keen on enhancing children's participation.
The Street Child United CEO pointed out that the tournament brought together young people from all over the world, who underwent harsh life conditions but who overcame them and became leaders in their societies, noting that this football event was evidence of the power of football, in addition to serving as a channel to deliver messages to the world that children have rights that they must get it.
The Street Child World Cup Doha 2022 reflects the role of sport as a tool for bringing about positive change and delivering the voice of young people, regardless of their age, cultures and nationalities. The cup aims to shed light on the challenges faced by children from humble societies, and the basic rights that they lack.
It is worth noting that the first edition of the Street Child World Cup was held in South Africa in 2010, then followed by Brazil in 2014, and then Moscow in 2018.
(QNA)