Afghanistan: Refugees, Humanitarian Aid, and Qatar's role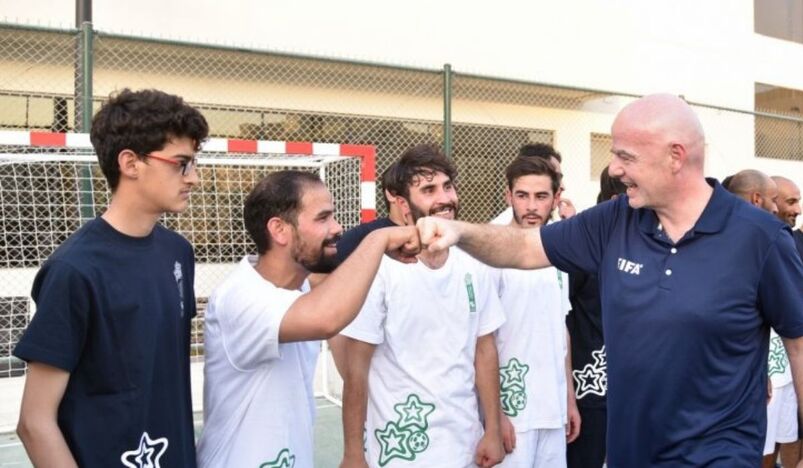 FIFA President Gianni Infantino has visited a Qatar 2022 residential compound currently hosting a number of refugees from Afghanistan
Recently, Due to the situation in Afghanistan, Qatar has become a key transit point for refugees fleeing the Taliban takeover of Afghanistan.
Qatar brought out over 50,000 Afghanis on evacuation flights. They are housed in Qatar's world cup complex. Being a refugee is no mean feat. 
Imagine leaving behind your home, families, jobs, familiarity, and everything you grew up around and loved. 
The ones who made it out worry about their families whom they left behind.  The refugees currently in transit in Doha are waiting to be accepted by another country. 
Qatar's role
Mediating talks and facilitating the evacuation of over 50,000 people since the Taliban claimed power on August 15th, 2021.

Housing Refugees, providing them with shelter, food, and safety.

Becoming a central player in the West's relationship with Afghanistan

Qatar's Non- governmental organizations Supporting Afghanistan's internally displaced people with humanitarian aid.

Qatar is also working to facilitate the opening of humanitarian corridors to get aid into Afghanistan.
Humanitarian Situation in Afghanistan 
Afghanistan's population has been devastated by forty years of war, recurring natural calamities, persistent poverty, drought, and the COVID-19 pandemic.
The recent surge in conflict and turmoil has complicated humanitarian support even further. Much before August 15th, Afghanistan's humanitarian situation was one of the worst in the world.
According to the UN, by the mid-year mark, nearly half the population – some 18.4 million people – were already in need of humanitarian and protection assistance in 2021.
Currently, access to health services across Afghanistan continues to decline. In addition, people who depended on agriculture for livelihoods require humanitarian assistance in the coming months due to ongoing drought and upcoming winter.
Qatar Charity (QC) has delivered the first batch of emergency relief aid to Afghans, with more humanitarian aid to follow in the coming days.
Delivered via Qatar Airways, the aid included 15 tonnes of necessary foodstuffs to cover the needs of 10,000 families for one month.