Advancing next generation of commercial aircraft engine technology with open fan and hybrid electric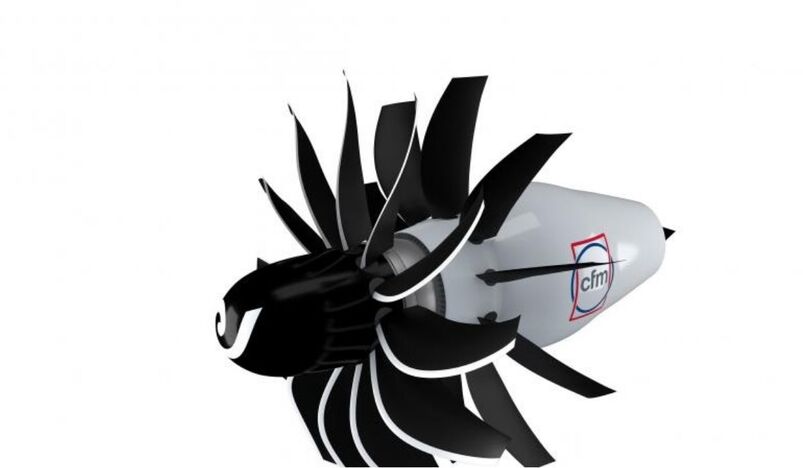 Air Craft Engine
GE Aviation and Safran have made a future-defining announcement for the two aerospace companies: the CFM RISE (Revolutionary Innovation for Sustainable Engines) Technology Demonstration Program. 
The RISE program targets more than 20 percent lower fuel consumption and CO2 emissions compared to today's engines and will demonstrate and mature a range of new, disruptive technologies for future engines that could enter service by the mid-2030s.
Central to the program is state-of-the-art propulsive efficiency for the engine, including developing an open fan architecture. This is a key enabler to achieving significantly improved fuel efficiency while delivering the same speed and cabin experience as current single-aisle aircraft. The program will also use hybrid electric capability to optimize engine efficiency while enabling electrification of many aircraft systems. 
Additionally, the engine technologies developed through the CFM RISE Program will be fuel flexible, compatible with Sustainable Aviation Fuel (SAF) and liquid hydrogen fuel.
With the RISE program, the historic GE and Safran partnership CFM International* will continue to lead commercial aviation propulsion by accepting the challenge of sustainability head on.
That's good news for Middle Eastern airlines looking for innovative ways to meet their environmental commitments in partnership with GE, such as Etihad Airways' Greenliner Program. 
GE's and Safran's technology roadmap outlined in the RISE Program also calls for further improvements in composite fan blades, heat resistant metal alloys, Ceramic Matrix Composites (CMCs), and additive manufacturing. 
Demonstration engines are scheduled to begin testing at GE and Safran facilities around the middle of this decade, with flight tests soon thereafter.
By improving engine efficiency, GE Aviation is supporting the global aviation industry's goals to reduce CO2 emissions 50% by 2050 compared to 2019 levels.
Speaking during Aviation Week's MRO Middle East tradeshow held earlier this month at Dubai World Trade Center, Ram Mulik, General Manager of GE Aviation's Customer & Product Support Operation for the Middle East and Africa, also discussed tools available now to help reduce CO2 emissions from the existing aircraft engine fleet.
GE Digital has developed a number of software applications to help aircraft operators to reduce emissions and drive operational efficiencies. Fuel Insight helps airlines identify areas of opportunity to improve their fuel consumption, while Airspace Insight offers flight path design and maintenance to assist aircraft operators in ensuring routes are optimally designed to minimize time, fuel, and carbon emissions. FlightPulse® is a mobile application that shows pilots their individual operational efficiency metrics and trends, valuable information that can help them make better decisions and reduce risk and fuel consumption.
GE's 360 Foam Wash is a proprietary engine cleaning solution that removes dust and dirt particles in the engine. During technology trials in hot and harsh environments, the 360 Foam Wash solution allowed customers including Emirates, Etihad Airways, Royal Jordanian Airlines and Qatar Airways to improve engine performance. Reducing build-up of deposits in the engine helped lower engine exhaust temperatures and improve engine compressor efficiency. These improvements led to reduced fuel consumption and increased engine time on wing.
Today, all GE Aviation and CFM International engines can operate with approved SAF. SAF has a smaller carbon footprint than oil-based fuels because they come from more sustainable sources, such as cooking oil, plant oils, municipal waste, waste gases, and agricultural residues. The level of CO2 emissions generated by consumption of jet fuel, on a life cycle analysis basis, can be up to 80% lower with SAF than Jet A or Jet A-1. 
Even as the aviation industry pushes for wider adoption and availability of SAF pathways currently approved, GE Aviation experts are looking ahead to a new challenge: A future SAF that requires no blending with petroleum.