A story of mobility and innovation only Honda can tell.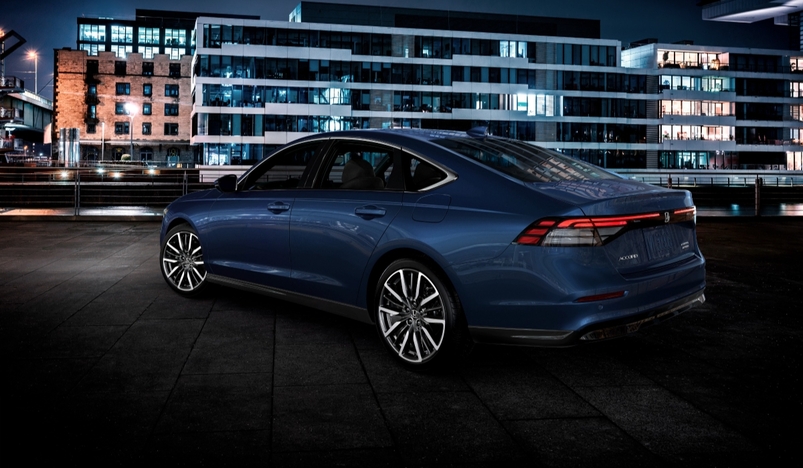 Honda Accord
A story of mobility and innovation only Honda can tell.
Honda Product History
Honda's business began in 1948 firstly with motorcycles before extending towards Automobiles, then Power Products, Racing, and more recently robotics and aviation.
It all started the day Soichiro Honda mounted a surplus army generator engine to a bicycle. In 1947 Japan's principal mode of transport was the bicycle. People struggled to move around large distances, the model 'A' called the 'Putt, Putt' was born, due to the distinctive sound it made and immediately was a huge success as ordinary people could move about easily.
Challenging Spirit of Honda
Honda has a long history of advancing technologies and nurturing its people by participating at the pinnacle of motorsports in two and four wheels. This 'challenging spirit' enables us to push ourselves further to develop product such as the Honda Jet and worlds first level 3 autonomous driving technologies.
Serving people to improve people's daily lives, has been a core strength of Honda. As we enter a new era, we aim to build on that strength and utilize core Honda technologies and knowledge to expand our horizons into new areas.
How will Honda leverage these technologies?
Carbon Neutrality by 2050
Honda Motor CEO Toshihiro Mibe committed Honda to realize carbon neutrality across all Honda's products and corporate activities by 2050.
To achieve this, Honda will adopt a 'multipath way' strategy, where we will heavily invest in range of zero emission technologies, including solid state batteries and swappable battery systems, carbon neutral fuels and hydrogen fuel cell to ensure all Honda products on road to the ocean to the skies,
have minimal impact on the environment.
Honda's Commitment to zero accident society
In order to realize "society with zero environmental impact" Honda will explore new technologies and further investments in R&D will take place.
This ambitious target will be supported by the development of next generation active safety technology. Honda SENSING Elite, the worlds first application of level 3 autonomous technology in a production vehicle.
This will be followed by Honda SENSING 360 omnidirectional driver assist technology which will be made available for all models in leading markets by 2030.
Honda's Commitment to the region
In this region, we will focus on several new initiatives such as:
Enhancing the model lineup to fit the strategies outlined earlier.

Introduce one of the most advanced 2 motor Hybrid systems in the market

Expand our customer base with Halo products such as Type R Civic and Accord e:HEV.
2023 Accord e:HEV Sport grade will re-energize the midsize sedan segment with an elegant and sophisticated design, and an available advanced hybrid-electric system that provides both a sporty, exhilarating driving experience and outstanding fuel efficiency. This grade will further compliment our existing Sport Sedan lineup, where the Civic
1.5 Turbo and the City Sport have both established themselves as the benchmark in their segments.
Further enhancement to the lineup and model repositioning will come with the launch of several new models in 2023. From the all-new Honda Pilot, the most rugged and capable Honda SUV ever with full 8 seat occupancy, loaded with features such as an opening panoramic roof, Honda SENSING, 360-degree camera and clever center seat storage mechanism in the rear.
It does not stop there, as we will further strengthen our SUV lineup with the full model change of one of the world best-selling SUV, the Honda CR-V, which will become a little bigger to accommodate 7 adults comfortably.
A completely new nameplate in the lineup is the stylish new Honda ZR-V which will fit perfectly between our current HR-V, which is loved by female drivers and the new CR-V. with Four SUVs in the lineup Honda will be able to cater to all customer demographics who are looking for something a bit special.
Our Philosophy Shapes Our Brand
Ever since its foundation in 1948, Honda has been making continuous efforts to offer various kinds of value as we strive to help people and create a better society through our own technologies, ideas and designs.
The starting point of such efforts is our desire to "help people and society" and "expand people's life's potential."
Our brand is not just a marketing tool for communication but is an integral value that drives all elements of our business to deliver a coherent and engaging experience.
It represents our personality and the values we stand for. Everything we do and everything we say reflects the essence of the Honda brand– just as it always has been.
At Honda, our brand triangle is the framework that defines how our brand supports and determines the successful outcome of our company vision.
At the base of the brand triangle is the foundation promise, the 3P's'
People, Process and Premises, with the aim of providing the 'best customer experience'
The segments within our brand triangle sets our behaviors and direction, which is pivotal in achieving our long-term vision.
As we move up the brand triangle, our brand positioning of "Advanced & Sporty" stands proud with our 'best customer experience' framework.

The WOW Innovation
What do we mean by "Advanced & Sporty"? Since its founding, Honda has passed down an unchanging philosophy- "Bringing Joy to People"
Honda has always been known for innovation and advanced, sporty technology that can be used in everyday life.
Technology is, after all, no more than a means of rendering service to people. True technology is always developed with consideration for people and their happiness. Something yet to see that brings joy to people, that is 'Advanced & Sporty'
'Advanced & Sporty' values embodied in Honda products that are created through our continuous study of humans. Honda's epoch – making N360, the first signature product. Despite its compact size and 360cc engine, the car offered a comfortable ride for 4 adults, ample storage for luggage and exceptional fuel efficiency, an example of 'Advanced & Sporty' product created by studying humans in order to bring Joy.
At Honda, 'Advanced' does not just mean 'technologically ahead of the competition. To be 'Advanced', Honda constantly thinks about what customers want deep down. Through conceptual advancement, Honda then creates new values that exceed customer's expectations.
'Advanced & Sporty' is about our innovative ideas, as well as the new technologies/ ingenuity developed and harnessed to turn ideas into reality. The result is the new source of enjoyment and usability that overthrows convention, offering customers delightful wonder and excitement.
Our 'Advanced' is not necessarily restricted to technological advancements that are often associated with the word 'Advanced'
Driving Sensuality
At Honda, 'Sporty' means that Honda caters to customers' enthusiasm for more dynamic life. Thanks to the new value offered from Honda, people become spirited and activated, and they aspire to extract the potential of their life to the full. Similarly, 'Sporty' at Honda means much more than the feature or performance of the products.
It's more than driving performance or looks, it is about the 'experience', visibility, sound, handling, feel of the perfectly shaped steering wheel and functional design that stimulates the senses, giving people an exhilarating feel and sense of freedom.
Our 'Sporty' is not necessarily the same as having outstanding mechanical performance values that are often associated with the word 'sporty' or the looks of a jet fighter. Both values coexist in each and every Honda model although the focus differs depending on the model, providing fun to drive with maximum customer Joy
The engineering excellence that goes into making a Honda automobile is 'Advanced' The great life experience and joy that owners get from using them is 'Sporty'
Designed for "Joy" instantly takes your mind to wonder about excitement and feel-good factor. Our engineers born with ingenuity, and challenging the impossible, thus never accepting failure or defeat.
Experience the Joy and take our products for a test drive and discover our "Advanced & Sporty" and decide for yourself.