A shopaholics guide to Doha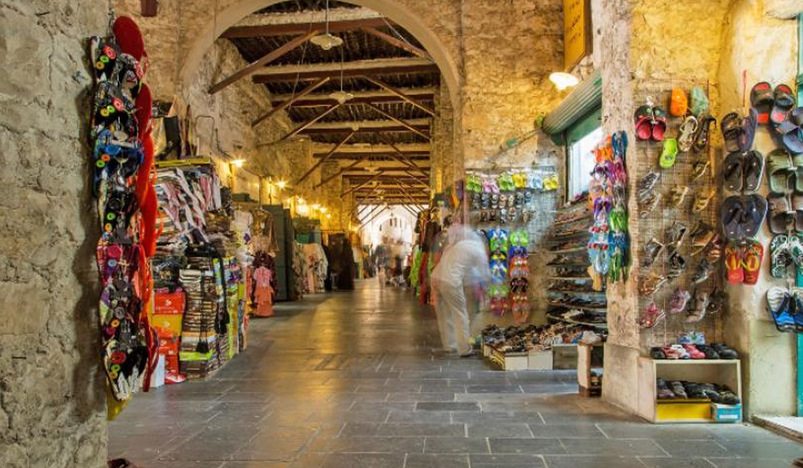 A shopaholics guide to Doha
When it comes to shopping, Qatar is the most happening place in the Middle East. In the capital Doha, you can wander a labyrinthine souq, take in some of the glitziest shopping malls known to man and explore decidedly hip boutiques from exciting local designers. This is because the country has the richest residents in the world, thanks to myriad oil and gas revenues.
In the last five years, this massive spending power has led the Qataris to snap up some of the world's biggest brands. The country's sovereign wealth fund ploughed millions into buying luxury department store Harrods in London, and has stakes in everything from professional football club Barcelona FC and Bloomsbury Publishing to Barclays Bank and Sainsbury's supermarkets. On the streets and in the malls, if wealth is indeed power, then the Qataris have some serious biceps with which to flex their shopping bags. Unless they have paid a store assistant or porter to carry their purchases for them, that is.
Start your day of shopping with an early morning tour of old world Arabia at Souq Waqif, located behind the crescent-moon shaped waterfront Corniche. Renovated in 2004 to resemble the authentic, dusty souqs found in cities such as Aleppo and Damascus in Syria and Cairo, Egypt, rather than the heritage theme parks of Dubai and Abu Dhabi, this working open-air street market is a maze of narrow alleys where merchants barter perfumes, handicrafts, jewellery, Bedouin weavings, bridal chests and silverware – all the trappings of Qatar's heritage and wealth. In the heart of the souq is the Souq Waqif Art Centre and the miniscule Al Hosh Al Qatari Lil Funoon Gallery (974-441-1305), both great spots to pick up a folk painting of Old Doha, or, in the surrounding lanes, spoil yourself with some of the region's finest dried fruits and nuts, honey and incense from a variety of ever-changing vendors.
The real star of the souk, though, is the architecture – so much so that the local designer Mohamed Ali Abdullah won the respected Aga Khan Award for Architecture. Wind towers dot the top of buildings, and roofs have been constructed in traditional style, with local woods and bamboo bound together by a layer of clay and straw – it is easy to imagine Bedouin traders and merchants buying and selling their wares under the exposed timber beams.
After a morning browsing the souq, jump into a taxi for the 20-minute ride to the Pearl-Qatar, a man-made island in West Bay Lagoon and one of the most up-and-coming areas in Doha. Make a beeline to Toujouri, the flagship boutique of London-trained, Doha-born star designer Lama El-Moatassem for glamorous dresses and ball gowns, followed by Dados Boutique, run by local fashion guru Heba Al-Okar, which specialises in chic garments for women hand-picked from the boutiques of Paris and Milan. Its sister shop, Dados Salon, at Al-Seal Residence in the newly developed West Bay neighbourhood, is a spa-themed boutique selling fashion, swimwear and jewellery that would not look out of place in Paris Hilton's wardrobe. And for a sneak preview of next year's trends, local fashionista Selina Farooqui is making a name for herself with a series of Indian-influenced designs, patterns, and motifs. Though she does not yet have her own outlet, it is only a matter of time before her eponymous label is stocked throughout the city's ubiquitous malls. Until then you can buy her creations online via her Facebook page.
As the afternoon heats up, head to one of the world-class arcades that are spread throughout the length and breadth of the city, and are the beating heart of Qatari life. Choose from luxury hub the Gate in West Bay, home to designer labels including Hugo Boss, Paul Smith, Givenchy and Just Cavalli; the Mall near the airport, the country's longest-standing shopping mall (since 1997) and home to diverse brands such as La Senza, the Body Shop and Mothercare; and Landmark in Al Duhail, a haven for expats thanks to global brands including GAP, H&M and Zara. If that was not enough, gigantic retail park Doha Festival City, located 15km north of downtown Doha, with more than 400 shops and the country's first IKEA, is due to open later this year.
The pick of the malls, however, is Villaggio, a Venetian-themed shopping extravaganza located next to the purpose-built sports area Aspire Zone, also known as Doha Sports City, and an excessive altar to everything Italian. It is not only home to the Via Domo luxury precinct (expect to see Dolce & Gabbana, Fendi, Gucci, Valentino among other Italian brands), it coaxes in visitors with Las Vegas-style indoor gondola rides on the canals that run between the shops and the indoor Gondolania Theme Park, with rollercoasters, flume rides and a free-fall tower.
Now that it has reopened after a big-money renovation due to a government clampdown on mall safety regulations, City Center Doha in the diplomatic quarter should give Villaggio a run for its money. Easier to access from the main tourist sights in Doha, its claim to have everything under one roof is entirely justified; there are cinemas, an ice rink, a vast food court and an A to Z of all the international brands you would expect, from Aldo through to Mango and Swatch, Last December it even opened from 10 am until 4 am for "Starlight Shopping". For some Qataris, there just are not enough hours in the day. But, really, with that amount of loose change in the bank, who can blame them?