A Palestinian Christian recited the Muslim call to prayer and people are loving it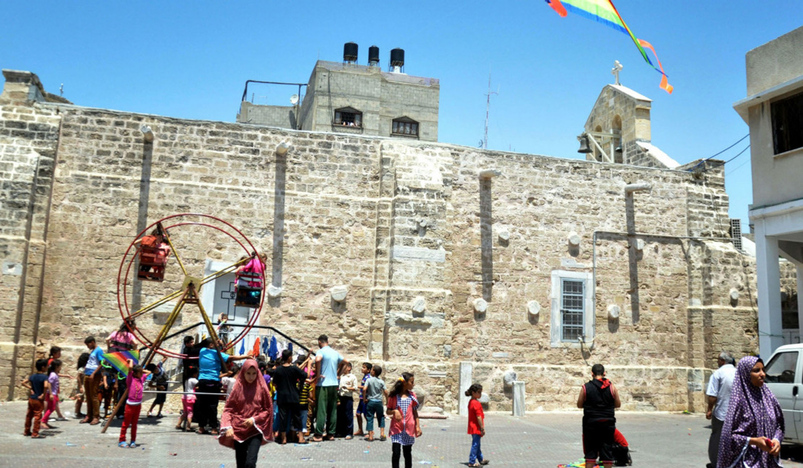 Palestinian Muslims sheltering inside Gaza Church during 2014 offensive celebrating Eid [Getty]
A Christian Palestinian warmed many hearts when a video of him reciting the Muslim call to prayer at the time of breaking fasts began to circulate online.
Palestinian Christian Nael Ghantous was filmed as he called for prayer at the Zine El Abidine mosque in the village of Taiba, located in the Jezreel Valley.
Nael recalled approaching the original Muezzin (the reciter for the Muslim call to prayer) and told him he is a Christian, in which he was welcomed warmly.
Many were pleased with this gesture, praising Nael and also praying for him.
"So much respect! And what a voice this man has" one person commented.
"Nael Ghantous you are an example of tolerance and dignity," another read.
"My darling, God bless you. May God protect you and protect you for the sake of your mother. May he prolong your life and guide you," said another comment.
Despite the positivity, not many Palestinians were shocked at this gesture.
Religious unity in Palestine
For Palestinians, gestures of religious unity between Muslims and Christians are not rare, nor are they new.
Palestinians pride themselves on religious unity being cemented within the their culture, and it is seen as a staple for the identity and a lifeline for their nationalist movement.
Palestinian Christians, in particular, are quick to show their support to their Muslim friends and family, especially in the holy month of Ramadan, in which it becomes significantly more difficult to observe under the Israeli occupation.
Palestinian Christians are known for handing out bottles of water and food to Muslims stuck at Israeli checkpoints and are unable to break their fasts.
Palestinian Christian's distribute water to Muslims who can't be home for Iftar due to Israeli checkpoints.
Traditionally, some even wake up before sunrise to roam in streets and villages, waking Muslims up early enough to have enough food and water for suhoor (pre-dawn meal).
Michel Ayoub, a Palestinian Christian working as a 'Musaharati', a person who wanders Muslim streets in to wake them up for suhoor
The 2014 Gaza offensive which killed more than 2,000 people took place during Ramadan.
Because Mosques were common targets for the Israeli forces, Churches in Gaza opened their arms to Muslim Palestinians and provided them with shelter, a place to break their fast, pray and also make the Muslim call to prayer.
During Christmas, Muslims join in with celebrations and are often found handing out Christmas presents to their Christian friends.
Muslims and Christians also come together in cities like Ramallah and Bethlehem to celebrate the lighting of Christmas trees, both as a gesture of mutual respect and to display a nationalism that embeds religious unity in its very core.