Alice's Dessert Land
Mochi, Bubble tea and much more at Alice's Dessert land
Alice's Dessert land is a restaurant that serves a selection of Chinese and Japanese foods. From spicy salads to yummy handmade Mochi. It's an Asian bubble tea shop that also serves snacks and desserts. Their best-selling dishes are Sticks Combo, Non-spicy Chicken Noodles, and Spicy Chicken Noodles, although they have a variety of dishes and meals to choose from, like snacks for any time of the day. 
The Mochi is a must-try! Sample all the different flavors. If you are looking for top-class east Asian food, then this is the place to be. Also, don't forget to try the Karak bubble tea!
They are located in Al Muntazah, opposite Ibn AlQayyim and Al Nashima!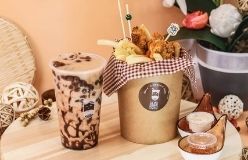 Alice's Dessert Land
Chinese & Japanese
Al Muntazah, opposite of Ibn AlQayyim and Al Nashima Open
QAR 100
FOR 2
RATINGS & 0+ REVIEWS
Working Hours
Sun


12:00 PM- 12:00 AM

Mon


12:00 PM- 12:00 AM

Tue


12:00 PM- 12:00 AM

Wed


12:00 PM- 12:00 AM

Thu


12:00 PM- 12:00 AM

Fri


12:00 PM- 12:00 AM

Sat


12:00 PM- 12:00 AM