Qatar Working Continuously with International Partners to Evacuate Foreign Nationals, Afghans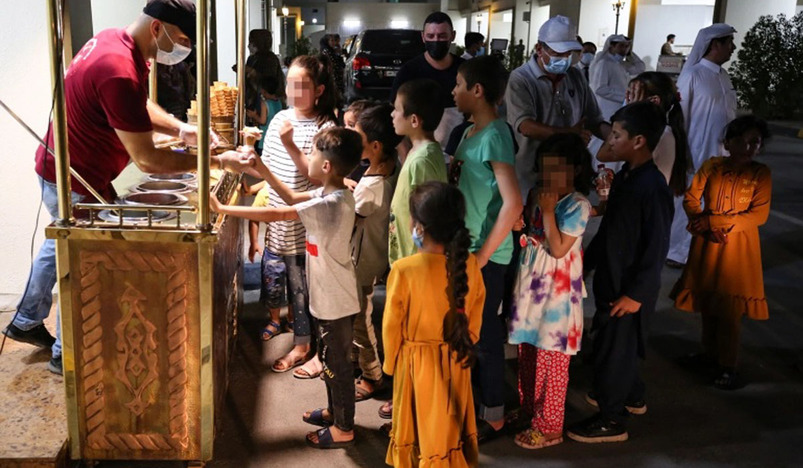 Afghan refugee children line up for ice cream at the compound in Doha [Showkat Shafi/Al Jazeera]
QNA
The State of Qatar announced that it is working continuously with its international partners to evacuate Afghan civilians, citizens of friendly countries and journalists from Afghan territory by providing safe passage to reach the airport and then transferring them to Doha through special flights organized by the State of Qatar.
In a speech delivered by HE Permanent Representative of the State of Qatar to the United Nations Office in Geneva Ambassador Ali Khalfan Al Mansouri, before the 31st special session of the Human Rights Council to address the serious human rights concerns and situation in Afghanistan, Qatar affirmed its commitment and determination to move forward in its efforts to achieve peace and stability in Afghanistan.
Al Mansouri reiterated Qatar's firm and supportive stance for the Afghan people and their right to live with dignity and achieve their aspirations for stability, development and prosperity.
He pointed out that in light of the recent accelerating developments on Afghan soil, the efforts of the State of Qatar continued with the relevant Afghan parties to find a peaceful settlement, and called for an immediate, comprehensive and lasting ceasefire in all Afghan territories, and stressed the need to work urgently for a peaceful transfer of power that would pave the way for a comprehensive political settlement that accommodates all Afghan parties and achieves security and stability in the country.
The official added that out of its humanitarian duty, the State of Qatar has sought, through its continuous efforts, in cooperation with the United Nations and international partners, to bring views closer and urge the Afghan parties to reach a peaceful and just solution that fulfills the aspirations of the Afghan people.