Norwegian Football Federation votes against boycotting FIFA 2022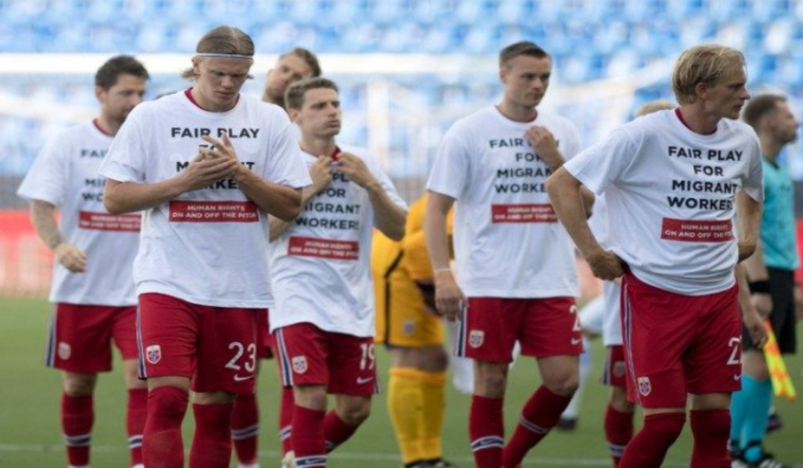 Norwegian Players
Amid the pressure caused from its grassroots for human rights abuses against migrant workers in Qatar, the football federation from Norway has voted against boycotting next year's FIFA world cup. On Sunday, the football federation conducted a vote, which resulted in 368 officials voting for a motion rejecting the boycott, meanwhile 121 favored the decision.
Norway is currently fourth in world cup qualifying group stage and has not qualified for a single international tournament since Euro 2000. Therefore, albeit the chances of qualifying for the world cup stands low, the results of the vote could have had an impact whether or not Norway would play the remaining qualifying matches. 

The decision for a boycott was first made when Norwegian's club Tromso IL came forward with allegations in February. The club stated that "We can no longer sit and watch people die in the name of football." 
Speaking to AFP news agency, footballer-turned-public-relations-officer Tom Hogli said: "There is no doubt that this World Cup should never have been awarded to Qatar. The conditions there are abominable and many have lost their lives."
Over the years, many organisations had brought allegations with regards to the treatment against its migrant workers since the year 2010, when Qatar was awarded the hosting of FIFA 2022 world cup. Qatar has announced that it has implemented several labour reforms in the run-up to the global tournament that is scheduled to take place next year. In August 2020, the Arab State carried out landmark changes to the labour law, which includes removal of 'no-objection certificate' - an employer's permission to change jobs. This year, Qatar also increased the minimum wage for its labourers and workers.
However, FIFA has promulgated that it has made a social development when the award for hosting this prestigious tournament was given to Qatar. In May, FIFA president Gianni Infantino said: "We know there is still work to be done, but we need to recognise the significant progress achieved in a very short time."