Embassies Mark 50th India-Bangladesh Friendship Day Celebration in Qatar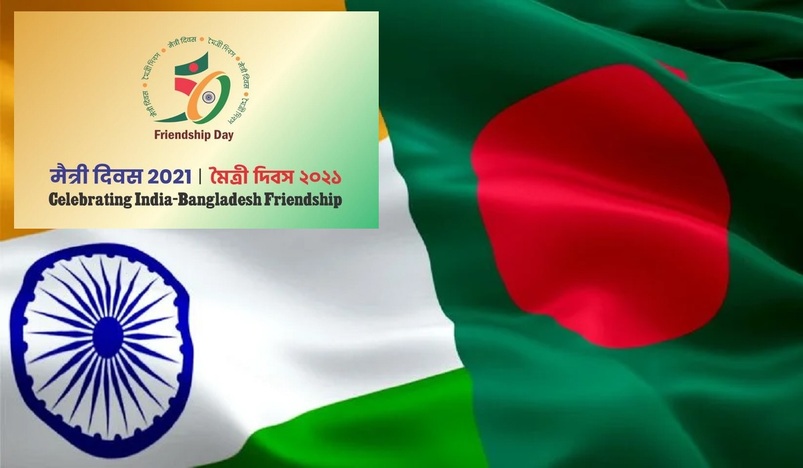 India-Bangladesh Friendship Day 2021
On the occasion of the 50th anniversary of diplomatic relations between Bangladesh and India, the Embassies of India and Bangladesh in Doha jointly celebrated the 'Maitri Diwas' (India-Bangladesh Friendship Day) to commemorate 50 years of diplomatic ties between India and Bangladesh.
India was one of the first countries to recognise Bangladesh as a sovereign and independent country on December 6, 2021. During the State visit of Prime Minister of India, Narendra Modi, to Bangladesh in 2021, both India and Bangladesh agreed to jointly commemorate December 6 as 'Maitri Diwas' around the world. Commemorative events were carried out in 18 other countries (including Qatar) apart from India and Bangladesh.
Speaking at the event, Ambassador of India to Qatar H E Dr. Deepak Mittal highlighted that bonds between India and Bangladesh have been forged in blood, replenished by shared history, culture and vibrant people-to-people ties.
The Ambassador noted that a large number of the leaders of India's independence had their ancestral homes in present-day Bangladesh. He also stressed that Prime Minister Modi and Prime Minister of Bangladesh Sheikh Hasina have elevated the India-Bangladesh relations to a 'Shonali Adhyay', a golden chapter.
Ambassador of Bangladesh to Qatar, H E Md Jashim Uddin, appreciated the support and cooperation of India during Bangladesh's independence struggle in 1971. He said that Prime Minister Sheikh Hasina has awarded the Friends of Bangladesh Award and the Bangladesh Liberation War Honor Award to the Indian personalities who supported the country's liberation war in 1971. He added that Bangladesh was erecting a war memorial in Ashuganj in memory of Indian soldiers and citizens.
Moreover, the ambassadors of the two countries spoke on the occasion of the start of Bangladesh's development and the development progress of Prime Minister Sheikh Hasina and the bilateral relations between Bangladesh and India.
On the occasion of Maitri Diwas, community members from India and Bangladesh living in Doha showcased the common culture and traditions as well as the shared heritage of India and Bangladesh through cultural performances. The community members from both countries jointly sang in Bengali the verses written by Nobel Laureate Rabindranath Tagore wishing for the friendship between India and Bangladesh to remain a source of happiness and inspiration for the citizens of both countries.
Maitri Diwas was also attended by Director of the Department of Asian Affairs of the Ministry of Foreign Affairs of Qatar, H E Yousef Sultan Larem, and  the diplomatic community in Doha. Distinguished guests from Qatar, including Chairman of Alfardan Group, Hussain Alfardan, and Chairman of Al Darwish Group, Yousuf Al Darwish, were also present at the event.
The day is jointly observed by the embassies of Bangladesh and India in 16 countries including Qatar. During the visit of the Prime Minister of India to Bangladesh in March last year, it was decided to celebrate December 8, the day of official recognition of Bangladesh as the day of friendship.