Best Weekend Brunches in Doha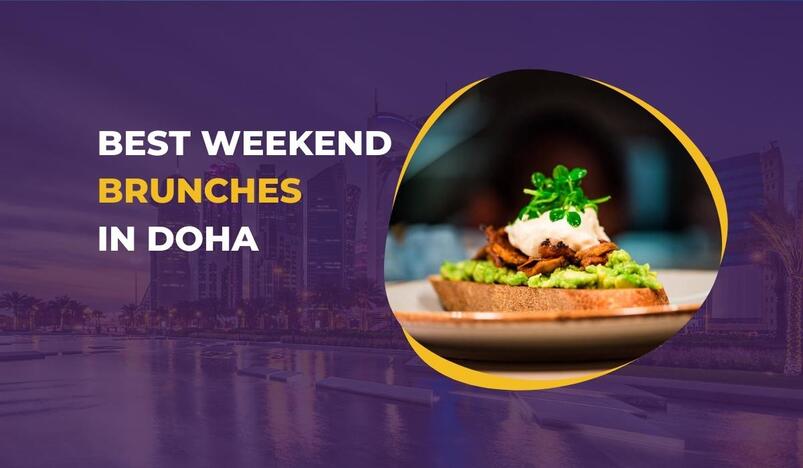 Here are some of the best brunch spots in the city
Are you wondering where to have brunch this summer? The following list may help you decide where to have the best brunch in Doha.
1. Lazy Brunch Sabado at the Cellar
Every Saturday, the Cellar offers a wide selection of delightful treats of Spanish origin.
Enjoy a 3-course set menu with selections such as assorted tapas and Spanish desserts such as Cream Catalana, with some soft drinks.
Timing: 
Noon- 4:00 pm 
Prices: 
QAR 260 per couple 

QAR 160 per person (Offer till 31 December 2022)

QAR 100 top-up per person (for unlimited vinos)
Location: Hyatt Regency Hotel 
Contact: 41411234 or 6608 5806 (WhatsApp)

2. Brunch Club at Opus 
Every Saturday at Opus you will get to enjoy a delightful buffet-style brunch with a wide range of mouth-watering dishes to indulge in.
At Opus, you get to enjoy the beautiful ambiance in indoor and outdoor areas, with live entertainment. 
There is also a Kids' club area, where your children can have some fun.
Timings: 
12:30 pm - 4:00 pm
Prices:
QAR 299 per person including enhanced beverages 

QAR 199 per person including soft beverages

QAR 99 for children below 12 
Location: Park Hyatt Doha
Contact: 40094330 or 3158 7940 (WhatsApp).
3. Friday Brunch at Indo Chin
The Friday Brunch at Indo Chin features South Asian main courses such as Peking Duck, Sweet and Sour Prawns, and Thai Jasmine Rice.
At Indo Chin, there is something for everyone to enjoy.
Timings:
1:00 pm - 4:00 pm 
Prices:
QAR 225 with unlimited house beverages

QAR 189 with unlimited soft beverages 
Location: Double Tree by Hilton Doha - Al Sadd
Contact: 5002 6386
4. The Curry House 
If you are an Indian food lover, the Curry House offers diverse Indian tastes and flavors that take you on a "Culinary Indian Adventure'.
The Curry house menu features street food favorites from Mumbai, Delhi, and more.
Timings:
Fridays, from 12:00 pm - 4:00 pm.
Prices: 
QAR 445 for unlimited food and house beverages. 

QAR 285 for unlimited food and soft drinks
Location: InterContinental Doha The City, West Bay
Contact: 3114 6455
5. Cosmopolitan Brunch at Choices 
Inspired by American Street Food, the sophisticated yet contemporary brunch promises an unforgettable new york dining experience. 
Indulge in live carving rotisserie New York prime rib & BBQ, lavish seafood, smoked strip steak, and a Live DJ that will get you up and dancing on your feet.
Timings:
12:30 PM-4:00 PM 
Price:
QAR 295 Per Person (offer valid till 30 June 2022)

QAR 165 add on for special beverage packages
Location: Hyatt Regency Oryx Doha
Contact: 41411255
6.Cucina Brunch at Marriott Marquis Doha 
Are you a fan of Italian food? Then Cucina is the place for you. 
Enjoy an unforgettable brunch with your loved ones and get to know the best Italian food in town. 
Timings:
12 pm – 4 pm
Price:
Location: Marriott Marquis Doha 
Contact: 4419 5510 or WhatsApp 6643 6890
7.Havana Brunch 
Every Friday, the La Vista 55 at the InterContinental Doha The City, hosts a delicious brunch with Live Dj & Percussionist.
Enjoy magnificent views all the way Overlooking the Arabian Gulf and West Bay all the way from the 55th and 56th floor. 
Price: QAR 300 per person
Timings: 12:30-4:00 PM.
Sky Master
This is your childhood dream to fly like a bird! We'll give you a short safety briefing, then safely strap you into the Back seat of our Xitor Paratrike. You will be talking to our certified instructor via intercom as you gently lift off the ground and take in 20 amazing and relaxing minutes of the views, sites, and smells from a 360-degree perspective while flying low and slow. Note: Attendance Time , 30 Min before the flight time for the safety & Security Instruction briefing. Special Remarks: The waiver must be signed prior boarding the flight The Flight Fees is non refundable The flight may be rescheduled due to weather conditions
Event Details:
Location: Sealine Beach
Date: 11 May 2021
Time: 05:30 AM - 09:30 AM
Price: per participant - VIP 1100, Regular 650
Email:
Website: q-tickets.com