77,575 fans attend spectacular Lusail Super Cup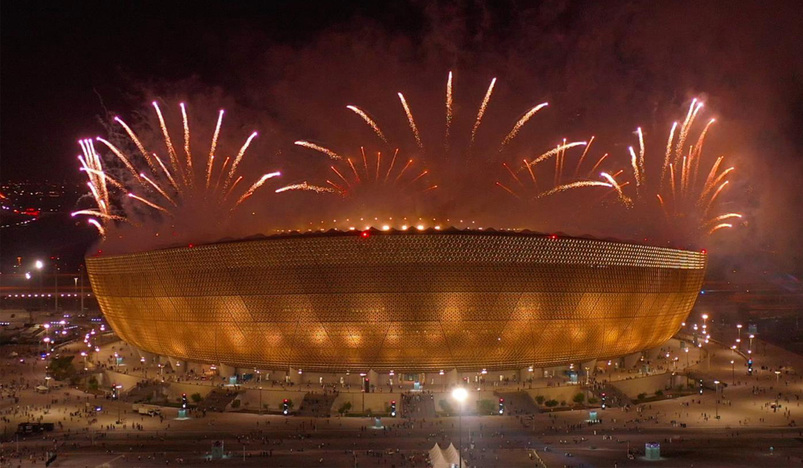 Lusail Stadium
With just over ten weeks to go until Qatar stages the first FIFA World Cup™ in the Middle East and Arab world, Lusail Stadium hosted a memorable evening of football and music for 77,575 fans.
Fans flocked from far and wide to visit the stunning venue, which will host the FIFA World Cup™ final on Qatar National Day, 18 December. After Egyptian superstar Amr Diab performed hit songs, Al Hilal and Zamalek went head-to-head for the Lusail Super Cup.
In what was a hard-fought contest between the reigning league champions of Saudi Arabia and Egypt, it was Al Hilal that claimed the trophy with a 4-1 penalty shoot-out victory after the match finished 1-1 after 90 minutes.    
H.E. Hassan Al Thawadi, Secretary General, Supreme Committee for Delivery & Legacy (SC), said: "The Lusail Super Cup was yet another memorable night in the lead-up to the biggest mega-event ever to be held in our country and region: the FIFA World Cup. The event offered a taste of the spine-tingling atmosphere fans can expect when they travel to Qatar in November and December. With the World Cup only weeks away, Qatar is ready to host a landmark edition of the greatest show on Earth."
Lusail Stadium is Qatar's biggest FIFA World Cup™ tournament venue. It will host ten matches during Qatar 2022, starting with the Group C clash between Argentina and Saudi Arabia on 22 November. The stadium boasts a host of sustainability features, including a roof made from PTFE that protects the venue from warm wind, keeps out dust and allows in enough light for the pitch to grow while providing shade to reduce the burden on the stadium's air conditioning. Lusail Stadium achieved a five-star Global Sustainability Assessment System rating for its design and build and a Class A* rating for construction management.
Lusail Stadium's design is inspired by the interplay of light and shadow that characterises the 'fanar' lantern. Its shape and façade echo the intricate decorative motifs on bowls and other vessels characteristic of the golden age of art and craftmanship in the Arab and Islamic world.
Eng. Yasir Al Jamal, Director General, SC, said: "Lusail Stadium is an incredible feat of engineering and one that fans will enjoy visiting during the FIFA World Cup. All eight of our state-of-the-art stadiums stand ready to host the best footballers and most passionate fans from around the world later this year. We will continue working hard with our valued stakeholders to ensure we deliver an unmatched edition of the FIFA World Cup."
Nasser Al Khater, CEO, FIFA World Cup Qatar 2022 LLC, said: "With only 72 days to go until the big kick-off, Qatar is ready to host a unique version of the FIFA World Cup. Fans from everywhere will be welcomed with open arms. They should expect amazing football on the pitch and incredible experiences off it. Qatar will deliver a range of entertainment to suit every taste and budget. This will be a FIFA World Cup to remember for everyone who attends and the billions tuning in across the globe."