6th International Arabic School Debating Championship Concludes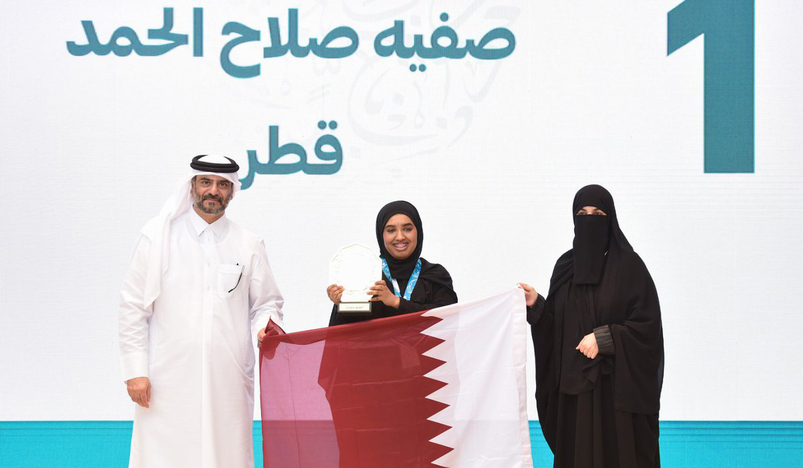 Arabic School Debating Championship
The Sixth International Arabic School Debating Championship concluded today, with team Kuwaiti winning the tournament's title, after it had defeated its Jordanian counterpart, which finished in second place. Team Algeria secured third place following a fierce competition with team Qatar for the position, only to finish forth.
Team Singapore won first place in the Arabic language category for non-native speakers, after defeating its Indonesian counterpart, which came second.
Assistant Undersecretary for Private Education Affairs at the Ministry of Education and Higher Education Omar Abdulaziz Al Naama and Executive Director of QatarDebate Hayat Abdullah Marafi honored the winners of the tournament and best speakers.
On the occasion, QatarDebate Executive Director said that under the sponsorship of Qatar Foundation, QatarDebate has been able to advance the debate culture globally, in addition to enhancing the status of the Arabic language among young people.
She remarked how school student who had participated in previous tournaments are now debating coaches and arbitrators, saying that they are people who believed in the culture of debate and striving for truth and the acceptance of otherness, spreading this message all over the world.
Finally, Marafi pointed out that QatarDebate published this year a new series of teaching books and curricula on the art of debate in both Arabic and English, in a contribution to spreading this art.
On the sidelines of the tournament, HE Chairman of the Board of Directors of the Oman Debate Center Firas bin Fatik bin Fahr Al Said and Executive Director of QatarDebate Hayat Abdullah Marafi signed a Memorandum of Understanding (MoU) on strengthening the partnership between both parties.
This MoU comes as an enhancement of cooperation between the Oman Debate Center and QatarDebate, with the latter being one of the most important partners of a program launched by the Oman Debate Center, for a period of two years to train debate coaches, in addition to organizing the Asian Arabic Debating Championship and national championships in the Sultanate of Oman.
(QNA)