5 Things To Do With Your Sister in Qatar This Sister's Day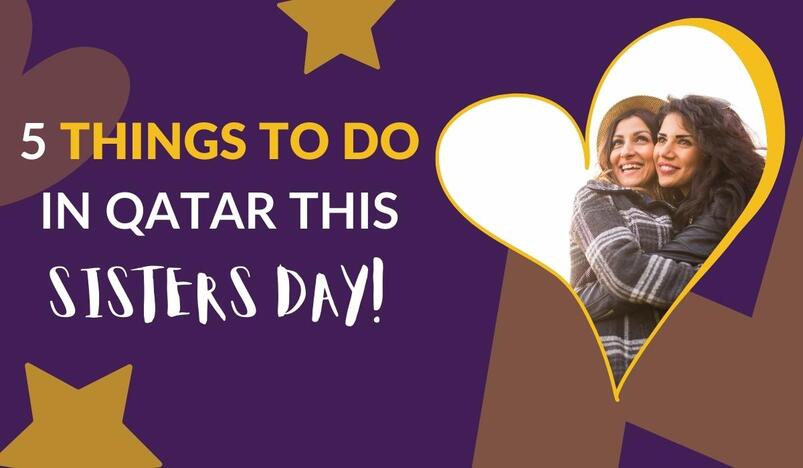 Here are 5 interesting activities for you to do with your sister!
Make your sisterly bond stronger this Sister's Day by indulging in some exciting activities with your sister! Here are a few activities for you to try out:
Brunch
Enjoy a mouth-watering brunch with your sister at some of Qatar's most delicious brunch spots. Indulge in a cup of delicious hot chocolate and pancakes from: 
Angelina, Paris 
Location- The Gate Mall, Doha
Contact- +974- 5029 6795
Brunchery
Location- Al Mana Twin Towers, Doha
Contact- +974 4001 24444
Skin Care
Have a girl's day in while you and your sister pamper your skin with refreshing sheet masks. You can buy sheet masks from:
Holika Holika
Location- The Mall, Doha
Contact- +974 5007 1857
The Face Shop 
Location- City Centre Mall, Doha
Contact- +974 4427 2476
Get Your Nails Done
Surprise your sister by booking an appointment at a nail salon. Get yourself pampered while you catch up with your sister. A few nail salon's to try out:
NBar
Location- Doha Festival City
Contact- +974 4431 6697
Beauty Box
Location- City Centre Mall, Doha
Contact- +974 4447 2566
Shopping
Who doesn't love shopping? Relish in a self-indulging shopping spree with your sister, while you are at it increase your sisterly bond by buying a few matching jackets, sneakers or jewellery. 
Movie Night 
If you and your sister are home-bodies, celebrate Sister's Day by watching movies. Don't forget that delicious tub of butter popcorn before you enjoy your sisterly movie marathon. Our movie recommendations:
Little Women

Bride Wars