4th World Conference on International Arbitration Concludes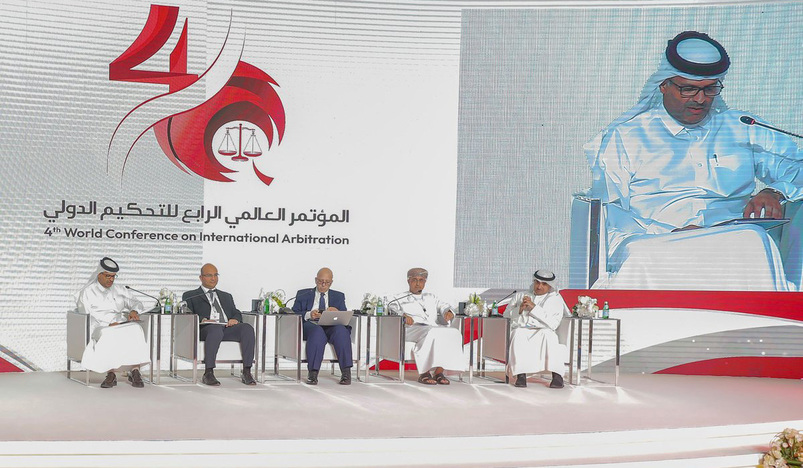 4th World Conference on International Arbitration
The 4th World Conference on International Arbitration concluded today, which saw participation from a wide variety of experts from all over the world.
The conference was organized by Qatar International Centre for Conciliation and Arbitration (QICCA) at Qatar Chamber (QCCI) for two days, under the theme of "Impact of Arbitration on Achieving a Suitable Environment for Investment."
The conferences recommendations included activating Sub-article No. 10 of Article No. 11 of the Arbitration Law No 2 of 2017 which illustrates the procedures for appointing or choosing arbitrators, as well as activating Article 37 of the Arbitration Law which provides for establishing a registry for arbitrators at the Ministry of Justice. The registry is recommended to be supervised by a committee formed specifically for this purpose consisted of law scholars specialized in international arbitration and representatives of the arbitration centers in the state to ensure the appointment of a suitable arbitrator. Recommendations also include by-law determining the required procedures for depositing the arbitral awards that are set forth in Sub-article No. (11) of Article No. (31) of the Arbitration Law, taking into account the principle of confidentiality and preserving the data of the parties and the subject of the dispute.
They also include inserting the arbitration agreement in contracts of government bodies, especially in construction contracts. The conference also recommended amending Sub-article No. 3 of Article
No. 33 of the Arbitration Law, which gives the court the authority to set aside the arbitral awards as indicated in this article, as the nullity shall be based on the request of the parties only, and the court does not have such right to rule it on its motion.
The first session, on the second and last day of the conference, discussed the work mechanisms of the Qatar Sports Arbitration Foundation, and the procedures for challenging the rulings of Court of Arbitration for Sport (CAS) before the Swiss Federal Court.
As for the second session, it shed light on arbitration in the Gulf Cooperation Council and Arab countries. The third session meanwhile discussed the latest trends of settling commercial disputes, and the Qatari mediation law.
The conference also reviewed the impact of the COVID-19 on arbitration proceedings. Discussions throughout the two-day event also covered the third-party financing for arbitration in international commercial disputes and arbitrator and arbitration litigation, in addition to the enforcement of foreign arbitration awards in Qatar.
(QNA)