3a-ka3ba by Quickies Lebanese Comedy Show in Qatar on 26th September 2022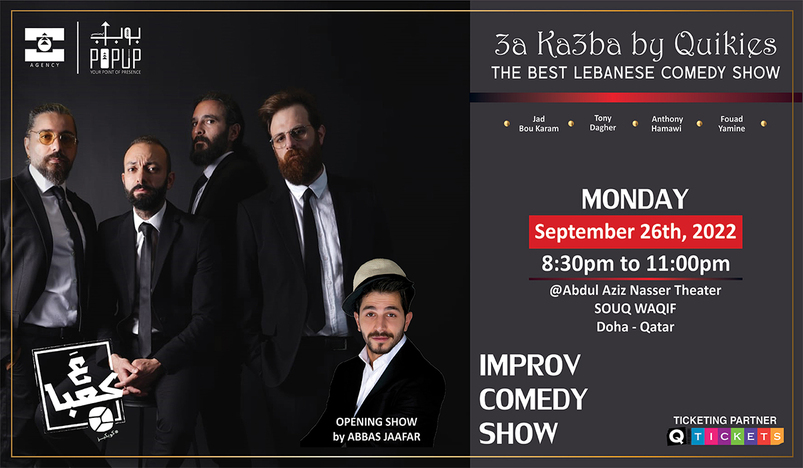 3a-ka3ba by Quickies Lebanese Comedy Show in Qatar on 26th September 2022
A unique experience awaits the people of Doha in the form of a fully improvised and interactive comedy show. "3a-ka3ba by Quickies - Lebanese Comedy Show" will be held at Abdul Aziz Nasser Theatre, Souq Waqif on September 26 with spontaneous in-built scenes and games based on the audience's live suggestions.
"Quickies" are skits, performed since 2015 by 4 Stand-Up Comedians: Anthony Hamawi, Jad Bou Karam, Shant Kabakian and Tony Dagher.
Here's a little about each of them:
Fouad Yammine: A Lebanese actor, writer and musician. He has been working in TV, cinema and theater since 2003. He's in love with songs, stories, chocolate and The Beatles!
Jad Bou Karam (OhMyJad): A multi-talented artist, passionate about acting, comedy, music and TV hosting. What sets him apart is his quick wit and his ability to create instant jokes and puns upon any given subject. He is on a constant diet.
Anthony Hamawi: A Lebanese scriptwriter, comedian and musician. He has been doing improv since 2012 alongside stand up comedy and TV shows. His main problem is that he thinks he is funny.
Tony Dagher: A Lebanese comedian, actor and musician. He started doing stand-up comedy in 2008 following mama's advice. He's been the least publicly known of all four…that should tell you something.
Date: September 26, 2022 
Time: 8:30 PM Onwards
Location: Abdul Aziz Nasser Theatre - Souq Waqif
Note: Age Restriction 18+
Ticket Rates: General (QAR 250)
Ticket Bookings: Book now on Q-Tickets.com