250,000 Passengers transported by Doha Metro Network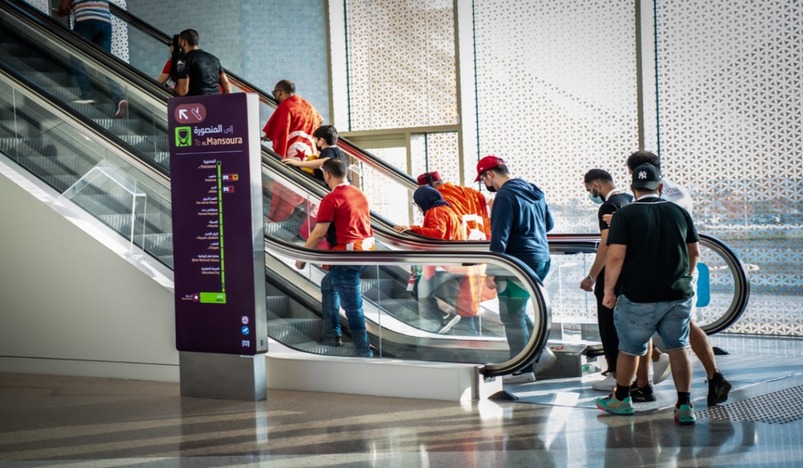 Passengers taking the train at Al Mansoura Metro Station
Doha Metro has again broken the records by transporting 250,000 people to and from the Eid celebrations at the Doha Corniche on Tuesday.
Qatar Rail tweeted, "Our customer service teams helped keep people moving through the stations. Thank you to our customers for your co-operation and patience." 
A related tweet on the Doha Metro & Lusail Tram page of Qatar Rail said: "Doha Metro is proud to have transported 250,000 passengers on Tuesday without a single safety incident, continuing our impeccable record for safety and security, and showing once again that we put our customers at the heart of everything we do."
"Thanks to our customers for leaving their cars at home and choosing to use Doha Metro during Eid. On Tuesday, there were 50,000 fewer cars on Doha's roads, and a 70-tonne reduction in Co2 emissions," Qatar rail said.
"When stations are busy, we have more dedicated customer service staff available to help get our valued customers safely to their destinations. This ensures that the needs of all our customers can be accommodated," Qatar Rail added.
In light of Eid Al Fitr celebrations, Qatar Rail had highlighted that the Doha Metro network was fully ready to facilitate public movement during the temporary three-day closure of Corniche Street (from May 3 to 5).
The 37 stations across the Metro network serve key areas around Doha and the Corniche area, such as the National Museum, Souq Waqif, Corniche, Al Bidda, West Bay, and DECC stations.
Passengers can easily get to the seven stations serving the Corniche area.
The metro can also be reached by 'Park & Ride' facilities available to the public at 12 stations across the Doha Metro network that hosts 12,000 parking spaces.