18.2 Million Passengers Used Doha Metro, Lusail Tram Networks During World Cup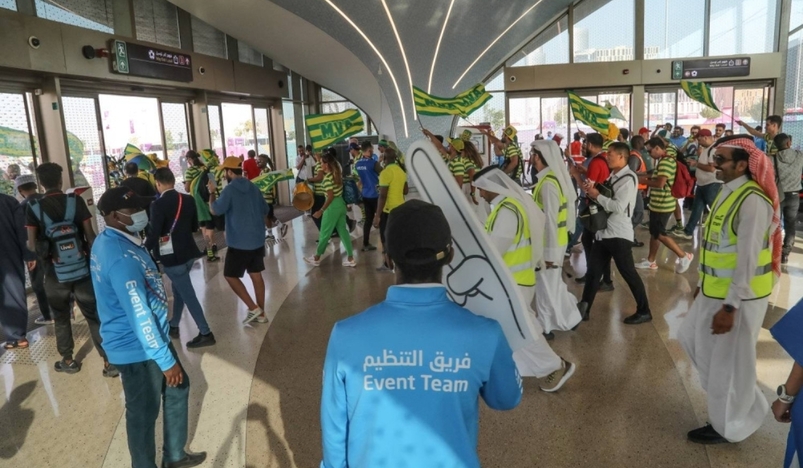 18.2 Million Passengers Used Doha Metro, Lusail Tram Networks During World Cup
The total number of passengers who used the Doha Metro and Lusail Tram networks during the 2022 FIFA World Cup Qatar from November 20 to December 18, 2022 - reached 18.2 million, with 17.4 million and 0.8 million passengers using Doha Metro and Lusail Tram respectively, Qatar Rail has announced. This translates to an average daily ridership of 600,000 for Metro, and 27,000 for Tram.
Doha Metro trains performed a total of more than 79,000 trips, travelling a total of almost 1.5 million kilometers. The total distance passengers travelled during the tournament exceeded 200 million kilometers.
On this occasion, HE Managing Director and CEO of Qatar Rail Dr. Abdulla bin Abdulaziz bin Turki Al Subaie said:"This edition of the World Cup was undoubtedly an exceptional one, the successful hosting of the FIFA World Cup Qatar 2022 represents a historical milestone for the state of Qatar and the successful delivery of this global event will shine a bright light, through which the world will see the State of Qatar. At Qatar Rail, we are indeed proud of the tournament's success, which we attribute to the high level of preparedness and coordination among all key stakeholders''.
He added: "We highly prize the Ministry of Transport for its continuous support, the intensive preparations and the operational and strategic planning set into motion, and the expertise put forth by employees, which collectively played an instrumental role in our success and our ability to present an exemplary model for transport services during mega-events." He pointed out that Qatar Rail's crowd management plans and ongoing efforts included the enhancement of Doha Metro's operational capacity, with the network's entire fleet of 110 trains serving the World Cup, operating at headway as low as 165 seconds across all three metro lines. In parallel, advanced systems played a key role in providing real-time information on passenger flow at stations, which enhanced the ability to deal with various scenarios related to crowd management safely and effectively, adding that Doha Metro's busiest stations were Msheireb, Lusail QNB, and DECC, while Legtaifiya and Lusail Central were the busiest stops along Lusail Tram.
As for the network's interchange stations, up to 400,00 passengers daily used Msheireb, which connects all three metro lines. Meanwhile, Al Bidda Station, where the Green and Red Lines intersect, received up to 150,000 passengers during the event. 
For his part, Chief of Service Delivery at Qatar Rail Eng. Abdulla Saif Al Sulaiti said: "Throughout the tournament, Doha Metro provided the highest levels of operational performance, despite witnessing record attendance at stadiums and holding up to four matches per day. Our main objective during the World Cup revolved around delivering a safe and reliable travel experience, with a special focus on the implementation of our operational plans and crowd management systems towards boosting our capacity to accommodate this record patronage, especially during the group stage. We also continued to focus on offering world-class customer service by providing travel information, facilitating passenger flow, and providing an integrated experience to fans and passengers."
Al Sulaiti pointed out that Doha Metro proved to be a reliable mobility partner for fans and facilitated their access to activation areas, especially at the Corniche and its surrounding areas, including the FIFA Fan Festival at Al Bidda Park. Due to the various events and activities' popularity among fans, the seven metro stations in this area, namely Corniche, Al Bidda, West Bay Qatar Energy, DECC, Souq Waqif and Msheireb, welcomed up to 870,000 passengers per day starting or ending their journey, or transferring between lines. Lusail QNB Station was also popular among fans since it is located near the Darb Lusail Festival. 
Chief of Program Delivery at Qatar Rail Eng. Jassim Al Ansari said: "Every decision by the team at the ICC was made to improve our passengers' experience after having a full overview of the network. This enabled us to react in a timely manner, for instance by bringing trains on hot standby into service in the busy times and therefore, minimize the impact on the passengers' journey. Meanwhile, our maintenance team ensured a rapid response time by allocating resources in strategic locations across the network and scheduling maintenance activities intelligently. This allowed us to achieve 100% fleet availability during the tournament despite the limited engineering hours available."
He said that Station capacities were also increased with 20 additional ticket machines and 35 additional passenger gates installed at strategic locations across the network to accommodate the growing demand for Doha Metro's services throughout the event. In addition, Qatar Rail has raised it security readiness to ensure providing safe travel experience to the fans specially with having large number of crowds at the network during the tournament. 
Senior QSHESE Director at Qatar Rail Abdulrahman Ali Al Malik said: "Our multi-faceted plan provided the World Cup fans with a safe and secure experience onboard our networks. This extended beyond the stations and included critical systems infrastructure protection and was augmented by the Railway Conditions of Carriage and User Regulations for passengers, which achieved an exceptional level of compliance throughout the tournament. We've also achieved the highest standards of environmental sustainability during this period. Moreover, and despite the record patronage, no major incidents were reported, thanks to our security preparedness for the event."
He pointed out that complementing their in-station experience, customers also enjoyed access to 5G Wi-Fi services at all stations, as well as a unique shopping experience through more than 250 retail shops that offer a multitude of products and services across the Doha Metro and Lusail Tram networks.
(QNA)