10 Million People Performed Umrah Since Easing of Pandemic Restrictions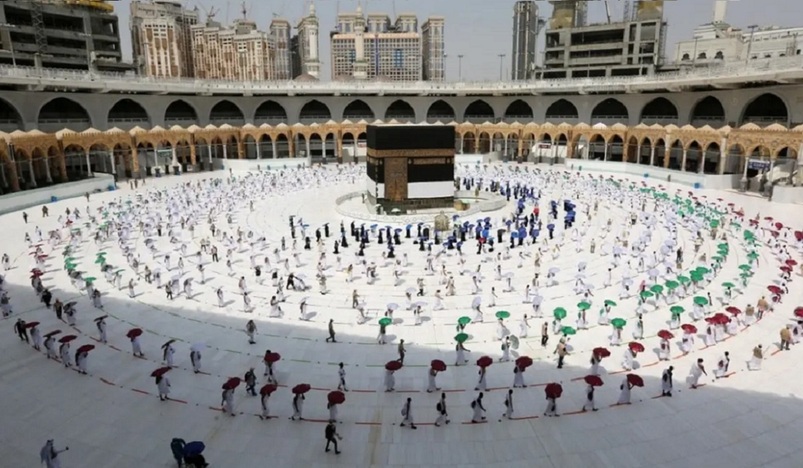 Hajj pilgrims social distancing as a coronavirus preventative measure while circumambulating around the Kaaba in the Grand Mosque in the holy city of Mecca, Saudi Arabia, July 29, 2020. (AFP)
The Saudi Ministry of Hajj and Umrah announced on Friday that ten million people performed the Umrah since the launch of the "safe version" of the pilgrimage; as the Kingdom started to ease restrictions imposed by the coronavirus pandemic.
Deputy Minister of Hajj and Umrah, Abdulfattah Mashat said the ministry started to receive pilgrims; from outside of Saudi Arabia since the beginning of the month of Muharram.
A document with the list of procedures, regulations and conditions drafted to organize their arrival and coordinate with the relevant authorities in the Kingdom to ensure their safety.
Pilgrims must show the relevant vaccination certificate from the country they are flying from in their application. The vaccine they must have taken should get approval by the Kingdom.
Mshat said more people are flying to Saudi Arabia to perform the Umrah.
The Ministry of Hajj and Umrah is also providing all possible services to the pilgrims.
At the moment, authorities are limiting the daily capacity at the holy sites to 70,000 pilgrims per day.
Mshat also stressed the importance of pilgrims downloading the Tawakkalna app where Umrah permits issued.
Vaccination against the coronavirus is also a main condition for receiving a permit to perform the Umrah; pray at the Grand Mosque and visit the Prophet's Mosque, he added.
The Kingdom has allowed children aged 12 and above to receive the vaccine; so travelers from abroad who fall in this category are to apply to perform the Umrah on condition that they are fully inoculated, he went on to say.
Source: Ajel News