10 Best Family Movies to watch on Netflix!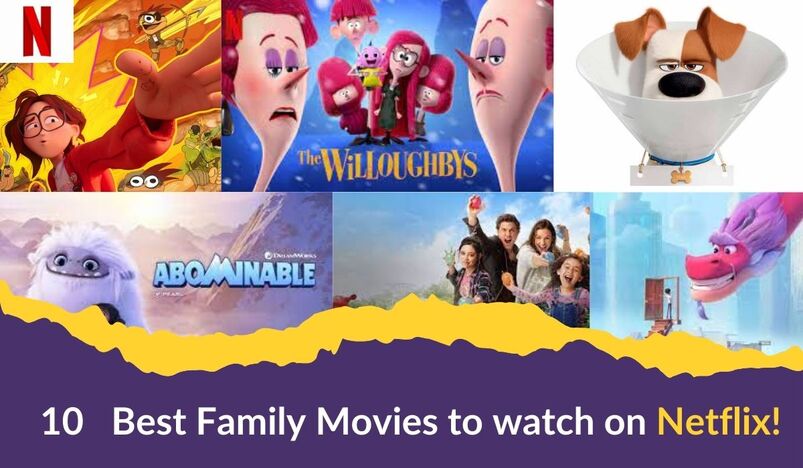 Qatar: Family Movies to watch on Netflix
Even with your Kid's account set up, Netflix's family-friendly content could take you days to scroll. Choosing a movie for the whole family is not an easy mission. If you're not careful, it can take a long time. To help you find the right movies for these last days of summer before the tribe resumes school, I've reduced the option down to 10 favorites with a few brand-new movies that will entertain the whole family. It's time to meet the Mitchells if you haven't already.   
1. The Mitchells Vs. the Machines (2021)
This family animation about dysfunctional families is a lot of fun. The Mitchells (and their pet pug) are caught up in a robot apocalypse planned by an evil artificial intelligence (Olivia Colman). Are they prepared to be the heroes of humanity? Not in the least. Producers Phil Lord and Chris Miller, who brought us Cloudy with a Chance of Meatballs, The Lego Movie, and Spider-Man: Into the Spider-Verse, have put their comic imprint on everything. This is right up there with the animated masterpieces.
2. Wish Dragon (2021)
Determined teen Din longs to reconnect with his childhood best friend when he meets a wish-granting dragon who shows him the magic of possibilities. It's an animated movie produced by Jackie Chan and set in China. It has positive messages about valuing what's important in life.
3. VIVO (2021)
A music-loving Kinkajou embarks on the journey of a lifetime to fulfill his destiny and deliver a love song for an old friend. Vivo, Sony Pictures Animation's first-ever musical adventure with all-new original songs by Lin-Manuel Miranda, will transport you to breathtaking and bright settings never before seen in animation.
4. Finding Ohana (2021)
On O'ahu for the summer, two siblings from Brooklyn connect with their Hawaiian heritage and their family on a daring quest for long-lost treasure. Finding' Ohana expands on this notion by weaving it into a lighthearted story about cultural identity, familial relationships, and heroic adventure.
5. The Willoughby's (2021)
Abandoned by their heartless parents, Jane Willoughby (Voiced by Alessia Cara) and her twin brothers (Sean Cullen and Sean Cullen) try to please their sour nanny (Maya Rudolph) and become perfect children. Based on the best-selling book by Lois Lowry, the animated film also features the voices of Ricky Gervais and Terry Crews. The Willoughbys is a rowdy romp that's unapologetically bonkers and welcomes audiences into a world of adventure.
6. We Can Be Heroes (2020)
When alien invaders capture Earth's superheroes, their kids must learn to work together to save their parents- and the planet. It's a family-friendly, action movie by director Robert Rodriguez that delivers messages about child empowerment and the importance of teamwork.
7. Yes Day (2020)
A mom and dad who usually say no decide to say yes to their kids' wildest requests- with a few ground rules -on a whirlwind day of fun and adventure. This movie is fantastic. It contains good humor along with the best actors for the characters. A must-watch with the family!
8. Abominable (2019)
After discovering a yeti on the roof of her apartment building, teenage Yi and her two friends embark on an epic quest to reunite the magical creature with his family. They help the yeti journey across China to return to his Himalayan home, with a hunter in hot pursuit. It's a beautiful, magical movie!
9. The secret life of Pets 11 (2019)
Life in the country sure is different than New York City. Unfortunately, Max learns that the hard way. However, some animals aren't keen on getting to know him. His friendship with Rooster makes things a little easier.
10. The Karate Kid (2010)
After moving to Beijing with his mother, Dre falls prey to a bully, so he takes lessons from a martial arts master in this remake of the 1984 classic. But, sometimes, going classic is the best way! This is a family movie gem to enjoy with your clan!