10 Best Beaches in Doha, Qatar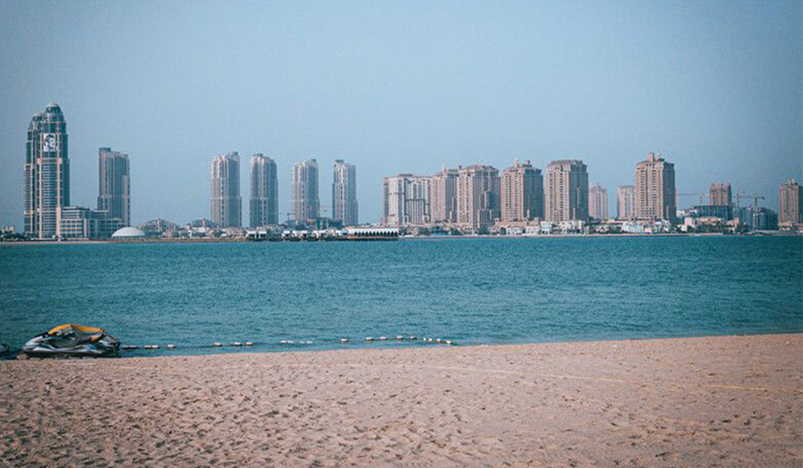 10 Best Beaches in Doha, Qatar
Qatar has over 560km (348 miles) of coastline, with beautiful beaches dotted across the region. And the beaches, which are within easy reach of Doha, can be found all around the capital. However, bear in mind that public beaches require women to be covered from their elbows to the knees, which means bikinis are not allowed. Hotel and resorts, on the other hand, do not have a strict dress code. From private resorts to pink sand beaches to hidden bays, here are the best beaches in Doha.
Katara beach
Katara Beach is located in the heart of Doha and is part of Katara Village, a public art and culture development with access to a range of cultural events. Suitable for families, the beach offers plenty of activities including waterskiing, parasailing, kneeboarding and speed boat rides. After spending a day at the beautiful beach, visit the surrounding area for entertainment. Admire art at the galleries, catch a show at the theatre or visit one of the many restaurants for delicious dishes.
Four Seasons Beach
Many of the beaches in Doha are connected to a hotel. But some of them are more luxurious than others, like the Four Seasons Beach. The lavish hotel is home to five pools and a private sand beach with a resort ambience. Get your own cabana and pamper yourself while the attentive staff caters to your needs. Even those who are not staying at the hotel can enjoy the beach by purchasing a day pass and make full use of the facilities.
Umm Bab Beach
Known to the locals as Palm Tree Beach, Umm Bab Beach is another popular spot for families. With its clusters of palm trees dotted along the coastline, the beach has a charming Caribbean feel to it. Toilet facilities are available as is a children's play area, making it a great choice for camping and longer stays. A small shop is also available if you need to pick up a few things.
Sealine Beach 
Located at the southern end of the Qatari peninsula, Sealine Beach is an unmatched location. You can access the beach as a guest of the resort, which gives you access to the facilities including loungers, umbrellas, the pool, restaurants and other activities. After a day of relaxing by the beach, rent a dune buggy and drive through the desert. Or end your day with a walk along and admire the view of the sand dunes that meet the sea.
Inland Sea
Khor Al Adaid should be on everyone's must-visit locations in the world. Located further south from Sealine Beach, the picturesque sea is one of the few places in the world where the sea meets the sand dunes. Known as the Inland Sea, the secluded natural reserve is recognised by UNESCO and can only be reached by travelling in a 4×4 through the desert. If you're lucky enough to visit during high tide, you'll get see the dunes gently sloping into the sea, while if you visit during low tide you'll see a terrain covered by microbial mats that create interesting patterns within the crystal clear water of the inlet.
Al Thakira beach
This public beach is great if you're looking for a beach experience that's less about sunbathing and more about nature. Home to one of Qatar's largest mangrove reserves, Al Thakira Beach is located less than an hour's drive north of Doha. Known for its wildlife, this is where locals come to bird-watch, fish and kayak through the mangroves. After unwinding at the beach, roam around the area and visit the nearby shops and restaurant. For the ultimate experience, bring a grill for your freshly caught fish and a camera to take snaps of migrating flamingos.
Zekreet Beach
A fairly short drive from Doha along the west coast, Zekreet Beach is a gateway for postcard views. Located on the edge of the Ras Abrouq Reserve, this rocky, secluded beach is a popular spot for windsurfing and camping and can only be accessed in a 4×4. The striking beach is also famous for its half-moon bay and beautiful rock formations and limestone outcroppings shaped like giant mushrooms. Besides soaking up the sun, you can also explore the archaeological digs and forts, as well as the abandoned film set nearby.
Simaisma Beach
An oceanfront oasis, Simaisma Beach features a luxurious private retreat which includes 52 villas and a spa. A part of the Murwab resort, a stay here gives you access to the sheltered beach and year-round outdoor pool and barbecue as well as watersports activities. The resort also has a Six Senses Spa where you can enjoy a range of signature massages, facials and locally-inspired treatments and beauty services. Located just 20 minutes away from Doha, this is ideal for those looking for a tranquil experience close to the city centre.
Al Wakrah Beach
Al Wakrah lies just 25 minutes south of Doha and has a public family beach. There are plenty of mangroves in this area, which makes it an interesting place to walk around and spot the small fish and wildlife. Al Wakrah has plenty of shops and restaurants for refreshments. The beach itself has barbecue facilities and playgrounds. It has a large tidal range, which makes it quite shallow and not necessarily ideal for swimming.
Fuwairit Beach
Fuwairit Beach is one of the most popular beaches in Qatar, despite being a fair way out of the city. Its pristine coastline of white and pink sand makes it well worth the drive for locals and tourists alike. A nesting site for hawksbill turtles, the beach is a protected area and is closed during the turtle's breeding season between April and July. Drive out during the weekend and enjoy the sun rays and the turquoise waters.