'Everything is done to the highest of standards here in Qatar' says a Qatar-based Canadian Fan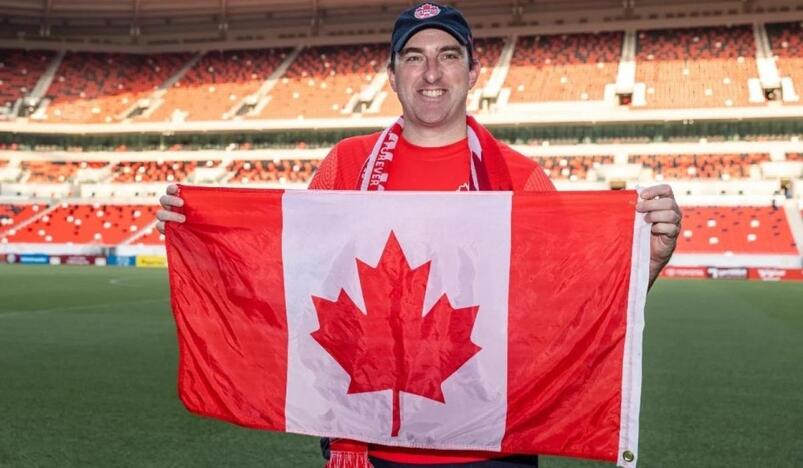 Locally-based Canada fan Don Rikley is ready to be part of the best show on Earth
The FIFA World Cup Qatar 2022™ is set to feature teams that have not appeared in football's showpiece event for some time. One of those is Canada, who earned their spot at Qatar 2022 after impressively finishing top of their qualifying group in the CONCACAF region.
Many Canadians are looking forward to seeing Les Rouges play in the FIFA World Cup™, including locally-based fan Don Rikley. The 45-year-old, who hails originally from Chatham-Kent, Ontario, has been in Qatar since 2011 and currently resides in Lusail with his wife Jess and his two children named Josh and Jamie.
An English instructor at the University of Doha for Science & Technology, Rikley is looking forward to welcoming fellow Canadians and football fans from around the world during Qatar 2022, which will take place from 20 November to 18 December.
When you think of Qatar, what are the first things that come to mind?
Top of mind for me is that everything is done first-class here in Qatar, whether it's the infrastructure, the services or the hospitality. It's all done to the highest of standards. The other thing that comes to mind is the culture of the desert and safaris.
 
What are the 'must see' places to visit in Qatar?
I would say Sealine, especially to go out and do some dune bashing and camping. Taking a camel ride is also worth doing. A visit to Katara should also be on the list for the culture and art that you get to see, while visiting Souq Waqif is a big one as well. I would say those would be the main ones to consider.   
 
If you were to recommend something worth doing while in Qatar, what would that be?
The main thing culturally would be to go out in the desert and do the whole experience out there. Visiting the traditional places like Al Zubarah Fort is also worth taking in, but try and do some of the things that the Qataris like to do on weekends, especially during the winter months, which is going into the desert and riding all-terrain vehicles.
This FIFA World Cup™ will take place in November and December, which will be wintertime in Qatar. Based on your experiences, describe the weather in Qatar at that time?
It's perfect, that's the best way I can say it. It's like a Canadian summer. It's going to be ideal weather and that's going to be the best part of this World Cup, as it's not going to be too hot. If you have attended the World Cup in some other places, it's likely been hot and humid, but it won't be like that here. It will be really nice.
 
What advice do you have for Canadians coming to Qatar for the World Cup about the country and the region?
Know the culture and traditions of the country because it's different to Canada, so read up and learn more about the culture. This will be important because this World Cup is going to be different from others that fans have attended in the past, but one that provides the unique experience of everyone celebrating the tournament in one place.
  
This will be Canada's second appearance at a FIFA World Cup™, with their tournament debut coming 36 years ago at Mexico 1986. How much are you looking forward to seeing them play on football's biggest stage?
I'm really excited. It's kind of crazy, as nobody expected this to really happen before qualifying took place. I think people back home were expecting to wait until the 2026 World Cup when Canada co-hosts, but I'm delighted I will get to see them here in Qatar. I can't wait for November, as I wish it was here already. For us to be living here is even more exciting, as it's a little bit easier for us to do things because we know the country, so I'm really looking forward to it.
Canada will play their group matches at Ahmad Bin Ali Stadium, Khalifa International Stadium and Al Thumama Stadium. How much are you looking forward to experiencing the atmosphere in these stadiums?
I'm very excited. You start thinking about the fans that will attend these games and the passion they will bring, so you can only imagine how exciting the atmosphere will be like for those matches.    
 
At Mexico 1986, Canada exited the group stage after losing all three matches and not scoring a goal. Do you think they can improve on those results at Qatar 2022?  
I definitely think so. I imagine this is probably a better quality team than the one that played in Mexico 1986, so it maybe has a better chance of getting out the group stage than that previous team had back then. I'm confident we will score our first goal, while I also think we can finish second in our group behind Belgium. That's my prediction.
 
Source: Qatar2022