Where to Buy FIFA World Cup Official Licensed Products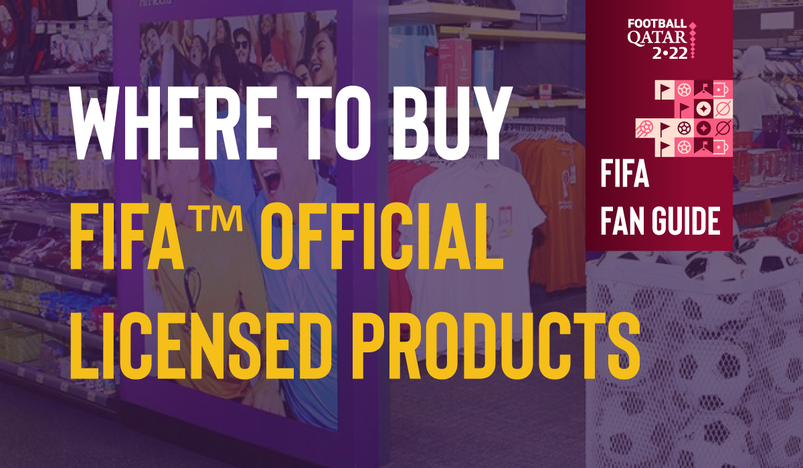 FIFA Official Products
Wondering where to get yourself some official FIFA merch? Here's a list of some of the places that are sure to have exactly what you're looking for and more!
AL MEERA
Al Meera stores have some of the most varied FIFA World Cup Qatar 2022 Official Licensed products. With shelves and kiosks dedicated to FIFA in all of its locations, Al Meera provides shoppers an access to the year's most popular goods.
The items sold at Al Meera include clothing, fashion accessories, non-professional footballs, home goods, gifts and novelties, stationery, and back-to-school supplies made by The Blue Group and Q-Live, two Qatar-based FIFA licensees.
ADIDAS
Adidas stores across the many malls of the country feature FIFA Official jerseys and other merchandise. Al Rihla, the FIFA World Cup Qatar 2022 official match mall was designed by Adidas, in addition to the official jerseys for quite a few of the national teams.
BLACK ARROW
FIFA's official license for "Qatari Cultural Gifts and Novelties" was awarded to Doha-based Black Arrow Gifts & Novelties Division to design, produce, and retail the official licensed products of the FIFA World Cup Qatar 2022. From majlis decorations to business products, Black Arrow has a range of products to choose from on their online store.
QINWAN DATES
The GCC is famous for its mouth-watering dates and tourists from all over make sure to get their hands on some when visiting. Well to top that, FIFA now has official World Cup dates, licensed to Qinwan Dates. The brand is known for their premium and top quality dates and date products, and we highly recommend getting yourself a FIFA World Cup Dates box before the season ends.
AL JAZEERA PERFUMES
Who doesn't want to smell good? Now imagine smelling good in FIFA Official Licensed perfumes. The many FIFA teams inspired fragrances at Al Jazeera Perfumes give you just that!
SPORTS CORNER
Sports Corner is a sure stop for all those looking for football merchandise. With outlets in DFC Mall, City Centre and a bunch of other places, fans are sure to get all the official products they are looking for.
IN-Q
If you're looking for the perfect place to get yourself a souvenir in memory of the incredible FIFA season in Qatar, IN-Q is the place to go. IN-Q is the commercial arm of Qatar Museums and deals with the retail and hospitality sectors. Be sure to check out their online store!
GALERIES LAFAYETTE
Typically known for their high-end products, Galeries Lafayette has set up FIFA Corners for shoppers, where they are sure to find tons of FIFA related products, ranging from home decor to trinkets.
AL MAJED JEWELLERY
If you find yourself wishing for a jewellery piece to remember Qatar and the World Cup experience, Al Majed Jewellery is your answer, with a line that was carefully designed to feature Qatar as the host of the FIFA World Cup 2022™ via a range of limited-edition collections, depicting the heritage and culture of Qatar.
The different official licensed products, including jewellery collections, pens, and luxurious products made of precious stones are sure to catch your eye.