What's in my Make up Bag?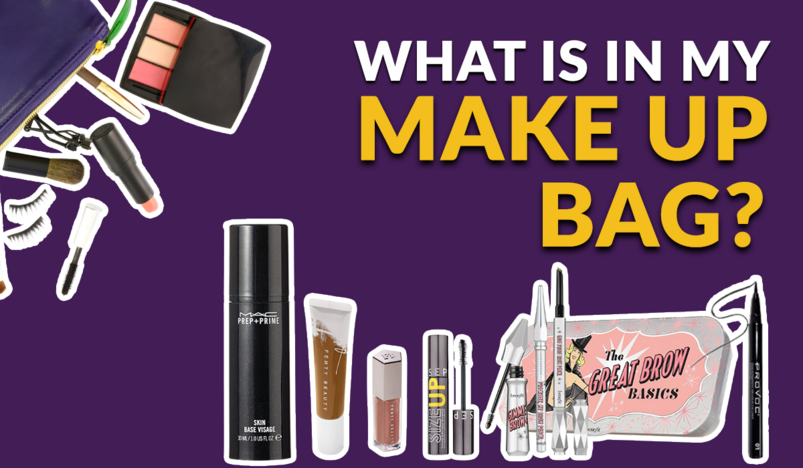 What's in my Make up Bag?
Apart from special occasions and nights out, I keep my makeup modest and natural-looking. As I have only allowed myself about 15 to 20 minutes to apply makeup before going to work. Naturally, I stick to the basics, and here's what's in my makeup bag for everyday use, which I adore!
1. Great Brow basics pencil & gel
This is my favorite product as it's an all-in-one brow filling, defining and volumizing kit. The Goof Proof Brow pencil easily shapes brows. It draws hair-like strokes that last for more than 10 hours without smudging. Since we do not have much time! This set works so much better and faster. The Gimme Brow + Volumizing Eyebrow Gel keeps my eyebrows from getting wild during the day. My favorite part is the applicator. Also, you can wear just one product or layer them for your preferred look. When I know, I have a busy week ahead and need to save even more time! I have my brows colored in and shaped at my favorite salon.
2. Provoc- Nib liquid liner
I was recently introduced to this great product by a friend! This eyeliner is waterproof, smudge-proof, and long-lasting. I get the shakes when I put on eyeliner from time to time! I know many of you can relate. The best thing about this eyeliner is that it has a firm nib for excellent control and fewer mistakes when applying it.
3. Size-Up mascara
I Know we have all been on the lookout for the perfect mascara, and I think I finally found it! It made my lashes longer, thicker, and most importantly, no fallout and lasts all day. The brush is just perfect! and volumizes every lash.
4. PREP+PRIME SKIN
I have been using this MAC PREP+ PRIME skin base visage for the longest time; it's the best start to the makeup. It's a lightweight gel lotion; it softens and silkens the skin like a feather. In addition, it makes it easier for the foundation to blend into the skin. This base is simply the best!
5. PRO FILT'R HYDRATING LONGWEAR FOUNDATION
I absolutely love this Fenty Beauty foundation. It has a lighter feel and is perfect for both medium to full coverage. I tend to use a small amount to even out my skin tone; it gives me a flawless natural finish! Plus, it looks fresh all day long.
6. Gloss Bomb Universal Lip Luminizer
The ultimate gotta-have-it Lip Gloss with explosive shine that feels as good as it looks. Like me! You will never search for another lip gloss once you try Fenty Beauty's Gloss Bomb Universal Lip Luminizer. This product is undoubtedly worth it – I love the finish and feel! For me, it's the most essential item that I use every single day.
Tell us, what's in your makeup bag?