Why Qatar's Hamad International Airport is the New 'World's Best Airport'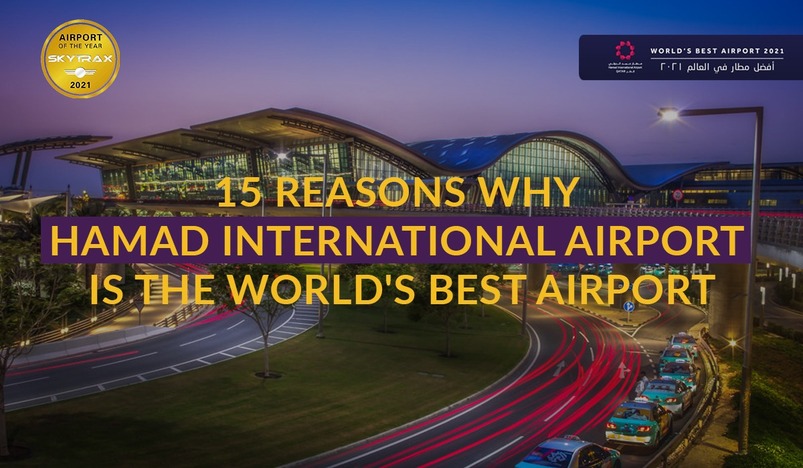 World's Best Airport is not Singapore's Changi for the first time in almost a decade...
The world has chosen. For the first time ever, Qatar's gateway to the world – Hamad International Airport (HIA) – is the new "World's Best Airport!"
The famous Singapore Changi Airport, which held the title for 8 consecutive years, loses its crown to Qatar's aviation hub.
Barely a year ago, HIA was named 3rd in Skytrax's roster of best airports globally. Today, the 5-star airport is named the No.1 in the world in the 2021 World Airport Awards.
HIA clinched the top spot owing to its selfless customer service amid pandemic-induced challenges, and its continuing investment in its facilities.
The announcement was made in London and telecast live at a media event at the HIA. 
Edward Plaisted of Skytrax said: 'As travel hubs worldwide have been impacted by the pandemic, Hamad International Airport was undeterred by the global travel disruptions and continued with its expansion plans while introducing additional airport health and safety standards.
'As the Official Airport Partner for the FIFA World Cup Qatar 2022 we wish Hamad International Airport every success in helping to host such a major event,' the CEO added.
A Global Benchmark
Inaugurated in 2014, Hamad International Airport – formerly known as New Doha International Airport (NDIA) – has rapidly become a customer favorite and moved from No.3 in the world in 2020 to be ranked World's Best Airport this year.
This marks the first time that the Qatari hub has bested 550 airports worldwide such as Singapore's Changi Airport, which topped the list for 8 years in a row. It currently ranks 3rd among the airports in the list.
The 2021 ranking, voted for by consumers in a global airport satisfaction survey conducted from August 2020 until July 2021, also features Japan as the second best-rated country.
The award is one of the most distinguished honours in the airport industry, and touted as a benchmark of quality, assessing customer service and facilities of airports across the world.
HIA rounds off its success at this year's Skytrax Awards by winning as:
• The Best Airport in the Middle East
• The World's Best Airport in the 25 to 35 million Passenger category
• The Best Airport Staff in the Middle East
The highest recognition that HIA has reaped recently is largely attributed to Doha's flagship airline, Qatar Airways, as well as the Qatari government that had invested heavily in both the national carrier and the airport, which has finally yielded results.
Over the past few years, Qatar's only international airport has moved up the SKYTRAX top airports list. But, how does HIA maintain its leading position among global airports? 
Every year, millions of passengers travel by HIA for obvious reasons. Let's dive in deep and understand what makes it the best among the rest and what it has in store for incoming and outgoing travelers around the world:
1.  HIA is one of the busiest airports in the world
In March 2020, when global airports around the world began to close, HIA remained open to bring people back home safely amid the COVID-19 pandemic.
The global outbreak has impacted the aviation industry, passenger traffic, air cargo demand and much more.
In response to these unprecedented challenges, Qatar's award-winning airport never lost sight of its ambitious long-term goals, implemented stringent health and safety measures, acquired the latest technologies to optimise operations, while prioritising passenger and staff well-being
These comprehensive measures allowed HIA to keep its doors open throughout the worst months of the pandemic, ensuring families across the globe were reunited, and essential goods were delivered.
According to prominent travel analytics organization ForwardKeys, HIA has become the busiest airport in the Middle East.
It has secured this position by safeguarding its airport experience with its adherence to COVID-19 policies and protocols, and introduction of technological solutions.
ForwardKeys said that "During the height of the COVID-19 crisis, many routes in and out of Doha remained operational. As a result, Doha became a major hub for repatriation flights – most notably to Johannesburg and Montreal.
2. HIA is the 1st in the world to be verified by British Standards Institution (BSI) for its COVID-19 Aviation Health Safety Protocol Implementation
In 2020, HIA was the first entity in the world to achieve independent certification from BSI for its implementation of COVID-19 Aviation Health Safety Protocols.
It is also the first airport in the Middle East to receive the ISO 22301:2012 Business Continuity Management System Certification by BSI.
The certification was conducted following successful audits for Compliance to International Civil Aviation Organization Civil Aviation Recovery Taskforce (ICAO CART), and solidifies HIA's leading position in implementing best practices to ensure staff and passenger safety and security. 
In 2021, HIA received re-verification by BSI for its successful compliance with the safety and hygiene measures outlined by ICAO CART.
3. HIA is the 1st airport in the Middle East and Asia to receive a 5-Star COVID-19 Airport Safety Rating by Skytrax
In December 2020, HIA became the first in the Middle East and Asia to be awarded a 5-Star Covid-19 Airport Safety Rating by Skytrax – a testament to the airport's efforts, resilience, and operational excellence during the pandemic.
The said rating provides an independent analysis of an airport's COVID-19 hygiene and safety measures, assessing over 400 factors in a typical airport travel sequence. 
Conducted over a few days, auditors test and evaluate the airport's COVID-19 procedures on-site.
The audit evaluated the effectiveness of the COVID-19 policies implemented at HIA in offering a clean and safe environment for staff and passengers. 
This acknowledgment is a testament to HIA's commitment to operational excellence and passenger well-being.
The audit verified the practicality and usefulness of physical distancing protocols, as well as the quality and availability of hand hygiene facilities across HIA's terminal.
It also assessed cleaning effectiveness and identified any potential contamination sources to ensure that the airport's hygiene standards are complying with the most stringent requirements.
During the audit, Skytrax inspected and evaluated the standards of staff personal protective equipment (PPE) and their adherence to using them, as well as the implementation of thermal temperature screening procedures, face mask regulations and the overall cleanliness and hygiene standards across the airport.
4. HIA is one of the few airports to introduce contactless and paperless air travel with facial biometric identification
HIA is also one of the few global airports to offer a contactless and paperless airport experience with the introduction of biometric identification technology, in addition to touchless elevator keys.
The airport has developed an automated facial detection system using computer vision and artificial intelligence to ensure the wearing of masks for all its staff.
The technology also combines passenger's flight, passport, and facial biometric information in a 'single travel token' at the self-check-in kiosk.
This has enabled passengers to use biometric-enabled check-in kiosks to take their photo and scan their passport and boarding pass. 
This digital identity record makes the passenger's face their pass at key airport touchpoints, such as self-service bag-drop, pre-immigration, e-Gate and self-boarding gates. 
The visionary approach and early investment in biometric identification technology have proved to be an extremely efficient tool in the airport's battle against COVID-19, allowing departing passengers to move through key touchpoints with minimal physical contact.
5. HIA adopted the latest security screening system (C2 technology) for transferring passengers
HIA adopted the advanced security screening system, C2 technology, which is a significant counter COVID-19 measure, that reduces possible cross-contamination in passenger carry-on bags.
HIA's secure passenger experience is also ensured with its UVC disinfection tunnels to decontaminate inbound luggage from arriving passengers and security screening technology.
This security screening system allows transferring travellers the freedom to move through security checkpoints without having to take out any electronic devices or liquids from their bags.
The implementation of the technology elevates the airport's hygiene standards, by limiting human contact at security checkpoints, making the process safer and faster for both staff and passengers.
6. HIA is poised for more expansions and innovations
With the clock to the world's biggest sporting event ticking down, the 2022 FIFA World Cup host Qatar, is preparing for an influx of football fans from around the world.
As the first Arab state to host the much-awaited tournament, Qatar is hoping to handle the surge of World Cup visitors by expanding its operations.
Phase A of HIA's expansion will be completed ahead of the football event, taking HIA's annual passenger capacity to 58 million, said Chief Operating Officer Badr Mohammed al-Meer.
It was earlier noted that the terminal building expansion will include:
*A  new transfer area, which will help shorten passengers' connection times
* A 7,000sq m indoor tropical garden
* A 268sq m water feature as the central anchor of the expansion
* A 11,720sq m of multidimensional retail and F&B space offerings
* A new cargo terminal to be completed by 2023
In an interview with a local newspaper, Al-Meer noted that HIA had reached a capacity of 40 million during the pre-Covid period.
Highlighting the challenges faced by airports and airlines around the world due to the Covid-19 pandemic, al-Meer said, "By God's grace, we are the only airport that continued our expansion."
7. HIA uses robotics and smart thermal screening helmets to combat COVID-19
To ensure the health and wellbeing of its staff and passengers, HIA also introduced a series of unprecedented measures including the implementation of robotics and advanced thermal screening helmets.
HIA invested in Smart Screening Helmets - wearable intelligent helmets that are portable, safe, and effective in enabling contactless temperature measurement. 
This is in addition to UV disinfection robots, which are fully autonomous mobile devices, emitting concentrated UV-C light that eliminates the majority of infectious microorganisms. 
The robots are being deployed in vulnerable high passenger flow areas to reduce the spread of pathogens.
8. HIA continuously prioritizes passenger convenience and safety
Whether travellers are arriving, departing, or transferring through the multi-awarded airport, their journeys have been designed to meet high levels of convenience and comfort. 
For passengers' protection, the airport installed 15 PPE vending machines across its terminal to ensure passengers can easily access various disposable and washable PPE equipment, including masks, gloves, hand sanitizers, and face shield products. 
Physical distancing floor stickers are installed in front of every PPE vending machine to safeguard passengers safety.
Sparing no effort in safeguarding its passengers, HIA continues to maintain a 1.5m physical distance across all passenger touchpoints around the airport, through floor markings, signage and distanced seating. 
All passenger touchpoints are sanitized every 10-15 minutes. All gates and bus gate counters are being cleaned after each flight. 
HIA's retail and food and beverage outlets encourage contactless and cashless transactions through cards and are considering introducing online or in-app purchases in the future. 
The airport also conducts regular disinfection of all baggage trolleys and tubs.
9. HIA is a favorite transit hub by passengers with connecting flights
HIA is home to Qatar Airways but it also hosts many airlines from around the world. As a major transit hub, you can expect lots of travellers and flights all night long.
Travelers via Qatar Airways who have a connecting flight at Hamad are entitled to free city tours, gratis accommodation with food, and VIP transfer service are provided along with luxurious accommodation. 
Guests are also offered with guides from de-planing to boarding the flight. HIA has been voted the best airport through this service.
10. HIA is considered by many as the world's most luxurious airport
Being considered by many travelers as the world's most luxurious airport, you'll surely come out completely refreshed and ready for your flight if you travel by HIA.
Here are some of the perks that you can experience while inside the airport:
• Travelers can make their reservations well in advance or simply walk to the reception of Oryx Airport Hotel to make their booking in person. While this transit hotel offers all 5-star amenities to travelers, one can even book a stay here for as short as 5 hours.
• Nestled at the main Duty Free area within the airport's transit terminal, the Sleep 'n Fly Lounge has a selection of sleeping pods and cabins that can accommodate up to 50 guests and 4 children. One can stay here for an hour and relax in the air-conditioned space. 
• Premium travelers who travel with Qatar Airways or other airlines get access to a first-class lounge, private check-in, and more exclusive services.
• One can experience some reviving treatments or indulge themselves in the classic spa therapies and relaxation in the Vitality Wellbeing Fitness Center at Hamad Airport. The center has a selection of recreational spaces such as an indoor swimming pool, hydrotherapy tub, gym, and even squash courts – all within moments of the departure gates. 
Fun Fact: Hamad International Airport pool is featured among the coolest things at airports around the world. It is No. 1 in the top list of Business Inder's 15 coolest things at airports around the world.
• HIA  has dual Passenger Trains that are designed to shuttle between the South and North nodes of its terminal, significantly reducing travel time through the airport for both arriving and departing passengers, which includes transferring passengers.
• The airport boasts of Al Maha Services which are there to provide a smoother and enjoyable travel experience.
• Transportation facilities are plenty at the HIA and travelers can expect all the convenience they desire.  Get Chauffeur-driven limousines right from the airport and experience travel with elegance. 
Before your flight from Doha, make sure you spend a well-deserved stay at the airport! 
11. HIA has top-notch amenities for comfort and convenience
Comfort and safety are one of the major reasons why travelers love HIA. Here are some of the amenities that makes your travel worthwhile via this airport:
• HIA has expert medical assistance in case of an emergency. Its fully-equipped and well-staffed medical centres are operational 24 hours a day and swiftly respond whenever required.
• For those travelers who have special needs, HIA provides reserved free parking, barrier-free access, adapted check-in counters, lounge access, assistance at the time of check-in, passport control, security checks, baggage claims, and so much more.
• The airport goes a step further in taking care of unaccompanied minors who have all the care they need throughout their journey. From check-in to baggage claim, everything is taken care of by the dedicated staff at the airport.
• HIA has dedicated services for animals. There are designated rows for pets or animals check-in. transportation facilities are in plenty at the Hamad International Airport and travelers can expect all the convenience they desire.
• There are plenty of parking spaces at the airport which visitors can use.
• HIA offers Doha Metro connectivity, which gives the best way to travel back in Qatar and take a tour around almost all major attractions around the country. 
• There are separate prayer rooms for both men and women at the airport, which are available at the passenger terminal. Interestingly, for those who wish to pray at the mosque, there is even a public mosque just outside the passenger terminal within a walking distance away from the departure hall where travelers can visit.
• Another thing that is notable about HIA is the Lost Property Office. The customer service team at the airport is there to help you find your lost items.
• HIA is a non-smoking facility where smoking cigarettes or e-cigarettes is strictly prohibited. However, for the convenience of passengers, the airport has designated smoking rooms available throughout the terminal. These smoking rooms have smoke extractors and comfortable seating for the comfort of passengers. 
It simply gives you great ways to get ready for long flights!
12. HIA is a shopping and dining hub for travelers
At HIA, you can shop, dine, and relax while waiting for your next flight. 
Find irresistible bargains, global flavors and gentle relaxation in this airport with a departure area that includes 25,000 square meters of prime retail space, rivaling the world's leading department stores. 
An additional 15,000 square meters of space includes more than 30 cafés and restaurants that offer a selection of global and local cuisine – a taste of everything, from gourmet to on-the-go.
Feast on fresh food and drinks to get energized before your flight!
HIA has a number of ATMs located throughout the terminal. Some of them provide cash in multiple currencies which is a big plus for passengers especially when shopping at Qatar Duty Free.
Travelers also get an option of foreign exchange while there is also a Qatar Islamic Bank branch available at the airport.
13. HIA houses interactive kids play areas and family-oriented facilities
Travelling with children and infants is a lot smoother thanks to HIA's interactive play areas and dedicated family-oriented facilities.
Activity Nodes
The airport's activity nodes keep young travellers entertained with lots of fun things to do and families comfortable. You can find televisions, Mac stations and internet browsing facilities, interactive art pieces, and family rooms that offer privacy and relaxation. 
Baby Strollers
For the convenience of passengers travelling with young children, HIA has more than 500 baby strollers available throughout the terminal. Departing passengers can find the strollers just after departures immigration, whereas arriving and transfer passengers can find them on all arrival gates and at arrival immigration.
Parent's Rooms
The parents' rooms allow you to attend to your infant in privacy and comfort. Facilities include water/milk warmers and diaper changing stations. They are located at various points across the passenger terminal.
Family Toilets
Family toilets are also available to make it easier for you to look after your child's needs. These are located at various points across the passenger terminal. 
Note: Follow the signs, approach an information desk or use our airport map to locate the above facilities.
14. HIA offers complimentary connectivity services
There are a number of services that HIA offers as far as connectivity is concerned such as:
Complimentary Wi-Fi - HIA offers complimentary wireless internet access to travelers throughout the passenger terminal. All passengers need to do is to search "HIAQatar Complimentary Wi-Fi" on their devices and sign in.
Internet Kiosks & Desks - Equipped with screens and keyboards, HIA's internet kiosks and desks offer you free web browsing.
The kiosks are located throughout the passenger terminal (including the boarding gate areas).
The desks are also available at each of its 5 activity nodes. Approach an information desk or use the airport map to locate the nearest one.
Telephone Booths - Telephone booths at HIA come in handy for travelers who wish to make an urgent call anywhere around the world. All a passenger needs to do is to purchase a calling card from Qatar Duty Free to make the call. These booths are available throughout the passenger terminal.
15. HIA showcases amazing art exhibitions
HIA has a selection of art that has been curated in partnership with Qatar Museums. You can get to see a mix of acquired pieces, artworks from the best of local and international artists, and even get to purchase merchandise and gift items.
Who could dare miss a mandatory selfie with the iconic Lamp Bear? One of the most noticeable features in HIA, the giant teddy bear needs no introduction. Behold, it is not the "typical size" plush teddy, but a popular piece of art worth millions of dollars.
More pieces will be installed over time.
Did you know that HIA has the oldest surviving Islamic astrolabe in the world? 'Cosmos' is an art piece created by Jean-Michel Othoniel; an intricate globe installation that symbolizes the path of travellers around the world. Make sure you check this great piece at HIA's North Node.
Travel with Confidence
As global travel slowly resumes, Qatar's airport continues to focus its efforts on the normalization of travel by focusing on boosting passenger confidence through introducing the safest and most convenient travel experience.
HIA helped successfully restore passenger confidence and boost air travel, even during the most turbulent of times.
Skytrax added: 'The 2021 World Airport Awards recognise the efforts of global airports in adapting and meeting the challenges of the Covid-19 pandemic.'
'The past 18 months has been the most challenging and financially difficult period ever experienced by the world air transport industry, and airports have invested to provide the safest possible environment for their customers and staff during the global pandemic.'
Qatar's recent achievement is a testament to the airport's visionary and innovative approach, implementation of passenger-empowering technologies and multi-dimensional lifestyle offering, making it the airport-of-choice for global travellers.
Do you agree with the above factors that make Hamad International Airport the best in the world? When was the last time you traveled to Qatar and stopped by HIA? Tell us your experiences in the comments section below!