Virtuocity™ and Levi's® celebrate Father's Day in their latest collaboration together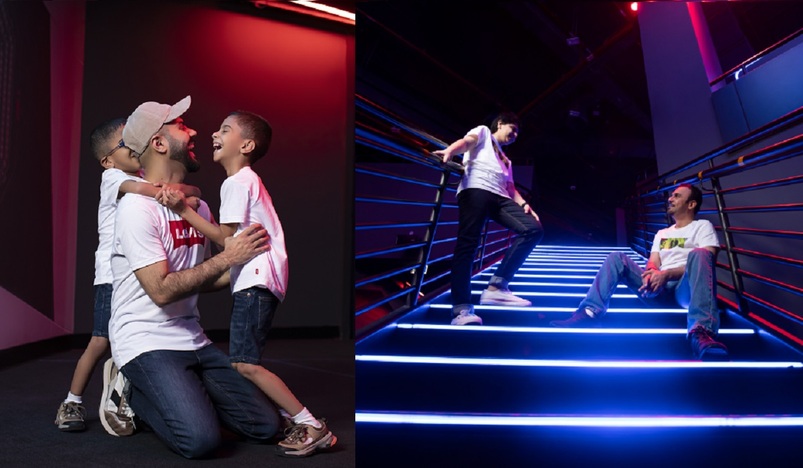 From left: Ibrahim Al-Haidos and Khalid Jassim with their children
Recognising the growing bond between dads and their sons, this Father's Day, Virtuocity™ and Levi's® teamed up to host two of Qatar's coolest, prominent dads and their sons. On a heartwarming day out, playing a variety of games and putting their competitive skills to the test, news and media icon Khalid Jassim, and social entrepreneur Ibrahim Al-Haidos, enjoyed a fun-filled time, sharing positive virtues and valuable lessons with their sons, alongside some great tips and tricks for winning results in various gaming and esports activities!
Khalid Jassim:
Qatari television presenter and writer, Khalid Jassim, is known to many for his eclectic journey in news and media. But, away from the cameras and spotlights, the businessman and noted content creator is a dad who loves spending time with his kids, experiencing the thrills and excitement of Qatar's activity offerings. Showcasing their skills at Virtuocity™ this Father's Day, Khalid not only learned a trick or two about gaming from his son, he also surprised him with some quick-witted moves of his own - no doubt a result of his own interests in sports cars, cultural travel, and global sports!
In speaking about his experience raising boys, Khalid said "you don't raise heroes, you raise sons. And if you treat them like sons, they'll turn out to be heroes, even if it's just in your own eyes."
Ibrahim Al-Haidos
As a serial entrepreneur, investor and branding expert, Ibrahim has an eye for one-of-a-kind pieces and decades of experience that has seen him carve out a significant space for his many businesses in the luxury goods industry. Founder of luxury leather goods company Fursan, the father of three has a solution driven mindset which also led to the creation of MagnaTech during the Covid-19 pandemic - an interactive magnetic construction toy that allows families to spend time together away from their screens. An avid traveller, Ibrahim brings world cultures and inspirational scenes to his online community on social media. Ibrahim and his kids took on various games at Virtuocity™ for Father's Day, spending quality time whilst having a playful, fun time!
When asked about what it means to be a father, Ibrahim said "To me, the best family investment would be time spent with my children than time spent for them. Being a father means setting an example for my children because my words may be forgotten but my actions will be engraved in their memories.
In fatherhood, I found parts of myself I never knew existed. If my kids ask me for a star, I will bring them the whole sky. Being a father is natural, but being a good father takes an effort this is why fathers are their children's heroes; as we dare to make all their dreams come true."
About Leisure Parks
Leisure is a 100% Qatari owned company; a pioneer in the realm of operating entertainment destinations and a dynamic environment that creates memorable family experiences. Founded in 2018 by Talal Bin Mohammed Bin Khalifa Al Attiyah, the company offers a full range of activities and experiences for the whole family to enjoy.
Located in Doha Festival City, Leisure Parks comprises of three indoor-outdoor theme parks: ANGRY BIRDS WORLD™, SNOW DUNES™ and VIRTUOCITY™. 
Want to escape reality? VIRTUOCITY™ is the region's first dedicated digital gaming capital that merges the virtual world with real-life in a thrilling, and immersive environment spread over 5,700 square meters. Teenagers and adults alike can enjoy Cube virtual reality experience, escape rooms and a multipurpose eSports arena equipped with state-of-the-art technology. 
For more information, visit:
https://www.angrybirdsworld.qa
https://www.snowdunes.qa
https://www.virtuocity.qa
Source: PR