US marks the 20th anniversary of 9/11 attacks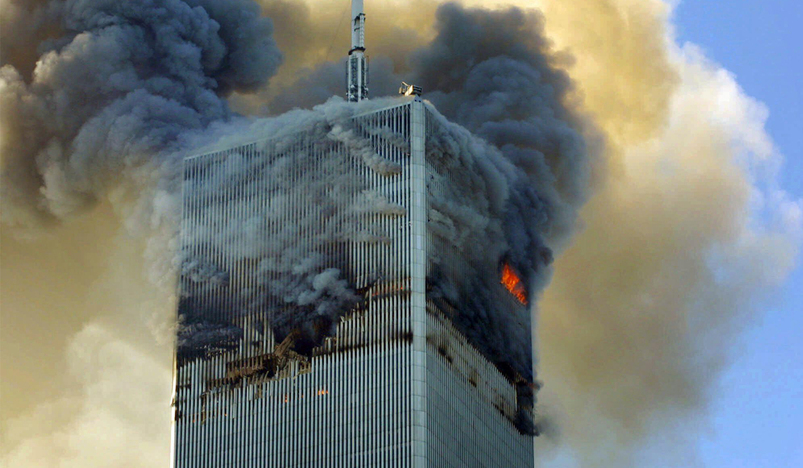 Fire and smoke billows from the north tower of New York's World Trade Center on Tuesday, Sept. 11, 2001. (AP Photo/David Karp)
AP
Bush notes 'sudden splendor' of bravery on 9/11
Former President George W. Bush told people at the Flight 93 National Memorial in Pennsylvania that Americans learned much about themselves on Sept. 11.
"We learned that bravery is more common than we imagined, emerging with sudden splendor in the face of death," Bush said Saturday at a ceremony on the 20th anniversary of the attacks.
Bush, who was president during the attacks, commended the courage of the Flight 93 passengers and crew who are believed to have foiled an attack on the U.S. Capitol by leading the plane to crash in rural Pennsylvania.
"The 33 passengers and seven crew of Flight 93 could have been any group of citizens selected by fate. In a sense, they stood in for us all," Bush said. "The terrorists soon discovered that a random group of Americans is an exceptional group of people."
He encouraged Americans to put aside their political differences in the spirit of what he saw after 9/11.
"So much of our politics has become a naked appeal to anger, fear and resentment," Bush said. "On America's day of trial and grief, I saw millions of people instinctively grab their neighbor's hand and rally to the cause of one another."
Vice President Kamala Harris began her remarks at the Flight 93 memorial with words for those who lost loved ones on Sept. 11.
"So many in our nation -- too many in our nation -- have deeply felt the passage of time these past 20 years," she said. "Please know your nation sees you and we stand with you and we support you."
———-
SHANKSVILLE, Pa. — The victims and heroes of Flight 93 are being commemorated at a ceremony at the site where the plane crashed in a field on Sept. 11, 2001.
President Joe Biden was making an appearance, and Vice President Kamala Harris, former President George W. Bush and Pennsylvania Gov. Tom Wolf were also speaking.
Wolf said the passengers and crew of Flight 93, whose actions are believed to have led the hijackers to abandon their mission of targeting the U.S. Capitol, offered a lasting lesson of courage and hope.
"This story and this place remind us each day what it means to be an American," said Wolf, a Democrat. "In times of strife, we Americans, we come together. We comfort each other. We protect each other and we stand up for each other. This memorial is a powerful reminder of what we have lost. But it's also a powerful reminder of the strength of the American spirit."
Larry Catuzzi, father of Flight 93 passenger Lauren Catuzzi Grandcolas, said in an interview that he talks to her every day.
"I say something that kind of reminds me of her, and I'll talk to her. Or something good happens to me and i thank her for her being with me," said Catuzzi, whose 38-year-old daughter was pregnant when she perished.
The family started a foundation in her name that has distributed college scholarships to more than 100 girls, funded three neonatal units and built a park in Houston memorializing the victims of Flight 93.
ARLINGTON, Va. — Defense Secretary Lloyd Austin says that "we remember not just who our fallen teammates were, but the mission that they shared."
Austin made the prepared remarks at a Pentagon ceremony Saturday marking the 20th anniversary of the Sept. 11 attacks.
He continued, "We recall their common commitment to defend our republic … and to squarely face new dangers."
Austin noted that "almost a quarter of the citizens who we defend today were born after 9/11," including many of the 13 American service members killed in the recent attack in Afghanistan.
He says that "as the years march on, we must ensure that all our fellow Americans know and understand what happened here on 9/11 … and in Manhattan … and in Shanksville, Pennsylvania."
The Pentagon chief says that "it is our responsibility to remember. And it is our duty to defend our democracy."
He says, "We cannot know what the next 20 years will bring. We cannot know what new dangers they will carry. … But we do know that America will always lead."
And to the audience at the Pentagon commemoration, the defense secretary said, "We still work here. We still remember here. We still uphold our values here. With clear heads and fearless hearts."
___
NEW YORK — Bruce Springsteen has performed at the World Trade Center memorial plaza during a ceremony marking the 20th anniversary of the Sept. 11 terrorist attacks.
The audience of dignitaries and family members of people killed in the 2001 attacks applauded after Springsteen performed his song "I'll See You In My Dreams" while accompanying himself on guitar and harmonica.
Victims' relatives then resumed their reading of names of the fallen, a tradition since the first anniversary of the attacks that leveled the trade center's twin towers.
___
NEW YORK — The 9/11 anniversary commemoration at ground zero has begun with a tolling bell and a moment of silence, exactly 20 years after the start of the deadliest terror attack on U.S. soil.
President Joe Biden, former Presidents Barack Obama and Bill Clinton, members of Congress, and other dignitaries joined a crowd of victims' relatives Saturday on the Sept. 11 memorial plaza in New York. The memorial stands where the World Trade Center's twin towers were rammed and felled by hijacked planes.
Observances are also planned at the two other sites where the 9/11 conspirators crashed their hijacked jets: the Pentagon and a field near Shanksville, Pennsylvania.
Biden is scheduled to pay respects at all three places, and former President George W. Bush is to speak at the Pennsylvania ceremony.
___
KABUL, Afghanistan -- The Taliban flag is waving over the Afghan presidential palace the same day the U.S. and the world marks the 20th anniversary of the Sept. 11 attacks.
The milestone anniversary Saturday takes place just weeks after the chaotic U.S. withdrawal from Afghanistan and the return to power of the Taliban, the faction that sheltered the Muslim militant group founded by Osama bin Laden that carried out the attacks.
The Taliban flag was raised over the presidential palace in Kabul on Saturday.
The U.S. is set to mark the 9/11 anniversary with commemorations at New York's World Trade Center, the Pentagon and a field near Shanksville, Pennsylvania.
____
WASHINGTON — President Barack Obama has lauded the heroes of 9/11 — and of the years since — in a message to mark the 20th anniversary of the terror attacks.
"One thing that became clear on 9/11 — and has been clear ever since — is that America has always been home to heroes who run towards danger in order to do what is right," said Obama, who was U.S. President from 2009 to 2017.
He said the enduring image for him and his wife Michelle of that day was not the wreckage and destruction but the people. He singled out firefighters who ran up the stairs as others were running down, passengers who stormed the cockpit of their plane and volunteers who came forward across the country in the days that followed.
"Over the last 20 years, we've seen the same courage and selflessness on display again and again," Obama said.
"We saw it a decade ago when, after years of persistence, our military brought justice to Osama bin Laden. And we're seeing it today — in the doctors and nurses, bone tired, doing what they can to save lives; the servicemembers, some of whom weren't even born 20 years ago, putting themselves at risk to save Americans and help refugees find a better life; the first responders battling roaring fires and rising waters to bring families to safety."
___
LONDON -- Queen Elizabeth II marked the 20th anniversary of the Sept. 11 attacks by offering her sympathies to the victims, survivors and families affected by the atrocity.
In a message to U.S. President Joe Biden, the British monarch remembered the "terrible attacks" on New York and Washington, D.C.
"My thoughts and prayers — and those of my family and the entire nation — remain with the victims, survivors and families affected, as well as the first responders and rescue workers called to duty," she said.
"My visit to the site of the World Trade Center in 2010 is held fast in my memory. It reminds me that as we honor those from many nations, faiths and backgrounds who lost their lives, we also pay tribute to the resilience and determination of the communities who joined together to rebuild.″
Prime Minister Boris Johnson has also remembered the attacks, issuing a statement ahead of the anniversary saying that the terrorists had failed to "shake our belief in freedom and democracy."
"They failed to drive our nations apart, or cause us to abandon our values, or to live in permanent fear."
____ An item in this story with the dateline KABUL, Afghanistan, has been corrected to show that the Taliban flag was raised over the palace on Saturday, not Friday.